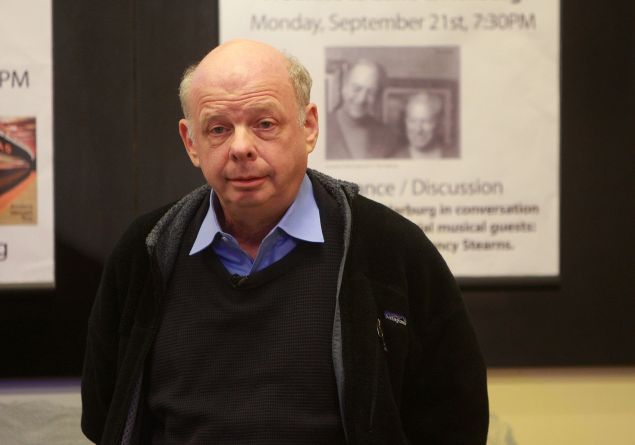 Wallace Shawn, the actor and playwright, best known for his character Vizzini in the movie The Princess Bride, is well-remembered for the catchphrase "Inconceivable!" that he said whenever something went wrong. Mr. Shawn is also well known for voicing the dinosaur Rex in the Toy Story films, and he has acted and voiced characters in a number of television shows and films. Blue Dream studios and director Tony Bancroft are currently in production for the film Animal Crackers, in which Mr. Shawn is a member of the cast and he is also the writer of well-regarded if underseen plays (The Designated Mourner) as well as being the son of William Shawn, the legendary former editor of The New Yorker.
Less well known is Mr. Shawn's activism against the State of Israel. He is on the advisory board of Jewish Voice for Peace, a rabidly anti-Israel group that tries to hide its agenda by labeling itself a pro-Israel group who simply want a peaceful resolution with the Palestinians. Mr. Shawn's active participation with this organization as well as his past statements about the Jewish state are truly unsettling.
Jewish Voice for Peace's ultimate goal is the destruction of the State of Israel. While the group claims to work actively toward boycotting only the West Bank, Rebecca Vilkomerson, executive director of Jewish Voice for Peace has said, "We do feel connected to the global BDS movement. We consider ourselves a part of it. We would defend the right of people to do a full boycott. This is what Palestinians are asking for, and we respect their call." The JVP website also states, "We believe that the time-honored, non-violent tools proposed by the BDS call provide powerful opportunities to make that vision real."
However, contrary to their assertions of non-violence, NGO Monitor wrote an investigative report on JVP showing the group "supports or has partnered with groups such as Sabeel, Electronic Intifada, Al-Awda, International ANSWER Coalition, the International Solidarity Movement, and Students for Justice in Palestine, all of which label Israel a racist apartheid state, support BDS and, in some cases, support violence against Israelis."
JVP also refuses to endorse a two-state solution and many members are against the very idea of a Jewish state. Furthermore, their website states their ultimate goal is for Israel to, in part, "promote the rights of Palestinian refugees to return to their homes and properties."
Anyone who knows anything about this conflict knows that calling for the right of millions of Palestinians, including members of Hamas and Islamic Jihad, to enter Israel's borders and seize properties and residences that they claim their grandfather once owned is in essence a call for the destruction of Israel.
Hamas themselves have said they love death more than the Israelis love life.
Judith Butler, who is on the academic advisory council of JVP, in response to a question about the relationship between Hamas and Hezbollah and the "left" answered, "I think, yes, understanding Hamas/Hezbollah as social movements that are progressive that are on the left; that are part of a global left is extremely important."
The Anti-Defamation League in 2010 identified JVP as one of the top ten anti-Israel groups in the country. ADL explained, "While JVP's activists try to portray themselves as Jewish critics of Israel, their ideology is nothing but a complete rejection of Israel. In May 2008, for example, members of JVP protested many of the celebrations of Israel's 60th anniversary that took place around the country, essentially illustrating that they oppose Israel's very existence."
Wallace Shawn's involvement with this movement reveals his real "humanitarian" side. He has given absurd interviews and penned columns against the Jewish state. His complete ignorance of what Israelis have been facing is blaringly obvious from his own words. He's stated that Israel is such a racist country that Palestinians understandably see the Jews as "an enemy that can't be reasoned with but can only be feared, hated and, if possible, killed." He also writes that since Israel is such an immoral country "the future of the Jews looks increasingly dim."
Mr. Shawn says that the Jewish people are now viewed as the victimizers and said that, "From a moral point of view it was better when we [the Jews] were victims." Yes in his warped sense of morality, rather than Jews trying to defend themselves against genocidal enemies like Hamas, Mr. Shawn feels the Jews were better off as they were led into Auschwitz's gas chambers.
In 2014 the Anti-Defamation League released a pro-Israel poster signed by a number of celebrities and Hollywood executives that featured the words of Golda Meir, "We can forgive [them] for killing our children. We cannot forgive them for forcing us to kill their children. We will only have peace with [them] when they love their children more than they hate us." The ad also states that, "These haunting words of Golda Meir are as current as today's headlines. She could have been talking about Hamas."
Mr. Shawn was so incensed by this ad that he took it upon himself to pen a "translation" of what he thought the poster was really saying. Mr. Shawn believes that what Golda Meir was really trying to say is, "When we kill the children of Arabs, the Arabs made us do it. They hate us so much, they are so angry, that they do things that enrage us and make us kill children. If they were decent people who loved their children, they would set aside their hatred and stop provoking us, and we would then stop killing the children."
Mr. Shawn goes on to libel the former Prime Minister, writing "Golda Meir can be interpreted as saying here that she plans to kill the children of Arabs up until the moment when, in her sole judgment, the Arabs stop feeling "hate" and become sufficiently unprovoking and pacified."
Hamas themselves have said they love death more than the Israelis love life. Videos have shown Palestinian mothers happily blessing their bomb strapped children prior to their suicide missions. Hamas and members of the PA both regularly incite the population with calls for terrorist attacks and the genocide of all Jews on earth (including Mr. Shawn). The moment they stop hating the Jews to that extent, then the fighting can maybe have a chance of ending. That Mr. Shawn would defend or legitimize Palestinian terrorism and the corrupt, murderous governments of Hamas and the PA is sickening.
It would be easy to just laugh at people like Wallace Shawn if it weren't for the fact that their very involved activism incites hatred against the State of Israel and the Jewish people, and his actions and words give justification for the murder of Jews.
Rabbi Shmuley Boteach is founder of The World Values Network, an organization defending Israel in the media, and is the international best-selling author of 30 books, including The Israel Warrior, which is about to be released. Follow him on Twitter @RabbiShmuley.