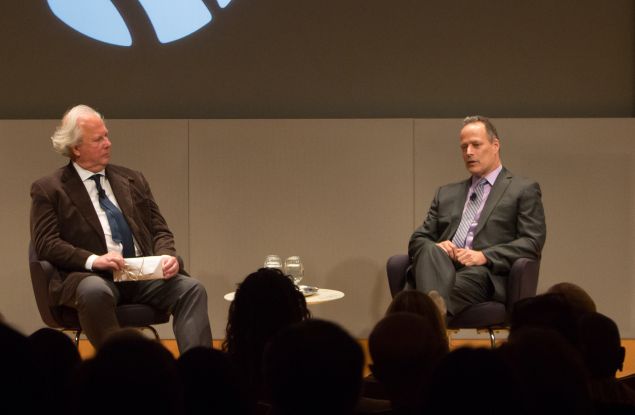 Calvin Trillin admits that Sebastian Junger makes him jealous. "He inserted 'perfect storm' into the language," gushed Mr. Trillin in Astor Hall the other night at the New York Public Library President's Council Spring Dinner, which featured a conversation between Mr. Junger and Graydon Carter of Vanity Fair as entertainment. Mr. Trillin, admired the decoupling of the phrase from the writer who coined it, then proposed his own candidate for the lexicon: "sabbath gasbags"—pontificators on Sunday morning talk shows. "I want to get to the point," he said, "where people say 'so and so writes for The Washington Post and appears as a Sabbath gasbag on ABC.'"
Witticisms flowed as fast as the cocktails at the event, where some of the library's big donors mingle with the likes of Mr. Trillin, Mr. Junger and Fran Lebowitz. "This is a small thank you," explained the event's co-chair Gayfryd Steinberg, who estimated that the select group of about 100 guests shelled out $3.5 million for the library last year.
After canapés, guests marched to an auditorium to hear Mr. Junger's talk about Tribe: On Homecoming and Belonging. The forthcoming book examines the high rate of post-traumatic Stress Disorder (PTSD) suffered by American veterans. Mr. Carter served as an affable interlocutor, though his rather red face makes him look angry when he's not. Mr. Junger, wearing a tailored gray suit, lavender shirt and a color-coordinated striped tie, seemed content and collected.
'If you come to the individualistic, wealthy, and alienating society that America, and many other modern nations have created, maybe your trauma can go on and on.'
Perhaps his calm is a byproduct of survival. The writer had several near-misses with death while he embedded with 20 American soldiers "in the scorpions and the dust and the bullets" of Afghanistan. "And they were in something like 400 firefights. It was brutal." Yet once the soldiers made it to the safety of their base in Italy, many still yearned for the comfort of combat. That shocked Mr. Junger, who contemplated why many soldiers struggle when away from danger.
To answer that vexing question, Mr. Junger revisited his college days when he studied anthropology in Indian Country. "The Navajo, the Apache, the Comanche, the Sioux, the Cheyenne, they probably didn't get PTSD," he said. "They probably came back from fighting the US Army or each other and were relatively okay. Maybe it's not the level of trauma that they go through. Maybe what determines PTSD is the level of cohesion in the society you come home to, and if you come home to a tight-knit, tribal society…you basically get over your trauma quite quickly." He cited a PTSD rate of just 1 percent in Israel, a society with mandatory military service. On the other hand, "if you come to the individualistic, wealthy, and alienating society that America, and many other modern nations have created, maybe your trauma can go on and on."
The crowd paid rapt attention before rushing off to the awaiting chicken pot pie and chocolate mousse. The Observer meanwhile cornered Mr. Junger, asking whether it was odd to speak about PTSD to an audience more threatened by affluenza. "Listen," he said. "You could take the people in this room or in any room and inflict an earthquake on them, or drop them on an island…and they would start to act like a platoon or like a tribe within days."