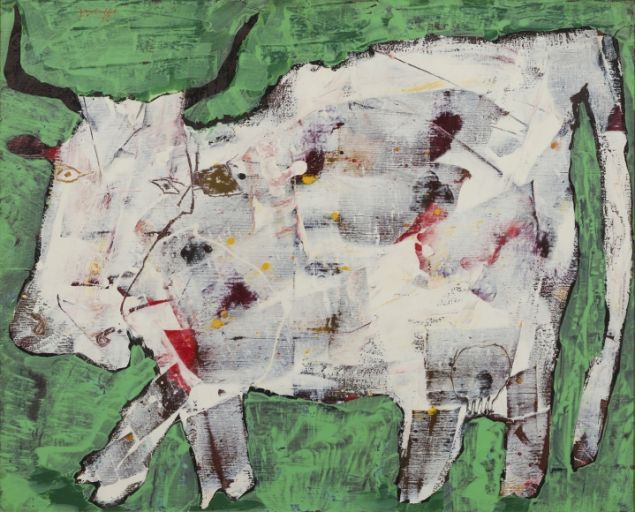 FRIDAY, APRIL 15
Opening: "Jean Dubuffet: Anticultural Positions" at Acquavella Galleries  Presenting early works in painting and sculpture by renowned French artist Jean Dubuffet, this compelling exhibition (organized by art historian Mark Rosenthal) focuses on the artist's development of his signature Art Brut style, which was inspired by children's drawings and the art of the mentally ill (what we now call Outsider Art.) Made between 1943 and 1959, the expressive works in the show, which are accompanied by a catalogue published by Rizzoli, include major loans from museums and private collections. Acquavella Galleries, 18 East 79 Street, New York, 10 a.m.-5 p.m.
Event: "Celebrate 10 Years of the New Morgan" at the Morgan Library & Museum Commemorating the 10th anniversary of its Renzo Piano-designed expansion project, the Morgan opens its doors to the public with free admission for the entire weekend. Exhibitions on view include "Warhol by the Book," featuring 40 years of the artist's publications; "Wagner's Ring: Forging an Epic," which explores the story behind the creation of the composer's cycle of music dramas; "Sight Reading: Photography and the Legible World," which examines the medium as a tool of persuasion; and "Pierre-Jean Mariette and the Art of Collecting Drawings," which looks at the 18th-century connoisseur's collection. Live classical and jazz music, video presentations, lectures and gallery tours round out the packed weekend salute. The Morgan Library & Museum, 225 Madison Avenue at 36th Street, New York, 7:30 p.m.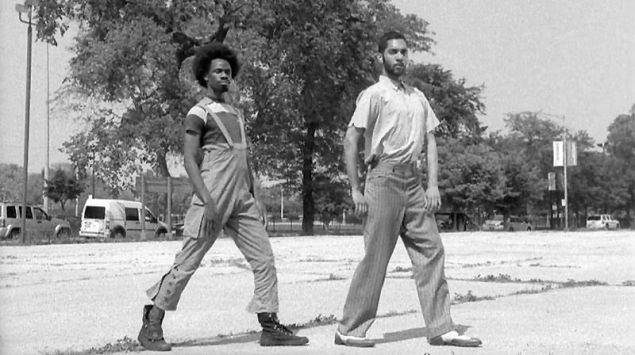 Screening: "Catherine Sullivan, George Lewis and Sean Griffin: Afterword via Fantasia" at Metro Pictures A collaboration between visual artist Catherine Sullivan and composers George Lewis and Sean Griffin, this feature-length film is inspired by the history of the Association for the Advancement of Creative Musicians, an organization of music composers and performers from the predominantly black South Side of Chicago. Filmed outside the site of the historical group's first meetings and on the sets of four theater productions written by black playwrights and staged by black directors and casts, Afterword Via Fantasia envisions the idea of staging an opera about the AACM while shining a light on the saga of the avant-garde in relation to race and class. Metro Pictures, 83 Pitt Street, New York, 2-7 p.m.
Opening: "Nancy Friedemann-Sánchez: Travelers and Settlers" at Black & White Gallery/Project Space A Columbian-born artist who splits her time between Brooklyn and Lincoln, Nebraska, Nancy Friedemann-Sánchez makes art about identity, migration and the pursuit of the American dream. For "Travelers and Settlers," an exhibition that originated at the Museum of Nebraska Art, the artist displays family heirlooms alongside carved wood boats and pearl sconces on blackened mirrors to create an atmosphere that reflects different cultural heritages and concerns. Black & White Gallery/Project Space, 56 Bogart Street, Brooklyn, 6-9 p.m.
Opening: "Ghost in the Machine" at Life on Mars Gallery This colorful exhibition presents paintings by three generations of artists: Agatha Wojciechowsky, a celebrated spiritual healer who was a self-taught, surrealist painter; the contemporary painter and sculptor David Humphrey; and Austin Lee, who studied with Mr. Humphrey at the Yale School of Art. All three artists exhibit lively, representational paintings, drawn from dreamlike realms (fitting considering this Bushwick space's name and nature.) Life on Mars Gallery, 56 Bogart Street, Brooklyn, 6-9 p.m.
SATURDAY, APRIL 16
Opening: "Moyra Davey: 7 Albums" at Murray Guy A Canadian artist who lives and works in New York, Moyra Davey creates photographs and videos that examine the details of daily life. This exhibition of recent work features a series of photographic prints, titled Oozing Wall, inspired by Jean Genet's eponymous 1948 novel about love and betrayal, as well as the 28-minute video Notes on Blue, an "episodic meditation on blindness, color, and the life and work of the late British filmmaker Derek Jarman," which was commissioned by the Walker Art Center in Minneapolis last year. Murray Guy, 453 West 17 Street, New York, 6-8 p.m.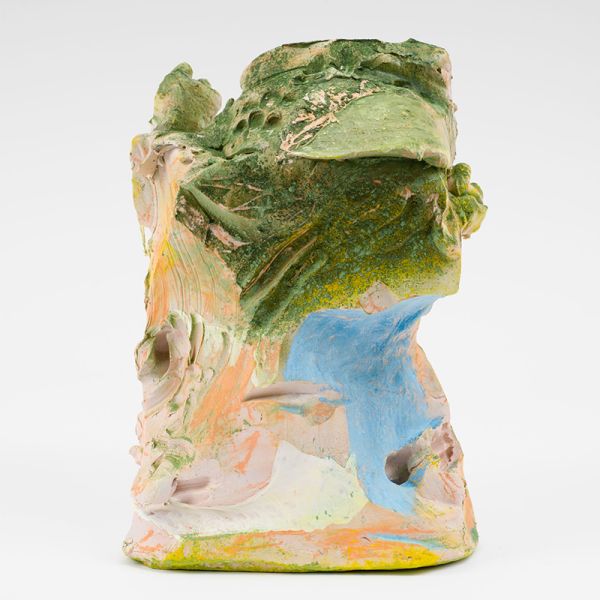 Open Studios: "Smack Mellon Open Studios" at Smack Mellon A non-profit arts organization located in the Dumbo neighborhood of Brooklyn, Smack Mellon's mission is "to nurture and support emerging, under-recognized mid-career and women artists in the creation and exhibition of new work." As part of that agenda, the organization provides free studio spaces to six artists over an eleven-month period.  Visit the studios of 2015-16 residents Nadia Awad, Zachary Fabri, Donna Huanca, Nyeema Morgan, Lori Nix and Chat Travieso, and then catch the gallery's current group exhibition about issues of gender, titled Signal, which runs through Sunday. Smack Mellon, 92 Plymouth Street, Brooklyn, 5-8 p.m.
SUNDAY, APRIL 17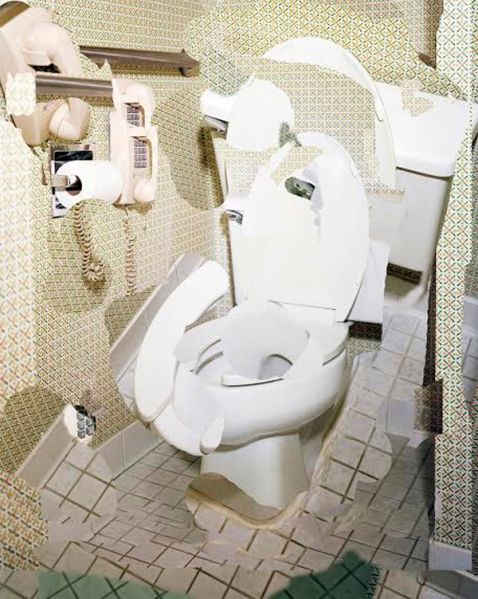 Opening: "Lucas Blalock: Low Comedy" at Ramiken Crucible A Brooklyn-based photographer, Lucas Blalock uses a mix of analog and digital processes to make uncanny images. Fresh off group shows at MoMA and the Met, the artist returns for his third show at this Lower East Side hot spot with new pictures of toilets, sausages, bathmats and bricks. Constructing false realities, Mr. Blalock adds the notion of fun to picture viewing. Ramiken Crucible, 389 Grand Street, New York, 12-6 p.m.
Open Studios: "Artists-in-Residence Open Studios" at the Studio Museum in Harlem With alumni like David Hammons, Kerry James Marshall, Julie Mehretu, Wangechi Mutu, Mickalene Thomas and Kehinde Wiley, the museum's artist-in-residence program is a sure place to discover new talent. Visit the open studios of figurative painter Jordan Casteel, performance artist EJ Hill and poet and visual artist Jibade-Khalil Huffman and see their current works in progress. Then pop into the museum's galleries to survey solo shows by Rodney McMillian, Rashaad Newsome and Ebony G. Patterson—three smart artists that are already making waves. The Studio Museum in Harlem, 144 West 125 Street, New York, 1-4 p.m.
Screening: "The Maysles & Company: Islands and Christo in Paris" at the Film Forum
The subject of a current survey at the theater, Albert and David Maysles are internationally known for their direct style of documentary filmmaking. Deceased now (David passed in 1987 and Albert last year), the brothers made more than 30 films, including Gimme Shelter and Grey Gardens. They collaborated on five films about the environmental artist Christo and his wife Jean-Claude and two of them are being screened on Sunday evening. The 1986 film Islands is a documentary about the artists project of surrounding eleven island with pink fabric in Florida's Biscayne Bay, while Christo in Paris captures the duo marvelously wrapping the Pont-Neuf, the oldest bridge in Paris, with yards and yards of shiny, synthetic material in 1990.
Film Forum, 209 West Houston Street, New York, 6 p.m., $14