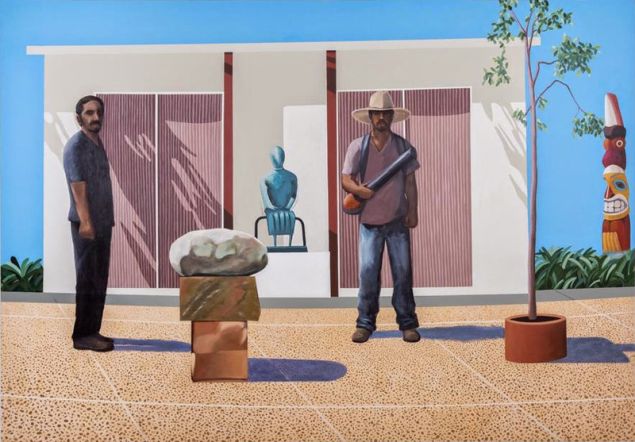 FRIDAY, APRIL 22
Talk: "Ramiro Gomez" at the New York Academy of Art
Artist Ramiro Gomez is the son of undocumented Mexican immigrants, and briefly attended the prestigious California Institute of the Arts before dropping out to become a live-in nanny, a job that gave him deep insight to the subjects he now paints. In his work, he riffs on David Hockney's iconic paintings of the lifestyles of the rich and famous in Southern California in the 1960s by substituting the occupants in Mr. Hockney's canvases with working-class gardeners and housekeepers. For his talk at the New York Academy of Art, Mr. Gomez offers an overview of his wonderfully rendered, witty work, followed by a signing of his newly published Abrams book, Domestic Scenes: The Art of Ramiro Gomez.
New York Academy of Art, 111 Franklin Street, New York, 6:30 p.m.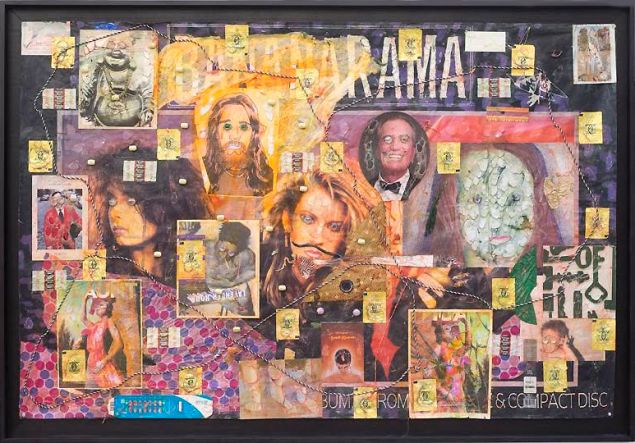 Performance: "Michael Mahalchick: Narcissus III: A Night of Readings" at Canada
Michael Mahalchick is an artist with a knack for making work with whatever is at hand. That's certainly true of his new collages and assemblage sculptures, which have been made from pieces of rock 'n' roll posters found outside his apartment door. For the exhibition, the artist is staging four performances featuring guest lecturers, readers and performers who will make presentations while he lays face down on a massage table gazing at his reflection in latex buckets filled with water—a fun-filled recreation of the myth of Narcissus, a hunter who fell in love with his mirror image and pined for it until he died.
Canada, 333 Broome Street, New York, 6 p.m.
Talk: "Artists on Art: Dustin Yellin" at the Rubin Museum of Art
Part of the museum's ongoing Artist on Art series, contemporary collage artist Dustin Yellin—also the founder of Pioneer Works, a massive multi-disciplinary art space in Red Hook, Brooklyn—sits down with Rubin Museum curator of Modern and Contemporary art Beth Citron to discuss his psychedelic practice in relation to the mystical artworks in the museum's current show "Genesis Breyer P-Orridge: Try to Altar Everything," on view through August 11.
Rubin Museum of Art, 150 West 17 Street, New York, 6:15-7 p.m.
Opening: "Mike Perry: Intoxicating Pollen Wiggling in a Moist Journey of Constantly Blooming Tides" at Garis & Hahn
An artist, illustrator and designer, Mike Perry is best known for his opening animation and promos for the hip Comedy Central show Broad City, graphic work for such corporate giants as Apple and Nike and his jazzy mural installation at the Facebook headquarters. For his first solo show at the gallery (curated by former Creative Time staffer and current Steven Kasher Gallery director Cassandra Johnson), the artist presents colorful, abstract paintings of nudes, still lifes and smiley faces.
Garis & Hahn, 263 Bowery, New York, 6-8 p.m.
SATURDAY, APRIL 23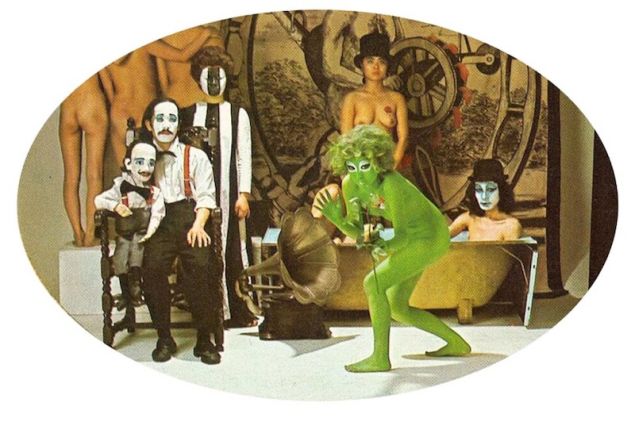 Performance: "Tobias Madison and Matthew Lutz-Kinoy: Rotting Wood, the Dripping Word: Shūji Terayama's Kegawa no Marii" at MoMA PS1
MoMA PS1 is offering a live performance by Swiss artist Tobias Madison and New York-born, Amsterdam based artist Matthew Lutz-Kinoy for its latest Sunday Session event. In homage to Japanese avant-garde playwright and filmmaker Shūji Terayama, the duo's performance piece Rotting Wood, the Dripping Word references the experimental artist's first play Kegawa no Marii, while seeking to convey the position of communal creativity that he and his theater group promoted. The performance, which is repeated on Sunday afternoon at 4 p.m., is accompanied by an informal show of the collaborators' ongoing research into Mr. Terayama's life and work.
MoMA PS1, 22-25 Jackson Avenue, Long Island City, 4 p.m., $15
Opening: "Claudia Hart: The Dolls House" at Transfer
A Chicago-based digital artist who makes photography, video and installation art, Claudia Hart returns to New York for her first show with this Bushwick gallery. The Dolls House features a wall-sized video animation of dollhouses based on historical structures and 3D modeled tutus inspired by Margaret Theresa of Spain, the child princess at the center of Diego Velaquez's famous painting Las Meninas.
Transfer, 1030 Metropolitan Avenue, Brooklyn, 6-10 p.m.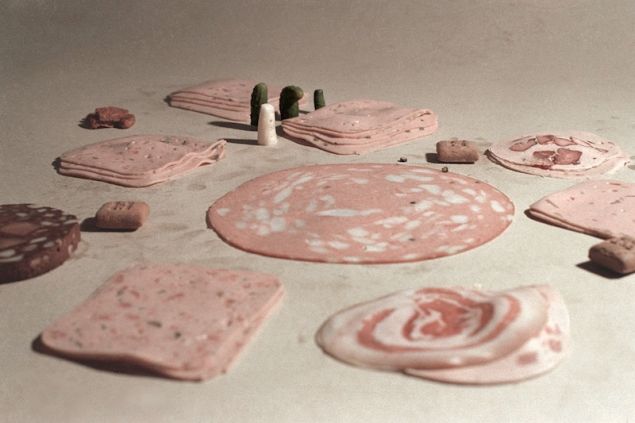 Opening: "Steven Baldi: Branded Light" at Koenig & Clinton
Steven Baldi is currently featured in an acclaimed group show about the use of stock photography in fine art, on view at the Walker Art Center in Minneapolis. Here, he presents black-and-white photomontages of industry logos, such as those for Kodak and Nikon, abstracted with prismatic camera effects. The resulting Constructivist-inspired imagery is contrasted with the Los Angeles conceptualist's monochromatic paintings that he makes by stretching green book cloth over aluminum panels.
Koenig & Clinton, 459 West 19 Street, New York, 6-8 p.m.
Talk: "It Takes Two" at the Guggenheim Museum
Held in conjunction with Swiss art collaborators Peter Fischli and David Weiss's retrospective, this event brings together an assortment of speakers and performers to examine artistic teamwork by pairs. With nearly 40 participants, the overnight program features artist Matthew Barney and composer Jonathan Bepler, performance duo Dancenoise, Academy award-winning songwriters Kristen and Bobby Lopez, artists and fashion photographers Inez and Vinoodh and architects Elizabeth Diller and Ricardo Scofidio, among many others.
Solomon R. Guggenheim Museum, 1071 Fifth Avenue, New York, 9 p.m.-4 a.m., $30
SUNDAY, APRIL 24
Opening: "Columbia University School of the Arts 2016 MFA Thesis Exhibition " at the Fisher Landau Center for Art
Widely recognized for its excellent MFA program, Columbia University's annual thesis exhibition is a hotbed for the discovery of fresh faces in contemporary art. Notable visual arts alumni are Derrick Adams, Mika Rottenberg and Dana Schutz, to name a few. This year's exhibition features work in a variety of media by 25 graduating artists, including simulated movie posters and product manuals with a social twist by Coby Kennedy, realistic paintings of contemporary characters from Tarot cards by Pablo Montealegre and architectural interventions by Serra Victoria.
Fisher Landau Center for Art, 38-27 30th Street, Long Island City, 2-5 p.m.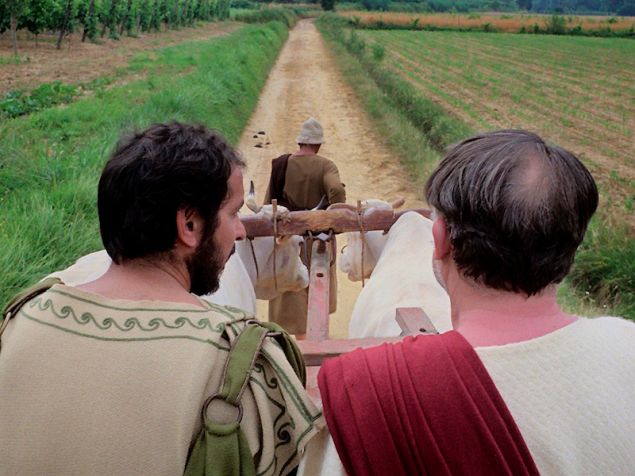 Opening: "Jean-Marie Straub and Danièle Huillet: Films and Their Sites" at Miguel Abreu Gallery
French filmmakers Jean-Marie Straub and Danièle Huillet are best known for their intellectually stimulating style of cinema and have created nearly two-dozen movies between the years of 1963 and 2006. This is their first major exhibition in the States, and will feature film still sequences, and videos and annotated scripts. A good introduction to their filmmaking, the show includes looped projections of their investigation of the politics of ancient Rome, History Lessons, and a presentation of Every Revolution is a Throw of the Dice, their 1977 staging of Stephane Mallarmé's influential poem A Throw of the Dice Will Never Abolish Chance. Documentary films about the duo's working methods and later video works by Jean-Marie Straub, the surviving member of the team will be shown during evening screenings throughout the run of the show.
Miguel Abreu Gallery, 88 Eldridge Street, New York, 6-8 p.m.