FRIDAY, APRIL 29
Opening: "But a Storm Is Blowing from Paradise: Contemporary Art of the Middle East and North Africa" at the Guggenheim Museum
The third exhibition in the Guggenheim UBS MAP Global Art Initiative explores the theme of modernism through contemporary works in a variety of media by a wide range of artists from the Middle East and North Africa. Highlights from this conceptually minded show, organized by Guggenheim curator Sara Raza, include Kadar Attia's replica of a North African city that he's constructed with couscous, salt and glue to comment on French modernist architect Le Corbusier's appropriation of the region's vernacular style of design and Mariam Ghani's video installation that contrasts two modernist buildings in Afghanistan and Germany: one depicted in a state of ruin while the other is being redeveloped.
Solomon R. Guggenheim Museum, 1071 Fifth Avenue, New York, 10 a.m.-5:45 p.m., free with museum admission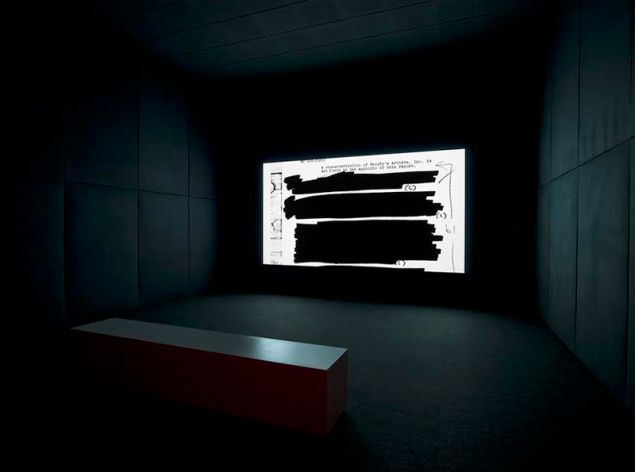 Opening: "Open Plan: Steve McQueen" at the Whitney Museum of American Art
The final segment in a five-part series of alternating Whitney exhibitions on the massive fifth floor titled "Open Plan," this show presents a six-hour video and a new sculpture by British artist Steve McQueen, the 1999 Turner Prize winner who's best known as the acclaimed director of the feature film 12 Years a Slave. His video End Credit projects thousands of pages of documents compiled by the FBI during years of surveillance of African-American singer, actor and activist Paul Robeson, with the heavily censored texts read aloud by male and female voices. The artwork is projected on jumbo-size screens at opposite ends of the space, while in an adjacent gallery the sculptural work Moonlit features a pair of rough rocks, large enough to sit upon and captivatingly covered in silver leaf.
Whitney Museum, 99 Gansevoort Street, New York, 10:30 a.m.-10 p.m., free with museum admission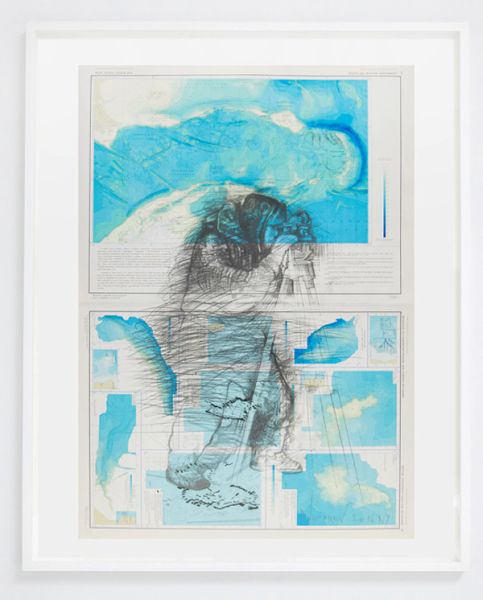 Opening: "Alexander Ponomarev: Stored in Ice" at Richard Taittinger Gallery
A multidisciplinary Russian artist and former sailor who has had a lifelong fascination with the sea, Alexander Ponomarev presents two large-scale installations and a selection of drawings in his first solo show with this gallery. Fresh off a one-person exhibition at the prestigious Pushkin Museum in Moscow, Mr. Ponomarev comments on cultures both old and recent via the layers of life buried deep beneath the ice of the Antarctic Circle. His drawings of explorers, icebreakers and submarines on vintage maps of the southernmost part of the world are matched with sculptural installations that replicate the grandeur of the frozen terrain and the daring vessels that explore it. The display is seen as a prelude to the artist's upcoming voyage to Antarctica, where he will unveil his ambitious plans for the 1st Antarctic Biennale.
Richard Taittinger Gallery, 154 Ludlow Street, New York, 6-8 p.m.
Talk: "Sea of Stars: The Astral and the Oceanic in Contemporary Painting" at DC Moore Gallery
In conjunction with the gallery's current exhibition "Barbara Takenaga: Waiting in the Sky," Artcritical editor David Cohen conducts a conversation between Ms. Takenaga and artist Katherine Bradford, who recently mounted a solo show at the Lower East Side gallery Canada. Ms. Takenaga's intricate paintings take the skies and seas as the point of departure for an exploration of spiritual abstraction, while Ms. Bradford's figurative canvases delve into the recreational realm of swimming as a playful way to deal with the medium of paint. Mr. Cohen will investigate the artists' parallel interests in the universe and how they each manifest those shared points of view in individual ways.
DC Moore Gallery, 535 West 22 Street, New York, 6:30 p.m.
Performance: "An Evening with Yung Jake " at the Museum of Modern Art
Bringing MoMA's "Slithering Screens" exhibition to a close, CalArts grad/artist/rapper/Internet personality Yung Jake presents a selection of his viral music videos mixed with a live performance. The film series featured an assortment of cinematic works that premiered in the Sundance Film Festival's New Frontier program over the past decade. For the evening's performance, the artist—who is said to have been born on the Internet in 2011 and who shows with the Los Angeles gallery Steve Turner Contemporary—layers the realms of digital technology, media hype and product endorsement with his rap lyrics about life on (what else?) the Internet. Stick around for the museum's fun-filled PopRally, which features Yung Jake performing some of his music/video work, accompanied by guest rapper Lil Yachty. The late-night event, which has a separate $25 admission, is bookended with DJ sets by Ill Roots.
MoMA, 11 West 53 Street, New York, 8:00 p.m. $12
SATURDAY, APRIL 30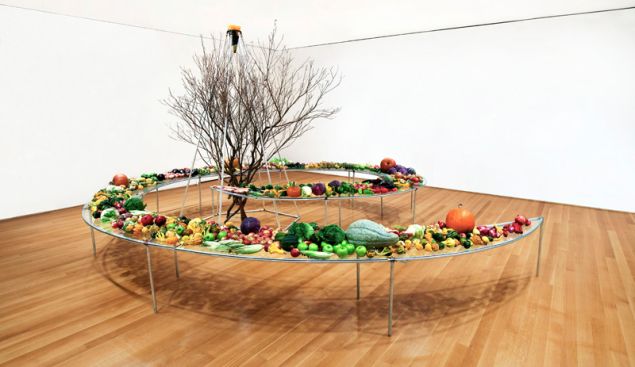 Opening: "Mario Merz: Works from the 1980s" at Sperone Westwater
An Italian artist associated with the Arte Povera movement, Mario Merz explored the relationship between man and the environment in his work from the time of his first exhibitions in Turin in the 1950s until his death in Milan in 2003. Fascinated by the mathematic concept of the Fibonacci numbers, a method of counting in which each subsequent number is the sum of the previous two, the artist made related artworks to explore the calculating theory. His 1982 installation Tavola a spirale (Spiral table) features a progression of fruits and vegetables as a symbolic offering of sustenance, while his large-scale paintings of animals suggest a more nomadic relationship to nature.
Sperone Westwater, 257 Bowery, New York, 10 a.m.-6 p.m.
Opening: "Thornton Dial: We All Live Under the Same Old Flag" at Marianne Boesky Gallery
A self-taught African-American artist from Alabama, Thornton Dial made paintings and assemblages from whatever materials were at hand. Addressing issues of poverty and racism, the artist—who died in January at age 87—presents a raw interpretation of life in the rural South in the ten large-scale works on view. Cobbling together bits of carpet, clothing and fabric with paint, steel and bones, Mr. Dial combined his skills as a metal worker and his knowledge of quilt-making techniques with a highly personal language of symbols to form these intuitive, yet socially meaningful, works of art.
Marianne Boesky Gallery, 509 West 24 Street, New York, 6-8 p.m.
Opening: "Leslie Hewitt: Collective Stance" at SculptureCenter
A New York-based artist whose work involving photography has been featured in recent surveys about experimental uses of the medium at MoMA and the Guggenheim, Leslie Hewitt is known for her images of objects and pictures in sculptural presentations. For this show, Ms. Hewitt offers two film installations (made in collaboration with award-winning cinematographer Bradford Young) that are inspired by civil-rights era photographs, along with recent sculptures and prints. While there, check out the concurrent show "Fantasy Can Invent Nothing New," which features commissioned works by 12 international artists exploring a Freudian theory about dreams, in which the psychoanalyst speculated that the mind creates fantasy out of what we already know—an apt metaphor for making art.
SculptureCenter, 44-19 Purves Street, Long Island City, 6-8 p.m.
SUNDAY, MAY 1
Talk: "Floral Ghost: Susan Orlean and Philip Taaffe in Conversation" at Wave Hill
A collaboration between New York Times bestselling author Susan Orlean, author of the 1998, non-fiction book The Orchid Thief, and celebrated New York-based painter Philip Taaffe, The Floral Ghost is an illustrated book inspired by the city's dwindling floral district—an area where the artist has worked for many years and the writer researched her critically acclaimed tale. What better place than Wave Hill, the 28-acre garden and cultural center in the Bronx overlooking the Hudson River and Palisades, to hear these collaborators talk about their personal memories of life and the flowers illustrated in this finely printed book, which Ms. Orlean and Mr. Taaffe will be signing after the talk.
Wave Hill, West 249th Street and Independence Avenue, Bronx, 2 p.m., free with admission to the grounds, registration requested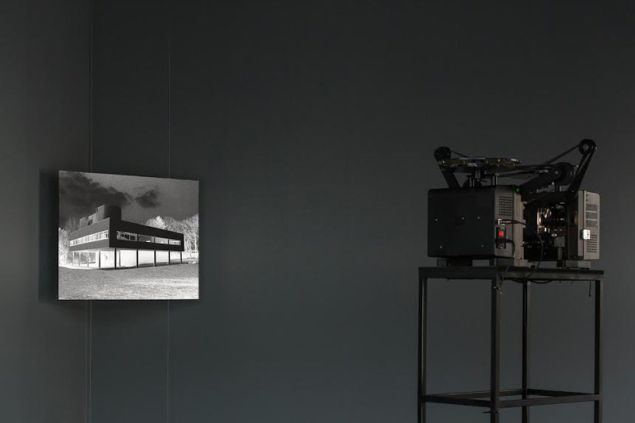 Opening: "Amie Siegel: The Spear in the Stone" at Simon Preston Gallery
An award-winning filmmaker, Amie Siegel makes conceptual films and multichannel video installations about cultural memory and the portrayal of place. In her second solo show with the gallery, the artist presents two new cinematic works: the single-channel video Fetish and the multi-part film and video installation Double Negative. Delving into Sigmund Freud's personal collection of archeological statues and artifacts that are housed in London's Freud Museum, Fetish offers a clinical look at a worker cleaning the obsessive displays, while Double Negative pairs footage of Le Corbusier's iconic white Villa Savoye outside of Paris with its Australian doppelgänger, ironically, a black copy that's a center for ethnic studies.
Simon Preston Gallery, 301 Broome Street, New York, 6-8 p.m.