FRIDAY, APRIL 8
Performance: "Tamar Ettun and the Moving Company" at Bryant Park
An Israeli-born, Brooklyn-based sculptor and performance artist, Tamar Ettun developed her video and performance piece Mauve Bird with Yellow Teeth Red Feathers Green Feet and a Rose Belly with a group of dancers and actors known as The Moving Company while in residence at Robert Wilson's Watermill Center. The fascinating work presents costumed dancers who interact with giant inflatables, flowerpots, wastebaskets and other household objects, as well as one another and the audience. Ms. Ettun will conduct two live performances in the park.
Bryant Park, 6th Avenue and 42 Street, New York, 3-4 p.m. and 5-6 p.m.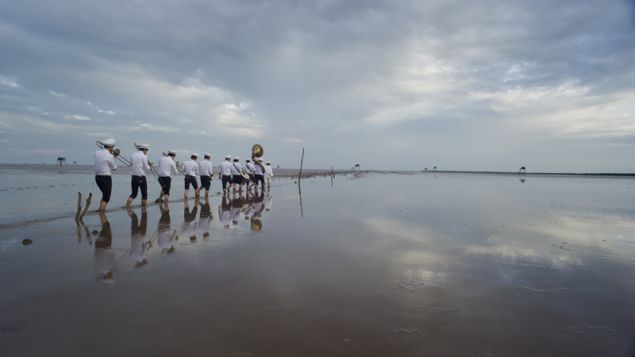 Opening: "The Propeller Group: The Living Need Light, The Dead Need Music" at James Cohan
Artist trio The Propeller Group was a fan favorite at New Orleans' Prospect.3 Biennial in 2014 and the 2015 Venice Biennale. Now, artists Phunam, Matt Lucero and Tuan Andrew Nguyen will debut in New York with their 21-minute film The Living Need Light, The Dead Need Music. The work beautifully explores funeral and mourning rituals and opens with a brass band wandering through Vietnam. The group will also show the film The AK47 vs. The M16 in an installation that pits a Soviet-made assault rifle against a U.S.-made gun.
James Cohan Gallery, 291 Grand Street, New York, 6-8
Opening: "Takahiko Iimura: Seeing Double" at Microscope Gallery
Takahiko Iimura is a 79-year-old Japanese artist who has significantly contributed to the Minimalist and Conceptual art movements through his inventive use of film and video. At Microscope, he presents five of his most important installations, made between 1964 and 1983. In his work, video cameras film one another, movie projectors are in dialogue and the self is seemingly multiplied on and off screen. This show affords us the opportunity to see his historic works, which have been widely exhibited in museums around the world but are rarely seen here.
Microscope Gallery, 1329 Willoughby Avenue, #2B, Brooklyn, 6-9 p.m.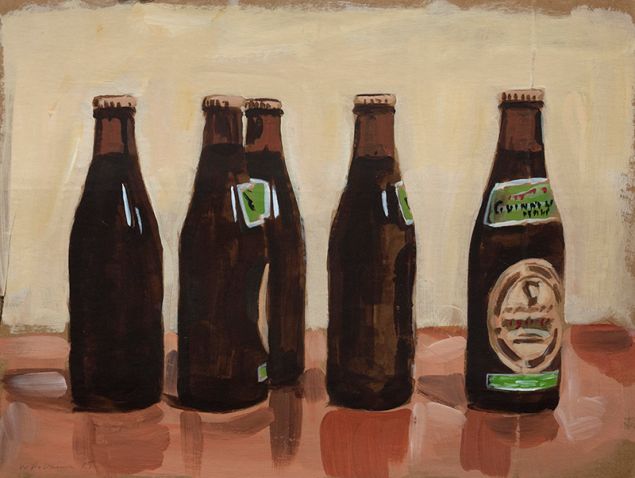 Opening: "Charles Bukowski & Walter Robinson: There's A Bluebird In My Heart" at Owen James Gallery
Exploring a novel idea, this show matches up writer Charles Bukowski's brooding poem The Bluebird with alluring paintings of female escorts and other objects of desire by Walter Robinson. Bukowski writes about a longing to release his tender side, buried by a lifestyle of alcohol, whores and cigarettes. In contrast, Mr. Robinson paints mediated vices that turn men mad, including images of women who sell their sexual services through ads in the back pages of newspapers and men's magazines, and plucks cigarettes and booze from the media's glamorous settings.
Owen James Gallery, 61 Greenpoint Avenue, Brooklyn, 6-8 p.m.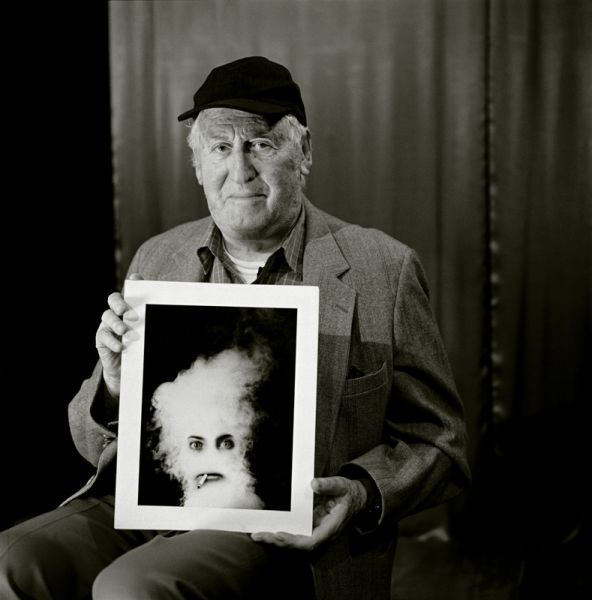 Screening: "From Darkroom to Daylight" at the SVA Theatre
From Darkroom to Daylight is a fascinating film about how photographers have adapted to using digital technology after years of working with analog cameras. It features such renowned artists as Sally Mann, David Goldblatt and Alex Webb, as well as the documentary's director, Harvey Wang. The film captures a compelling moment of change for a medium that continues to grow in importance.
SVA Theatre | 333 W 23rd Street, New York, 7-9 p.m., RSVP requested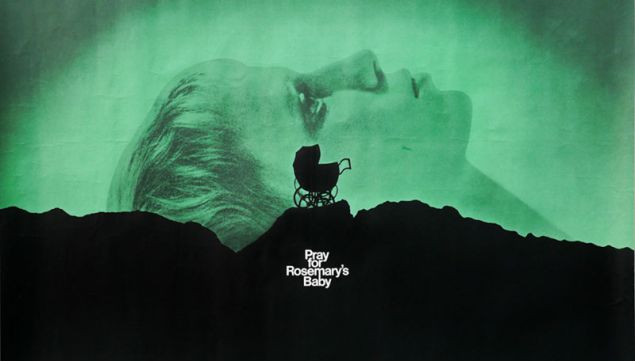 Screening and Panel: "All of them Witches: A Symposium Celebrating Rosemary's Baby" at the Swiss Institute
A two-day symposium celebrating Roman Polanski's famous film Rosemary's Baby, the program kicks off with a screening of the cult classic on Friday evening followed by a reception. Then, festivities continue Saturday afternoon with a panel of speakers from the realms of art, literature, cinema and academia on various aspects of the movie. The concluding event will feature a panel of eleven speakers, including author and NYU professor Emily Apter, CUNY professor Kyoo Lee and writer and psychoanalyst to the stars Andrew Ragni.
Swiss Institute, 18 Wooster Street, New York, Friday: 7 p.m., Saturday: 2-5:30 p.m.
SATURDAY, APRIL 9
Opening: "Samuel Jablon: Life is Fine" at Freight+Volume
Brooklyn-based artist Samuel Jablon, best known for his text paintings, opens two exhibitions of new energetic canvases chock full of abstracted language at the downtown Freight+Volume space on Saturday evening and its uptown Arts+Leisure locale on Sunday. The artist uses acrylic paint, bits of broken glass, mirrors and tiles to repeat and layer letters and language.
Freight+Volume, 97 Allen Street, New York, 6-9 p.m.
Opening: "Anne Collier" at Anton Kern Gallery
Fresh off trendy group exhibitions about experimental photography at the Los Angeles County Museum of Art and the Guggenheim Museum, Anne Collier returns to the gallery scene with new photographic works that feature close-ups of crying women culled from the covers of record albums, dating from the late-1960s to the early-1980s. These new pieces exploring fabricated emotions are accompanied by the artist's signature still life pictures of open books, women with cameras and old record albums that smartly investigate issues of representation and perception.
Anton Kern Gallery, 532 West 20 Street, New York, 6-8 p.m.
Talk: "Gary Stephan and Alina Tenser in Conversation" at Susan Inglett Gallery
Esteemed painter Gary Stephan and emerging sculptor and video artist Alina Tenser sit down with artist, critic and curator Alexi Worth to discuss the work on view in their two-person show at the gallery. The exhibition pairs Mr. Stephan's formal abstract canvases with Ms. Tenser's handmade sculptures of paint trays with inlaid bamboo shapes and a video of geometric forms projected on a Plexiglas screen.
Susan Inglett Gallery, 522 West 24 Street, New York, 4 p.m.
SUNDAY, APRIL 10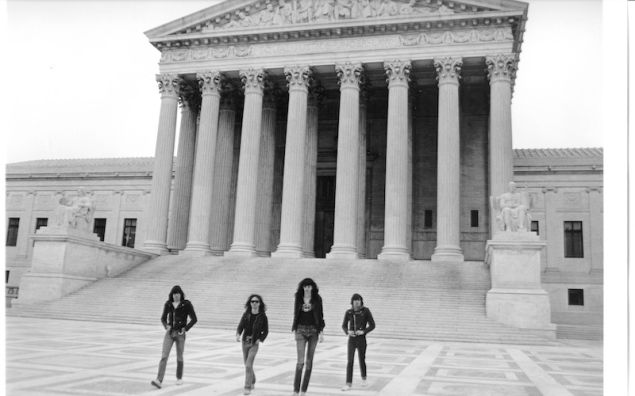 Opening: "Hey! Ho! Let's Go: Ramones and the Birth of Punk" at the Queens Museum
Celebrating the 40th anniversary of the Ramones' self-titled 1976 debut album, this trip down memory lane features photographs, memorabilia and artworks by famed street-artist Shepard Fairey, Japanese neo-pop artist Yoshitomo Nara, Mad magazine cartoonist Sergio Aragones, Punk magazine founder and cartoonist John Holmstrom and Ramones collaborator and logo designer Arturo Vega. The commemorative show is co-curated by Marc H. Miller, an expert in New York's downtown counter-culture scene of the 1970s and '80s, and Bob Santelli, executive director of the Grammy Museum in Los Angeles.
Queens Museum, New York City Building, Flushing Meadows Corona Park, Queens, 4-8 p.m.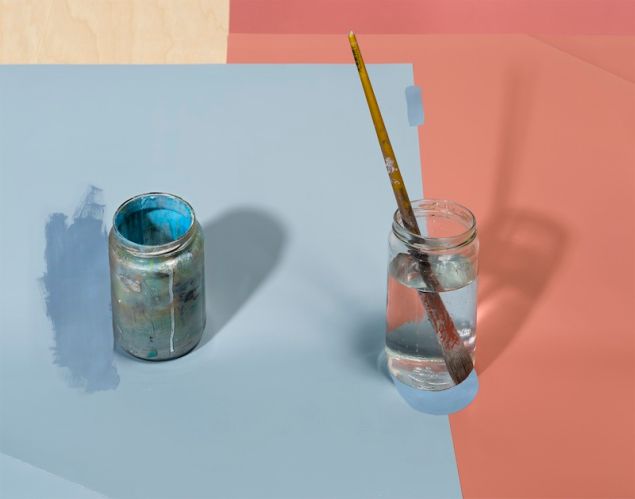 Opening: "John Houck: Playing and Reality" at On Stellar Rays
Inaugurating the gallery's new exhibition space on The Bowery, Los Angeles-based artist John Houck presents new photographic works, where he uses painting and digital manipulation to create illusionistic images that playfully comment on studio practice. Constructing still lives of brushes, jars of paint, sponges, squirt bottles and plaster castings of his hands and tools, the artist's hybrid works seem to have originated in both the camera and his witty imagination.
On Stellar Rays, 213 Bowery, New York, 6-8 p.m.