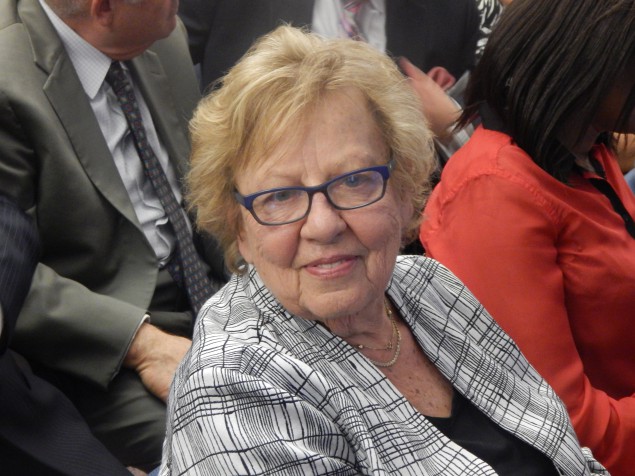 FORT LEE – Powerful South Jersey Democratic boss George Norcross approached Bergen County Democratic Chairman Lou Stellato last week regarding the possibility of removing Assembly Speaker Vincent Prieto from his position and possibly replacing him with Assemblywoman Valerie Vanieri Huttle (D-37), according to a report on NorthJersey.com. When asked about that move, Senate Majority Leader Loretta Weinberg, Huttle's district-mate, said she did not believe it was the place of those outside of the assembly to try to reorganize the leadership in that house.
"My thoughts on that as senate majority leader are that the assembly elects its speaker," Weinberg said. "The assembly elected Assemblyman Prieto. He is the speaker and I don't think anybody should be involved in interfering with leadership in the assembly."
Prieto has become a virulent opponent of the Norcross-approved Atlantic City takeover bill backed by Governor Chris Christie and Norcross ally Senate President Steve Sweeney. The senate president and Weinberg also have close ties. Weinberg is a backer of the Sweeney bill, which already passed in the senate. According to Prieto, that bill lacks collective bargaining components. Despite that, Weinberg said any attempts to oust him would be "interfering with duly elected leadership."
"Should we be doing everything we can to pressure the assembly to pass the Atlantic City bill that we think is the better bill? Yes," Weinberg said. "But it does not involve changing leadership of the assembly after the assembly members chose their own speaker. We have a lot of legislation we need to get passed and hopefully we can meet with Speaker Prieto and persuade him on certain issues that separate us. There are not many but there are a few. Atlantic City is a big one, earned sick leave is another. Certainly we should try to find compromise and move ahead."
According to the NorthJersey.com report, Stellato also has misgivings about making such a move and believes that Prieto is "solid" and likely to stay in his position. Huttle is currently deputy speaker.