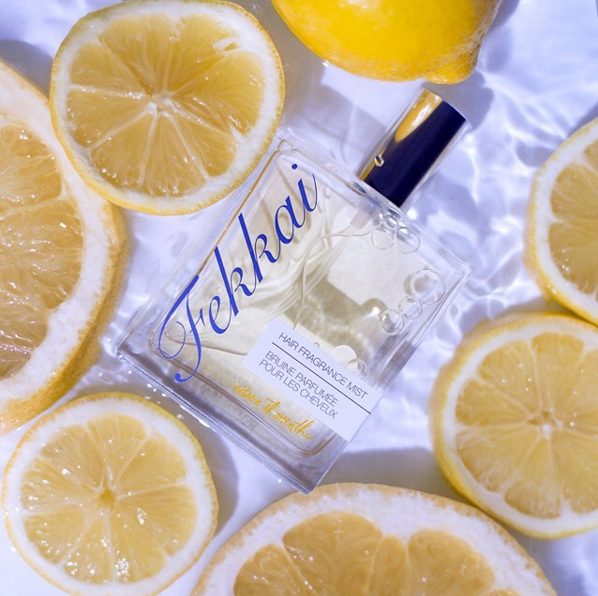 With the relatively recent advent (and subsequent embrace) of dry shampoo, bragging rights have been bestowed on those who go for days without sudsing their locks. You haven't washed your hair in three days? Kudos! It's been a week since you lathered, rinsed and repeated? Congrats, I guess.
The pros and cons of dry shampoo are a frequent subject of online debate. Some say a lack of shampooing leads to hair loss, but others (like the writer of this article) fight back, praising the time-saving benefits of skipping a daily regime of shampoo, conditioner, serum, blow drier, flat iron and finishing spray.
However, there's one thing both sides of the argument can agree upon: They all miss the delightful scent of freshly washed hair. So it's great that the increasing selection of hair perfume has become a "thing." And it just keeps expanding: Everyone from Dior to Frederic Malle have hopped on the fragrance for your locks bandwagon.
Vanity aside, there's a scientific reason as to why hair perfume is so effective. Sacha Mitic, co-founder of the Stockholm haircare brand Sachajuan, explained: "Using a fragrance in the hair is better for distribution than spraying it on your body. Hair has a far bigger surface than the body. If you compare the total surface of hair that is 20 centimeters long, it is 6 square meters (about 65 feet) compared to the skin that is only 1.5 square meters (about 16 square feet.) There is far more surface to work against odor, but also to distribute the scent to the surroundings. Maybe we should ask the question why are we using fragrance on the skin…"
While a fine, scented hair mist shouldn't replace a daily spritz of eau de parfum, think of it as a perfumed security blanket. It offers protection from bad odors and a few of the formulas even claim to benefit your locks, with frizz maintaing qualities and shine inducing treatments.
Depending on your appreciation of fragrance, there are different levels of hair perfume. From a barely noticeable rose aroma to a full-on aromatic punch of desert flower, here are three tiers of embracing the scented trend.
Light: Fekkai Hair Fragrance Mist in Rose Fraîche

Rose Fraîche is Fekkai's best selling hair fragrance, and understandably so. The powdery scent is so light, you might forget that you sprayed it on just moments after. But still, it gets the job done when it comes to masking the odor of sweat. Or dry shampoo.
The floral scent is easy and simple, so it's ideal for the beauty obsessive who shies away from heavily perfumed products. As a bonus, each spritz of this fresh Fekkai formula boasts anti-frizz and anti-static properties.
Medium: Sachajuan Protective Hair Perfume
Not too light and not too strong, the Sachajuan Hair Perfume was my personal favorite of these three: it was just right. Promising UV-protection, moisture, shine and static reducing qualities, along with the haircare brand's signature scent–made with litchi and green apple top notes–this fragrance was the full package. With woodsy base notes of patchouli, cedar and white musk, it left my hair with a clean scent that was fresh and musky, but not too floral.
"The Protective Hair Perfume has an anti-odor technology built in where bad smell (from smoke, sweat, kitchen etc.) is encapsulated and neutralized," explained Mr. Mitic. This technology is made possible thanks to a derivative of natural citrus oils.
Sachajuan also points out that this hair perfume can double as a body spray. But please, don't use it in place of an actual shower.
Heavy: Byredo Mojave Ghost Hair Perfume
Byredo is known for bold scents that do more than just linger: they announce your entrance into any room. This fragrance is no different, except for the fact that it should be applied to only your hair. An iteration of the brand's existing Mojave Ghost eau, the smooth white bottle contains ambrette and Jamaican naseberry top notes, plus violet, sandalwood and magnolia heart notes, finished off with a base of Chantilly musk, crisp amber and cedar wood.
Because of it's strength, it is important to match this Byredo hair scent with any other scents you plan on wearing. I personally think it plays well with Le Labo's Santal 33. When I'm feeling particularly bold, I pair it with two spritzes of Byredo's woodsy Oud Immortel and prepare to be the best smelling person in any room.