Over the last 10 years Who What Wear has become a hot site for superstar style-watching, boasting 1.6 million Instagram followers. Founders Hillary Kerr and Katherine Power are also behind  Byrdie, an all-things beauty site, and home décor destination MyDomaine.
Earlier this year the powerhouse created a collection with Target, and will be releasing their third book The Career Code in May. We caught up with the duo at a weekend style summit, Boss Notes, in partnership with Westfield (malls) in L.A. They dished the goods on what they wore to their own job interviews but confessed that despite their reader-friendly allure, they prefer formally dressed, less fashionable interviewees for jobs on Who What Wear: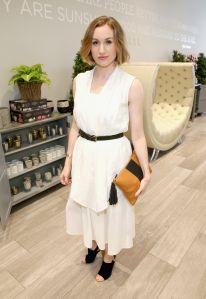 When you first met working at ELLE did you envision such success for your new venture?  Katherine Power: We probably didn't realize at first, but by the time that we formulated the idea for Who What Wear, we knew we had something special.
If you could go back to the beginning what would you tell yourselves? Hillary Kerr: If I could go back in time I would make myself learn how to code.
You'd have 10 years experience doing it! HK: Oh my god, that would be amazing. It doesn't mean that I'd necessarily be great at it, but I'd at least like to know that side of it.
Do either of you remember what you wore to your interview at ELLE? KP: I actually, believe it or not, wore flats. Which is like, gasp. It was the winter so I was wearing thick gray tights with a ruffled eyelet Vanessa Bruno skirt and knee-high brown flat riding boots, which I can't believe. But coming from LA it was this casual Olsen Twin fashion moment going on. I was right in the center of that.
HK: I ended up buying a black pantsuit from Banana Republic. I don't think I have owned a pantsuit since. I felt like I needed to look very business professional even though I was interviewing for an editorial features job. I wore that with a pink cashmere sweater, and a strand of graduated pearls. And then when I came back for my second interview I realized I hadn't planned ahead that far, so I wore the same black suit, but with a black cashmere sweater.
Why shouldn't we underestimate the importance of first impressions? HK: I always say that just like it's important to be articulate, the way that you dress, and the way that you present yourself to the world communicates something about you before you can even open your mouth.
KP: It is your absolute first impression, and it's hard to forget.
Do you think when interviewing for a fashion job it's important to wear the current season? KP: We would much rather someone come in a little bit more conservative and professional than wearing their fashion flare on their sleeve.
HK: At the end of the day, for most of the jobs in our company, you need to be professional first, and fashion second. Also, there's always a way to be fashionable, and professional.
How does someone achieve that? HK: A lot of it is about silhouettes. If you're wearing a great polished trouser, is it in the style of the season? Are you coming up with the right color combination? If earrings are having a moment on the runway, are you wearing an interesting earring? There are so many different small ways that you can incorporate fashion into any sort of professional outfit.
What about any beauty, hair or nail tips for the workplace? KP: Just super polished; so a clean, nice blow-dry, a fresh manicure, or clean, bare nails.
HK: Experiment with trends on the weekend or on your own time, but it is not ever the time to do it in an interview or in a work setting.
If there were one item we could add to our summer 2016 wardrobe what would you recommend? Both: Mules.
HK: Especially a mule that has a chunkier heel is so key. For summer I would do it in pink suede or saddle brown leather—something that will ground all of those more ethereal summer pieces. It's comfortable, and also it's versatile, so you can wear it to work or you can wear it on the weekend.
Is there a trend you're obsessed with right now? KP: I'm very into flared pants just above the ankle — whether they're denim or a slack material.
What color will you be coveting this summer? KP: I feel like pink, rose, and blush tones are really big.
For people who are just starting in the fashion or blogger world and are afraid the market is too saturated what would you tell them? HK: Have a point of view.
KP: Find what your very specific and different point of view is and that is the only way you will differentiate yourself, and define your business.
HK: Point of view is the topics you cover, the way that you cover them, the look and feel of your site, how your social media is curated.
KP: Your voice, your tone.
HK: All of it. And be consistent.