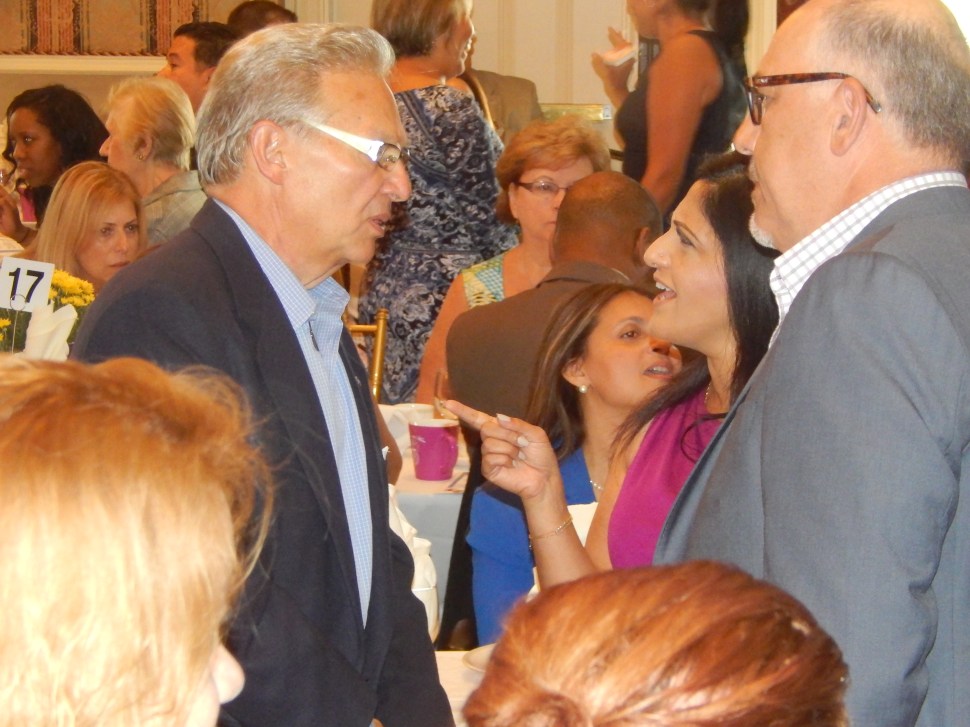 WINNERS
Vincent Prieto
They keep trying to get rid of him and he keeps projecting staying power as speaker of the assembly. We don't yet know whether he has the votes to pass his version of the Atlantic City takeover bill next week, as South Jersey sources insist he only has 35 votes, and North Jerseyans say he has 38 plus five Republicans. It's difficult to envision many Republicans joining Prieto (by our count, only Assemblyman Chris Brown and Assemblyman Sean Kean appear positioned to back the speaker's bill). But for the moment, Prieto does not appear in jeopardy of losing his leadership seat while digging in as a speaker committed to a fair process for his house.
Kristin Corrado
Running in 2017, the clerk of Passaic County all but locked up Republican establishment support in LD40 for state Senator Kevin O'Toole's senate seat.
Joe DiVincenzo
On a technicality, the Essex County Executive won his state Election Law Enforcement Commission (ELEC) case.
Walter Timpone
Dinged by state Senate Majority Leader Loretta Weinberg (D-37) over his role in the Joe D. ELEC case, Gov. Chris Christie's nominee easily won approval to the state Supreme Court.
The longtime insider is the favorite to succeed Jim Schroeder as chairman of the Atlantic County Democratic Committee. This week he received the nod from most of the relevant members of the Atlantic County Democratic establishment.
In Limbo
George Norcross
The South Jersey Democratic boss apparently failed to lure Bergen County Democratic Chairman Lou Stellato (pictured, above) onto his side in trying to displace Prieto as speaker, according to a story in the Bergen Record. But we don't yet know if the speaker will be able to summon the necessary 41 votes to pass his state takeover bill and defeat the Norcross-Sweeney-Christie triumvirate.
LOSERS
Chris Christie
The Republican Governor of New Jersey is at a 26% approval rating in his home state, his lowest point ever, according to a poll this week issued by Rutgers-Eagleton. It was the kind of headline that diminishes the governor's capacity to be an effective influencer and arm twister on an issue like, for example, the state takeover of Atlantic City.
Scott Garrett
According to those FEC reports, the 5th District Congressman's first quarter funding dipped significantly in terms of contributions from businesses since the last three election years. In 2010, his quarter one earnings from businesses were $57,500. In 2012 they were $73,563. In 2014 they were $62,250. This year, Garrett's quarter one earnings from businesses are around $15,500. It's significant because the movement conservative stuck his foot in his mouth when he made some homophobic comments to fellow GOP caucus members and gave an opening to his rivals to brand him an asocial bigot.
William Paterson, Kean and the College of New Jersey
The three state colleges and universities are not being up front with students on how their fees (between $3,600 and $4,600 annually) are being spent, according to the State Comptroller's Office. For more on that story, go here. "College students in New Jersey are paying some of the highest tuition rates in the country," said Assemblywoman Mila Jasey (D-27), in reaction to the report. "Given the amount of money that students and families are investing in higher education in the state, it is only right that they are made aware of how their hard-earned money is being spent. The audit made clear that this is not happening."
Civics 101
The state Senate just approved a state Supreme Court Justice inside two weeks. By all accounts, the newest addition to New Jersey's highest court is a "good guy," but in the words of one stunned insider, you could bring Justice William Brennan back from the grave and he'd get more of a vetting process than the speedy time frame just applied to Timpone.