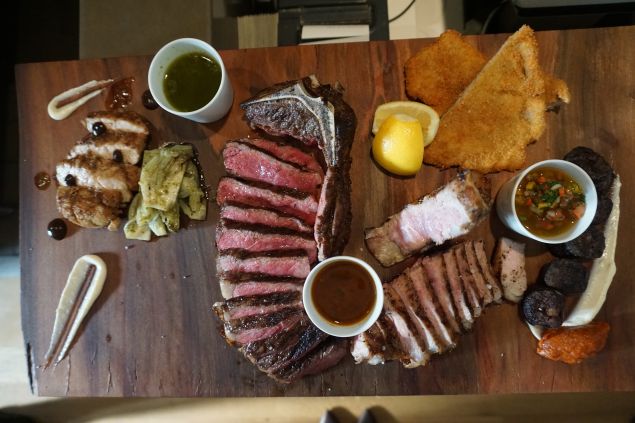 A lot of the best meat we've ever tasted has been in Buenos Aires. During our visit there, we feasted at beloved steakhouses Cabaña Las Lilas and La Brigada, ate perfect choripan (sausage sandwiches) on the street with local food-writer queen Allie Lazar of Pick Up the Fork and even made our way next to the grill at a now defunct puerta cerrada (closed-door restaurant) in the chef's home. It was, without question, the most meat-centric week of our lives.
Finding Argentine food in the United States that even somewhat resembles the grill fests in Buenos Aires has been difficult. So we're pleased to report that Wolfgang Puck's Cut Beverly Hills is serving, through May 15 (or possibly longer if Mr. Puck extends it), an Al Asador menu inspired by Argentina. On the night we visited the restaurant at the Beverly Wilshire, appetizers included grilled provolone cheese, three kinds of mini empanadas and a hearty salad with gem lettuce, herbs, fingerling potatoes, baby beets, cherry tomatoes, spring onions, radishes, fava beans and quail eggs. But the standout starter was a choripan with chimichurri sauce and confit tomatoes that reminded us of sausage stands around Buenos Aires' Mercado de San Telmo.
Cut then brought out a barrage of proteins including steak, crispy veal sweetbreads, a standout veal porterhouse, blood sausage and trout. The restaurant, which is changing this limited-edition menu regularly, is also serving vegetable sides like charred leeks and roasted carrots. Dessert could include dulce de leche with malted cookies and black and white chocolate.
The Al Asador menu is the start of Cut's International Series, which Mr. Puck says could include special menus showcasing dishes from Austria, France, Italy and Japan. The famed Austrian-born chef had considered starting with Austria, but business partner Alex Resnik is from Buenos Aires and convincingly made the case for Argentina.
"First of all, Argentina is very famous for their meat," Mr. Puck says. "Like it or not, it's a different story, a different kind of meat. And I thought they have some interesting dishes, so why not do something different? I like to experiment."
The International Series is also a way for Cut head chef Ari Rosenson and his team to discover new things about global cuisine.
"I like to create excitement," Mr. Puck says. "Nobody at Cut knew what a dulce de leche was, or how to make an empanada, or the way they eat their meat in Argentina, or even a traditional chimichurri. It's a good way for the young chefs to learn something different. And it's an exciting thing for the guests."
In June, Mr. Puck is going to Europe, where he will do things like figure out how to source Austrian grass-fed beef. His Austrian menu could include braised meats in dishes like goulash. He also mentions a traditional Austrian specialty of thin rib eyes covered in fried onions.
Yes, Mr. Puck, the celebrity chef who rules them all, concedes he'll always have customers who want to come in and get their regular Snake River Farms filet, which they're free to do any night. But Cut is a rarefied meatery in a hotel with an international clientele, so why not test the limits? In so many countries, there's "a tradition of having good meat," says Mr. Puck. "We have to keep our eyes open and taste different things."
Because sometimes that sausage sandwich you eat on the concrete will be a bite you'll always remember.