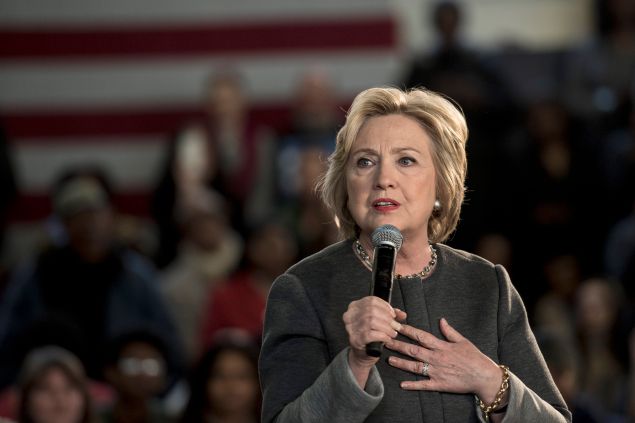 Hillary Clinton's 2016 presidential campaign is showing major signs of unraveling. Her best performances are far behind her, and Wisconsin voters yesterday gave Sen. Bernie Sanders his sixth victory in the last seven contests. With each Sanders victory, Ms. Clinton's aura of inevitability fades away.
Despite the Democratic National Committee and its chair, Congresswoman Debbie Wasserman Schultz, doing everything in their power to ease Ms. Clinton's path to the nomination, Mr. Sanders is surging in support and gaining in momentum. And Ms. Clinton, who surely thought by this time she'd be well past the point of pivoting her focus to Donald Trump, can no longer hide her frustration over having to actually campaign in the dogfight the race for the Democratic nomination has become.
Mr. Sanders' easy victory in Wisconsin yesterday—56 percent to 43 percent—makes the New York primary in two week's time a must-win for Ms. Clinton. Even before his Wisconsin triumph, Mr. Sanders put his opponent on notice that the pressure is on in New York, the state Ms. Clinton represented in the U.S. Senate from 2000 to 2008 and where she and former President Bill Clinton make their home. New York is far from a home game for Ms. Clinton: Mr. Sanders was born and raised in Brooklyn, has the accent to prove it and once taught at Binghamton University.
"If we win New York state, between you and me, I don't want to get Hillary Clinton any more nervous than she already is," Mr. Sanders said at a campaign rally in Wisconsin on Monday. "She's already under a lot of pressure, so don't tell her this. If we win here, we win in New York State, we're on our way to the White House."
The Clinton campaign has been quick to point out that Mr. Sanders is simply too far behind. And while the format of the Wisconsin primary (votes are awarded proportionally) helped soften the blow and prevented Mr. Sanders from making a major dent in Ms. Clinton's pledged-delegate lead (she's still roughly 200 to the good), a Sanders success in New York would fuel intense speculation that Ms. Clinton has lost momentum for good.
Mr. Sanders framed his victory speech yesterday around the concept of momentum, seemingly mocking the Clinton-as-inevitable narrative that once dominated. "Momentum is starting this campaign eleven months ago and the media determining that we were a fringe candidacy," Mr. Sanders told an enthusiastic crowd in Wyoming, where Democratic caucuses will be held on Saturday.
He reiterated his popularity among young voters and refusal to play Super PAC politics, highlighting that his campaign has received more than six million individual contributions, with an average donation of $27. "To paraphrase Abraham Lincoln at Gettysburg: This is a campaign of the people by the people and for the people," Mr. Sanders declared to significant cheers, and transitioned to a not-so-subtle dig at Ms. Clinton: "We have decided that we do not represent the billionaire class; we do not represent Wall Street or the drug companies or the fossil fuel industry—and we do not want their money."
'Many good lawyers at DOJ may be using all sorts of sophistry and rationalization to try to avoid applying the plain language of the law to Hillary Clinton.'
Mr. Sanders' support among young voters is a growing frustration for Ms. Clinton. In a recent interview on Meet the Press, the former first lady addressed an incident a few days earlier in which she was confronted by a Greenpeace activist about donations she receives from the fossil fuel industry. Ms. Clinton told host Chuck Todd: "I feel sorry sometimes for the young people who believe this; they don't do their own research."
But research shows Ms. Clinton and her political operation have benefitted significantly from fossil fuel industry largesse in the form of donations to the Clinton Foundation and her Super PACs. Ms. Clinton's frustration was in full view as she lashed out against the Greenpeace activist, and in the subsequent interview about it, because she simply can't escape criticism over the millions of dollars she has received from powerful corporate interests. The Greenpeace activist is not affiliated with the Sanders campaign; rather, she was asking Ms. Clinton about the donations because the Clinton campaign has not signed Greenpeace's pledge to reject all fossil fuel contributions—while Mr. Sanders has.
The spat with the Greenpeace activist was not the first time Ms. Clinton has applied condescension in criticizing young people for their enthusiastic support of Mr. Sanders. But her interview with Chuck Todd was illuminating because it exposed Ms. Clinton's growing exasperation over the problems her campaign is now facing. What's notable about Mr. Sanders' recent string of wins is that it has been marked by overwhelming margins of victory, which have served to revitalize his campaign at a time when Ms. Clinton expected to have the nomination on lockdown. Many of the states Mr. Sanders has won recently he did so by overcoming a deficit in the polls. And Mr. Sanders has turned the tables on Ms. Clinton in Nevada, where the former Secretary of State won the first round of caucusing in February. Earlier this month, at the Democratic Party's state convention, delegates for Clark County defected to Mr. Sanders. Clark County includes Las Vegas, and Ms. Clinton won it initially with the help of Sen. Harry Reid, who called in favors to have casinos send employees over to the caucuses for Ms. Clinton.
Like Ms. Clinton, Mr. Trump, the Republican front-runner, suffered a painful loss in Wisconsin yesterday. In anticipation of a bruising general election campaign against Mr. Trump, Ms. Clinton has been tending to a schedule of lavish fundraisers and courting wealthy donors; her operation has even begun an ad campaign against him. But here Ms. Clinton's campaign is jumping the gun big-time, as Wisconsin proved. Ms. Clinton continues to take actions as though she has already won the Democratic nomination, and relying on the argument that the Sanders campaign is too far in the hole to rebound. Ms. Clinton's campaign manager, Robby Mook, wrote an essay in Medium, published on Monday, that smacked of desperation, attempted to paint the Sanders campaign as hopeless and argued the former first lady has "built a nearly insurmountable lead among both delegates and actual voters." Following several additional exaggerations, Mr. Mook concluded that Ms. Clinton is the "only candidate tough enough to beat" Mr. Trump—despite nearly every general election poll showing Mr. Sanders outperforms her in this respect. Mr. Mook's hyperbolic misrepresentation of facts takes bias to an unprecedented level, and, more than anything else, displays how desperate the Clinton campaign is for the Democratic primaries to be over.
Contributing to Ms. Clinton's frustrations is the controversy surrounding her use of a private e-mail server during her tenure as Secretary of State, which has resurfaced as a major obstacle to her candidacy. "The Clinton campaign has attempted to make the public believe that she is not guilty of anything because the information on her very unprotected server was not 'marked as classified' or 'classified at the time,'" wrote Ronald Sievert in USA Today. Mr. Sievert explained, however, that the information contained on the secret server never had the chance to be reviewed and classified by a security officer—which, in accordance with the law, should be sufficient, he argues, to warrant prosecution. Sievert notes, of course, that prosecution is unlikely. "Part of the reason is that the political appointees who make the final decisions will at least unconsciously be searching for ways to evaluate the case in a way that would evade an obvious debacle for the Democratic Party," he wrote. "Unfortunately, it is likely that, at this very moment, many good lawyers at DOJ may be using all sorts of sophistry and rationalization to try to avoid applying the plain language of the law to Hillary Clinton."
Regardless of what the e-mail server controversy end-game is, the entire affair is a perfect illustration of Ms. Clinton's poor leadership and judgment. The longer Ms. Clinton's shortcomings are exposed to the general public, the more her support diminishes and Mr. Sanders' grows. It shouldn't be seen as an isolated incident that in Wisconsin exit polls, Democrats overwhelmingly (82 percent to 16 percent) said that Mr. Sanders was more trustworthy than Ms. Clinton. Just as they did in 2008, voters are realizing in greater numbers that Ms. Clinton, as a 2008 Obama campaign ad charged, will "say anything and change nothing."
Disclosure: Donald Trump is the father-in-law of Jared Kushner, the publisher of Observer Media.