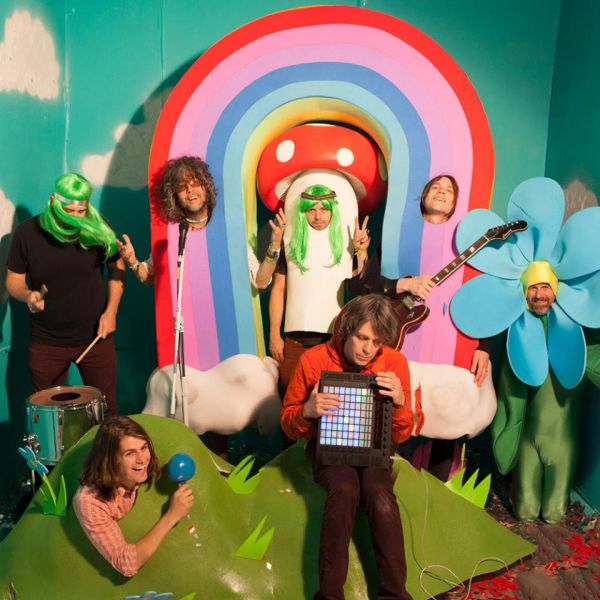 On Saturday, April 16, over 1,000 independently owned record stores in the U.S. and hundreds of similar stores around the globe unite for one big vinyl love-over. RSD is when participating stores add newly pressed, usually limited-edition records released especially for the annual occasion by both indies and major labels, including Warner Bros. Records, an official sponsor and longtime supporter.
If there's one release that pretty much sums up what it's all about—that is, community (and collecting juicy special vinyl releases)—it's seminal garage band The Sonics' Live At Easy Street. The album captures a Seattle in-store performance on last year's RSD featuring guests such Pearl Jam's Eddie Vedder, Screaming Trees' Van Conner, Soundgarden's Ben Shepherd, and Mudhoney alumni Matt Lukin. (Lukin on "Louie Louie"—perfect!)
This year's exclusive release batch includes everything from a simple two-track 7-inch single to massive multiple album sets. Among the more straightforward is a good, old-fashioned black vinyl couplet from Mudcrutch (Tom Petty, Mike Campbell, Benmont Tench, Randall Marsh and Tom Leadon). The A side, "Trailer," is backed with "Beautiful World," two songs teasing the supergroup's album, due later this year.
[youtube https://www.youtube.com/watch?v=YAWvlDOn0uY&w=560&h=315]
Many RSD releases are irresistibly vibrantly colored: Former My Chemical Romance frontman Gerard Way thinks pink for a seven-inch featuring two previously unreleased tracks: "Pinkish" and "Don't Try"; OutKast goes glow-in-the-dark alien green for a 10-inch headed by "Elevators (Me & You)", which marks the 20th anniversary of the Atlanta hip-hop duo's smash album ATLiens; and Air's "Casanova 70" comes as a spectacular translucent splatter colored 12-inch.
Skrillex & Diplo Present Jack Ü, the self-explanatory titled two-time Grammy winning dance disc featuring "Where Are Ü Now" with Justin Bieber, is reissued on bright yellow vinyl; and the Deftones' formerly out-of-print collection, B-Sides & Rarities, finds its way onto vinyl for the first time, pressed on gold vinyl over three sides with etched artwork on the fourth side.
Many download and CD-era bands never released a "proper album" before RSD, imagine that! Portland country rockers Blitzen Trapper's second album, Field Rexx, debuts on vinyl this month; as does Australian transplant Ben Lee's breakthrough album, Awake is the New Sleep; and Alejandro Escovedo's Gravity and Thirteen Years, originally out on Watermelon Records, which shut its doors in 1998, come out of the closet with first-time vinyl issues, too.
British punks The Adverts first two albums are also reissued after being out of print: 1978's debut, Crossing the Red Sea With The Adverts is on red vinyl, and Cast of Thousands, the band's second album, which was recorded with Tom Newman (Mike Oldfield's "Tubular Bells") is on white.
[youtube https://www.youtube.com/watch?v=kOoBz7JVSsU&w=420&h=315]
For the past few RSD's, Rhino Records has issued some cool David Bowie picture disc singles and this year's includes "The Man Who Sold the World" on 12-inch and "TVC15," a seven-inch depicting a red-haired, mid-'70s Bowie.
Other picture discs include a re-release of James Bay's debut album, Chaos and The Calm, depicting the be-hatted newcomer in full guitar hero mode.
Covers are always fun: Bar None/Coyote Records co-releases The Feelies Uncovered, a 12-inch EP featuring "Seven Days" (Bob Dylan), "Take It As It Comes" (The Doors), "Dancing Barefoot" (Patti Smith), and "Barstool Blues" (Neil Young).
The Side By Side Single series is highly collectable and this time finds Echosmith taking on Talking Heads' 1983 hit, "This Must Be The Place (Naïve Melody)," backed by the original; the Bee Gees original "I Started A Joke" with Faith No More's version—a longtime live favorite—which is pressed on minty green vinyl; and Warren Zevon and the Flamin' Groovies' versions of "Werewolves Of London" on a seven-inch picture disc.
Elsewhere, electro popsters Big Data and RAC swap off songs on a translucent brown seven-inch split single: Big Data covers RAC's "Let Go" and RAC covers Big Data's "Dangerous."
RSD gives a chance to grab a pristine copy of an original vinyl release such as Rounder Records' 40th Anniversary vinyl reissue of bluegrass landmark, J.D. Crowe & The New South. Like most reissues, it has bonus tracks and retrospective liner notes based on new interviews with J.D. Crowe, Jerry Douglas, Tony Rice, Ricky Skaggs and Bobby Slone. Look carefully at the sleeve: the "flipping the bird" cover photo was a thing in 1975. Creedence Clearwater Revival's 1969 Archive Box is an audio-visual time capsule of a band at the height of its commercial powers and includes interviews, photos and correspondence, band ephemera, and all the music the band released that year, all kept as close to original issue as possible, including misspellings!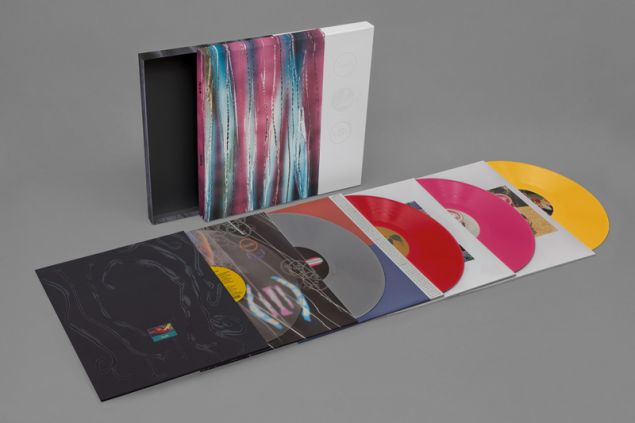 The Sea and Cake's Sam Prekop's classic 1990s self-titled lounge-y debut is pressed on opaque blue vinyl. It's a chill-out must-have, also previously only available on CD.
Lush's Origami box set collects the British band's three albums Spooky (1992), Split (1994) and Lovelife (1996), and the singles compilations Gala (1990) and Topolino (1996). All were out-of-print since the '90s except Topolino, which was never available on vinyl before. All five LPs are pressed on different colored vinyl. As is the four-album acid-jazz and jazz-funk epic, Jazz Dispensary: Cosmic Stash, has cuts from Bernard Purdie, Isaac Hayes, David Axelrod, The Lafayette Afro Rock Band, the Blackbyrds, and Pharoah Sanders. Each disc is pressed on different translucent colored vinyl.
It wouldn't be RSD without those masters of product pimping The Flaming Lips releasing something excessive. Besides a CD (er, do CDs count?) and a comic, Lightning Strikes The Postman, The Lips add Heady Nuggs Volume II, an eight-LP box set collecting five albums from 2006-2012. (Yes, there was a Heady Nuggs Volume I covering the years from 1992.) Why eight discs if that's only five albums? Because spreading the music out creates better sound. And while we love vinyl because it's more huggable than downloads, we love it because it also sounds better, too.
For more sonic enlightenment: www.recordstoreday.com.