MONDAY, MAY 9
Talk: "Artis Presents: A Lecture with Miki Kratsman" at School of Visual Arts
An Argentinean-born photographer who has lived in Israel since 1971, Miki Kratsman is one of the most respected photojournalists covering the Israeli-Palestinian conflict and its impact on the daily life of the Palestinian people. A press photographer for the Israeli newspapers Ha'aretz and Hadashot, Mr. Kratsman has also taught at the country's best art schools, while exhibiting in cultural institutions and biennials worldwide. The evening's talk, presented by SVA's MA Curatorial Practice program, Artis and the International Center of Photography, features an introduction by SVA's Steven Henry Madoff followed by an artist presentation and conversation about the work and its reception with ICP curator Maya Benton.
School of Visual Arts, 133-141 West 21 Street, New York, 6:30-8 p.m. RSVP required
TUESDAY, MAY 10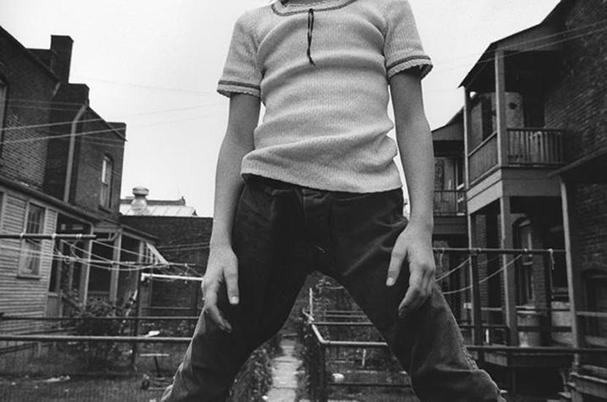 Opening: "Mark Cohen: Closer" at Danziger Gallery
One of the leading photographers of the American street photography movement that was popular in the 1960s and '70s, Mark Cohen documented his subjects at close range by pointing and shooting the camera without looking through the viewfinder. Centered on the body, Mr. Cohen's pictures, which are printed full frame, often feature headless people so that their skin color, style of dress and the objects they carry are the focus. In this show, the 73-year-old photographer presents his signature style black-and-white images shot on the streets of Wilkes-Barre, Penn., in 1974 and 1975, shortly after his notable solo outing at the Museum of Modern Art.
Danziger Gallery, 95 Rivington Street, New York, 6:30-8 p.m.
Talk: "Nancy Grossman, Marilyn Minter, Laurie Simmons, Betty Tompkins" at the Flag Art Foundation
In conjunction with Betty Tompkins's solo show "Women Words, Phrases, and Stories," the foundation presents a conversation with artists Nancy Grossman, Marilyn Minter, Laurie Simmons and Ms. Tompkins, moderated by Flag Art Foundation founder Glenn Fuhrman. An American artist who's not afraid to explore sexuality as subject matter, Ms. Tompkins is widely recognized for her full frontal, monochromatic views of male and female genitalia and people engaged in sexual acts. Her large, gray-scale paintings and drawings have the power to both shock and titillate, but that's not what she's showing in her word-based work at the Flag. Both flattering and vulgar, the language used to describe women in her 1000 paintings on view runs the gamut from commonly used words like "babe" to such street slang as "three hole wonder." The three artists sharing the stage with Ms. Tompkins are equally known for creating provocative works about the lives of women.
The Flag Art Foundation, 545 West 25 Street, New York, 6-8 p.m., RSVP requested
WEDNESDAY, MAY 11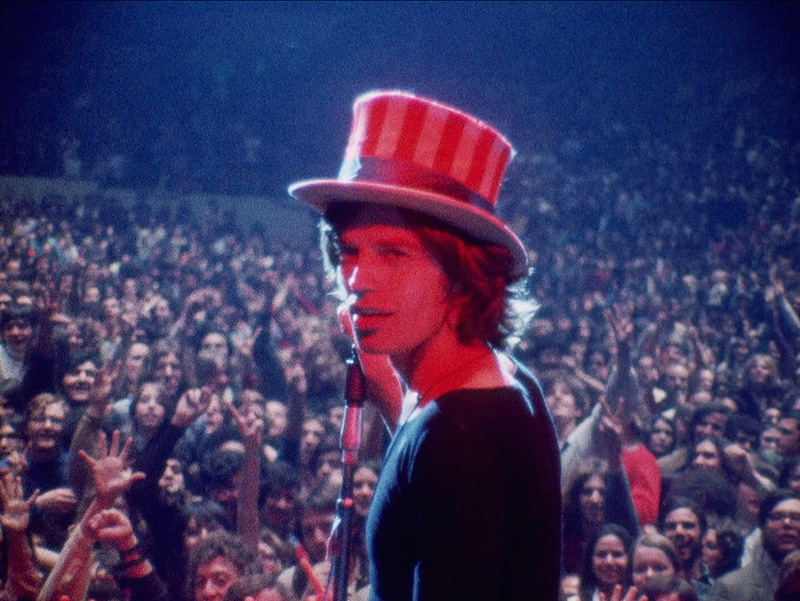 Screening: "Gimme Shelter" at Metrograph
One of the most notorious movies directed by the legendary documentary filmmakers Albert and David Maysles, Gimme Shelter captures the Rolling Stones deadly, free concert at California's Altamont Speedway on December 6, 1969. Just four months after Woodstock presented an image of peace, love and happiness for the hippie generation, the Stone's show, which also featured Tina Turner and Jefferson Airplane, broke down into violence that ended with the stabbing of a fan. Instigated by the outlaw Hell's Angels biker gang, who were hired by the concert organizers to maintain order, the aggressive act paradoxically marked the counterculture-era rock concert as "the day the Sixties died."
Metrograph, 7 Ludlow Street, New York, 8 p.m., $15
THURSDAY, MAY 12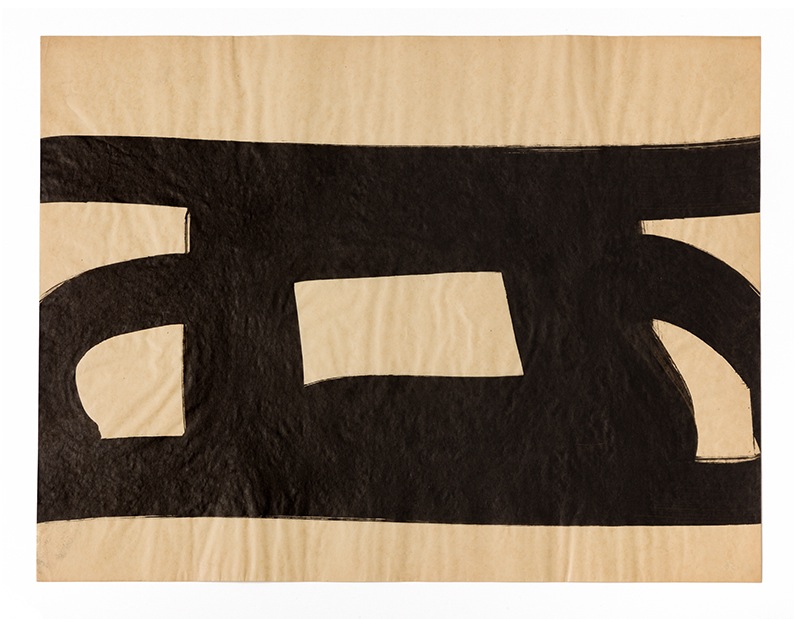 Opening: "Al Held: Brushstrokes" at Van Doren Waxter
Focusing on a series of India ink drawings that American abstract artist Al Held created in 1960, this solo show offers 29 simple works made with one or two direct brushstrokes on wax paper. Breaking from the hard-edged, geometric forms that he was mining at the moment, these rarely seen works present a more liberated view of the artist's mark making. Considered by some scholars to be a precursor to the Alphabet Paintings series by Held, who died in 2005, these drawings feature similar forms explored in that celebrated body of work.
Van Doren Waxter, 23 East 73 Street, New York, 10 a.m.-6 p.m.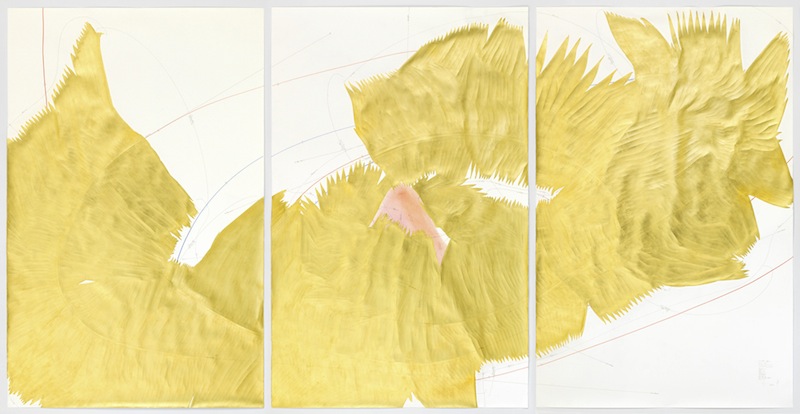 Opening: "Jorinde Voigt: Considerations in the Now" at David Nolan Gallery
A German artist who works primarily in the medium of drawing, Jorinde Voigt returns for her third solo show at the gallery with a series of recent mixed media works on paper paired with collage pieces from 2012. Investigating both natural and psychological phenomena, Ms. Voigt's narrative works express her personal experience of the world. In the medium-scale drawings on view, the artist uses ink, gold leaf, crayon, pastel and pencil on paper to explore historical depictions of wings and flying, while her large-scale collages employ mapping to smartly reinterpret aesthetic and literary themes from the past.
David Nolan Gallery, 527 West 29 Street, New York, 6-8 p.m.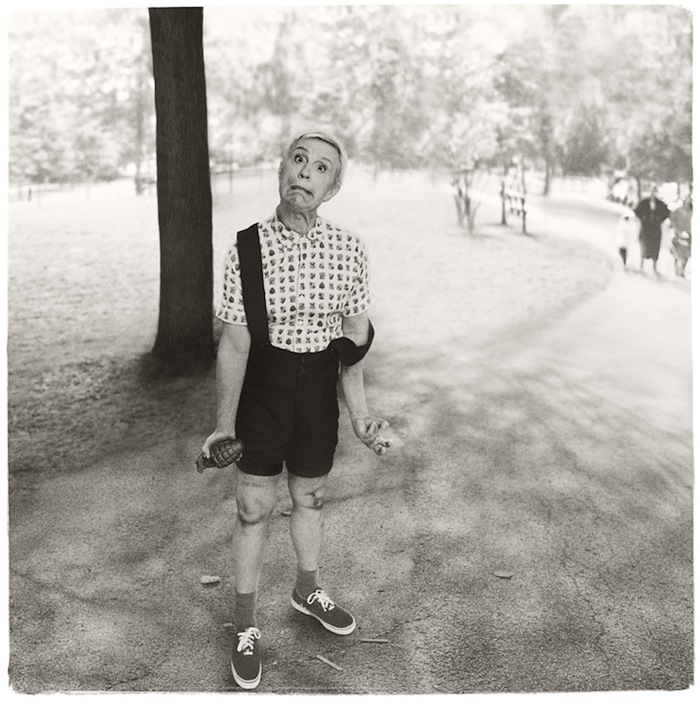 Opening: "Sandro Miller: Homage: Malkovich and the Masters" at Yancey Richardson Gallery
An American photographer who's known for his expressive portraits of Cubans, dynamic depiction of dancers in motion and longtime photographic collaboration with John Malkovich, Sandro Miller presents his celebrated series of pictures of the actor in the roles of legendary figures from the history of photography. Ingeniously restaging such iconic images as Diane Arbus' Child with a Toy Grenade in Central Park, Dorothea Lange's Migrant Mother, Nipomo, California and Andres Serrano's Piss Christ with Mr. Malkovich in the lead role, the photographer turns history on its head in this humorous and compelling show.
Yancey Richardson Gallery, 525 West 22 Street, New York, 6-8 p.m.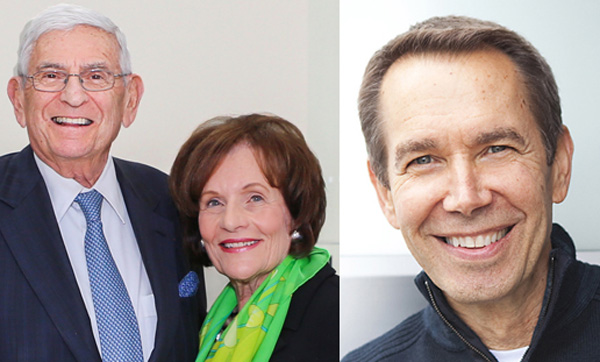 Talk: "Artists and Collectors: Edythe and Eli Broad and Jeff Koons in Conversation with Carol Vogel" at the 92nd Street Y
Presented as part of its time-honored program of art talks, this conversation between mega-art-collectors Eli and Edythe Broad and star artist Jeff Koons, which is moderated by former New York Times art reporter Carol Vogel, should shed light on the history of their powerful relationship. The Los Angeles-based art collectors and philanthropists own 34 works by the artist, including his seminal 1986 stainless steel sculpture Rabbit and the celebrated 1988 ceramic work Michael Jackson and Bubbles. The couple recently unveiled The Broad, a 120,000-square-foot contemporary art museum designed by Diller Scofidio + Renfro in downtown Los Angeles to exhibit their extensive collection. The inaugural show features several of Mr. Koons' most coveted works.
92nd Street Y, Lexington Ave at 92 Street, New York, 7:30 p.m., $32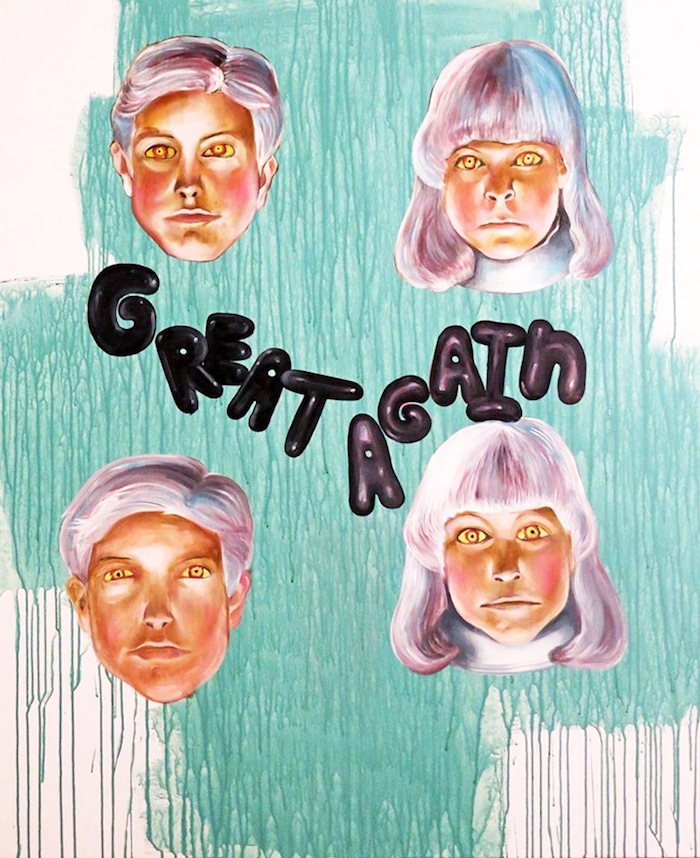 Opening: "Noah Becker: Fun Drugs" at Amy Li Projects
An artist, musician, writer and documentary filmmaker, Noah Becker is known for his realistic paintings inspired by popular culture. For the new series of canvases on view in his first exhibition with the gallery, Mr. Becker portrays characters from cartoons, children's television shows and sci-fi and horror films alongside words, written in a balloon-style font, that comment on the American political landscape. His depiction of the TV creature Big Bird in the painting Fun Drugs references the ongoing debate over defunding PBS, while noting the numbing effect of continuous political coverage. Equally satirical, Great Again simultaneously pokes fun at the Trump and Sanders campaigns through his rendering of zombie-eyed youths from the 1960's British science fiction film Village of the Damned.
Amy Li Projects, 166 Mott Street, New York, 7-9 p.m.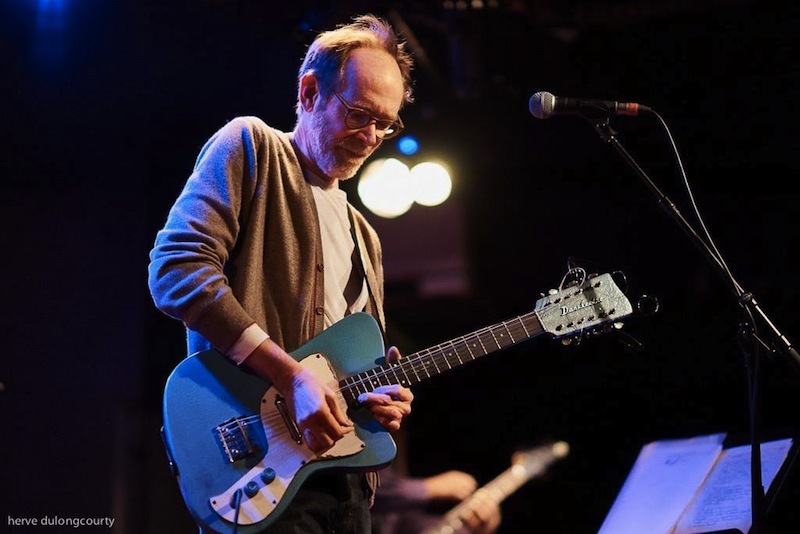 Performance: "Bang on a Can Presents Arto Lindsay in Brazilian Modernist Concert" at the Jewish Museum
In conjunction with "Roberto Burle Marx: Brazilian Modernist," a survey show of the celebrated artist and designer's diverse work, the museum presents a live performance by avant-garde musician and composer Arto Lindsay that riffs on "themes of cultural cross-pollination and experimentation" found in the landscape architect's work. An American guitarist who splits his time between New York and Rio de Janeiro, the performer has a sound piece in the comprehensive exhibition, which features paintings and drawings, floral and garden studies, costume designs, jewelry, ceramics and a 90-foot-long abstract tapestry by Mr. Burle Marx, a 20th century Renaissance man.
Jewish Museum, 1109 Fifth Avenue, New York, 7:30-9 p.m., $18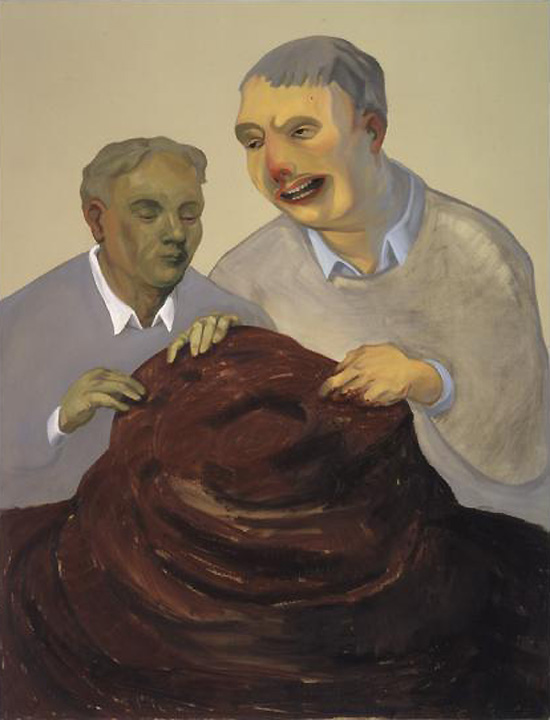 Talk: "Nicole Eisenman in Conversation with Massimiliano Gioni" at the New Museum
A recent recipient of the prestigious MacArthur "Genius Grant" fellowship and a two-time participant in the Whitney Biennial, artist Nicole Eisenman sits down with New Museum artistic director Massimiliano Gioni to discuss her current show "Al-ugh-orgies," which opened last week. Curated by Mr. Gioni, the show features the Brooklyn-based artist's allegorical portrayal of sexual and comedic scenes in her paintings from the past 20 years, and recent sculptural works that were made specifically for this show.
New Museum, 235 Bowery, New York, 7 p.m., $15