With the weather warming up, it's time to take your boozy indulgence outdoors and up a few stories. Rooftop bars all over Manhattan have been opening throughout the last few weeks, and they're offering astounding views of the city, its landmarks and surrounding water to compliment their food and drink.
We've rounded up a few worth checking out this summer.  One features sand, a pool and private cabanas, truly bringing the beach to the Manhattan concrete jungle. Another features a menu of authentic Mexican cuisine developed from touring 30 cities. Another is the highest outdoor terrace in the city.
Cantina Rooftop
605 W. 48th St.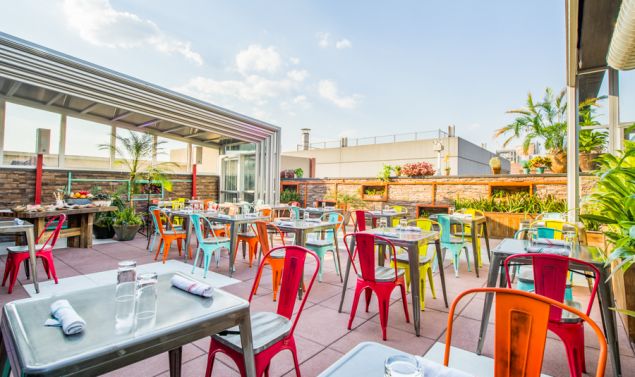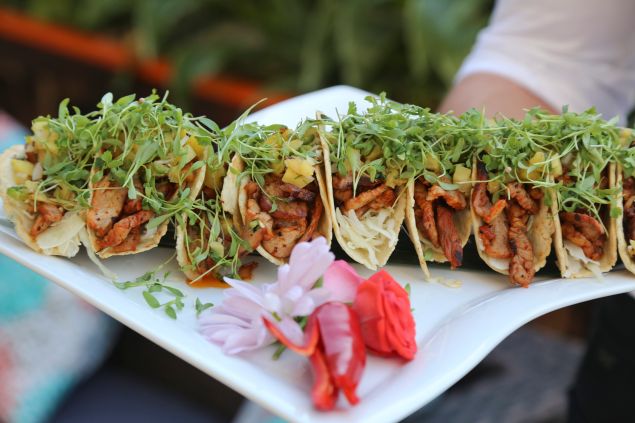 If you're looking for some modern Mexican cuisine and expertly crafted Tequila and Mezcal cocktails, the Cantina Rooftop has you covered. Now open year-round, this Manhattan rooftop is just steps from the Hudson River and features views of Hell's Kitchen. The Cantina rooftop is a full restaurant whose chef traveled to 30 Mexican cities for menu inspiration, and now he's serving up a selection of ceviches, guacamoles, molotes and tacos in addition to signature house specials including Oxtail Barbacoa, Pollo Campestre and Charred Octopus. Daily food and drink specials  will be offered Tuesday through Friday from 5 PM to 8PM, and reservations are strongly recommended.
Rock & Reilly's
218 W. 35th St.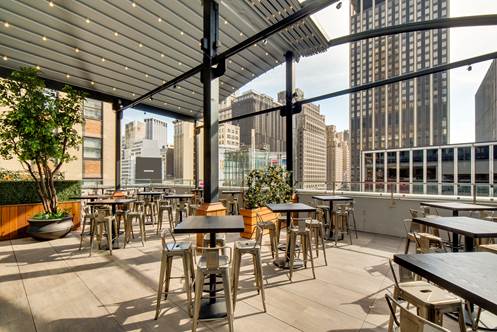 A Los Angeles and Park City celebrity hotspot has made it way to the big apple with their third location. Rock & Reilly's, the upscale gastro bar and restaurant, is located in the Renaissance Midtown New York Hotel where it overlooks Madison Square Garden. Encompassing 10,000 square-feet, the expansive venue includes an 8,000 square-foot terrace with a retractable roof, making it the largest of its kind in New York City. Covered by dark wood, distressed metal, exposed brick, high-backed booths, three handcrafted mahogany bars and classic hanging Edison bulbs, the venue has a Prohibition-era speakeasy—the only difference being that it's far from hiding. Guests can enjoy shareable plates and meat dishes such as the 28oz Bone in Tomahawk Rib Eye, Roast Halibut, and Brick Chicken, as well as indulge their sweet tooths with dessert items like the extravagant ice cream sandwich made with a benoit glazed donut.
Bar SixtyFive at Rainbow Room
30 Rockefeller Plaza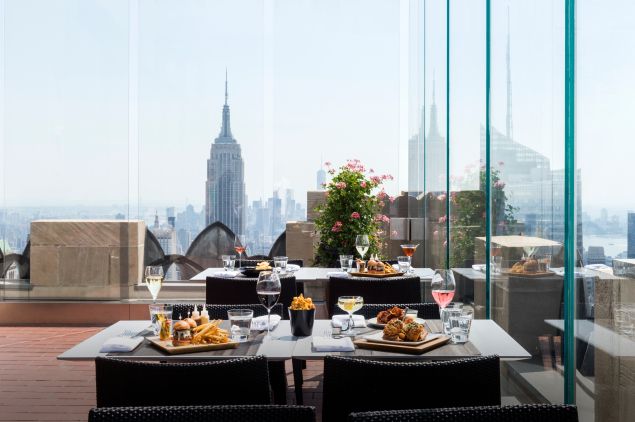 Bar SixtyFive, part of the fames Rainbow Room on the top of the Rock, sits higher in the air than nay other outdoor terrace bar in the city. 65 floors up, guests can enjoy not only playful bistro fare and curated cocktails in a polished vintage gem, but 270 degree views of Manhattan, including landmarks like the Empire State building, the Chrysler building, Times Square and 1 World Trade Center.
JIMMY
15 Thompson St.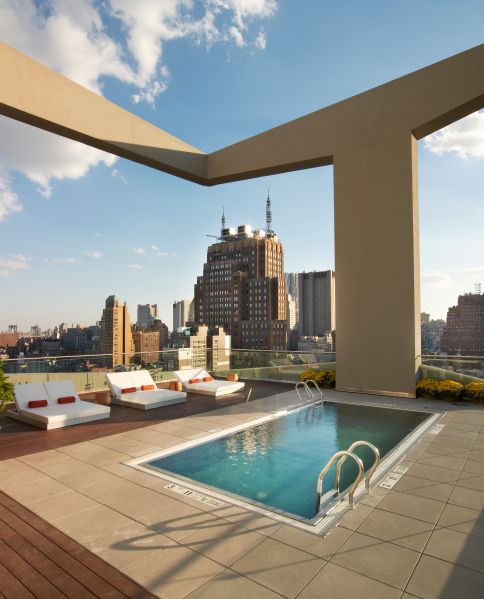 Set 18 stories high, JIMMY at The James provides spectacular panoramic views of Midtown, Wall Street, the Hudson River and the bridges spanning the East River. Although used as a year-round space, it's the perfect outdoor destination during the warmer months when the scene spills out onto the rooftop deck and pool. Guests are able to relax on chaise lounges while enjoying carefully curated made mostly from in-house ingredients including syrups, bitters and freshly squeezed juices with garnishes and herbs.
The Beach
355 West 16th St.
The name "The Beach" is no stretch—this unconventional downtown oasis atop the Downtown Dream hotel brings the sandy shore to Manhattan with a 5,000-square-foot-deck featuring 800 square feet of imported sand. Cote D'Azur-inspired chaise lounges, private cabanas with flat-screen televisions, a DJ booth and a partially translucent glass-bottom swimming pool that looks into the hotel lobby round out the beach experience. Anyone can drop in to enjoy craft cocktails and food items from the evolving menu, and day passes can be purchased to enjoy all of the luxuries including the pool and cabanas.
Loopy Doopy
103 North End Ave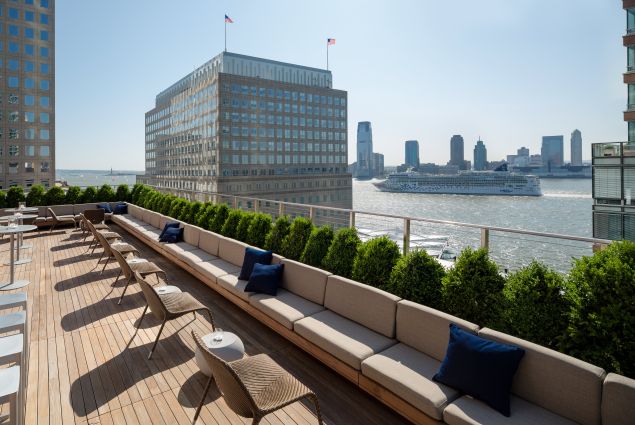 As its name would suggest, this rooftop bar atop the Conrad Hotel is serving up drinks with a little fun. Their standout items are Prosecco popsicle drinks, where you can choose flavored frozen treats such as white peach or blood orange and have them served in a glass of bubbly. Craft cocktails and beer are, of course, on the menu as well. And while Loopy Doopy isn't a full service restaurant, shareable snacks are on the menu. To boot, there are great views of the Statue of Liberty and the Hudson River.
Edwin's
16 Gramercy Park South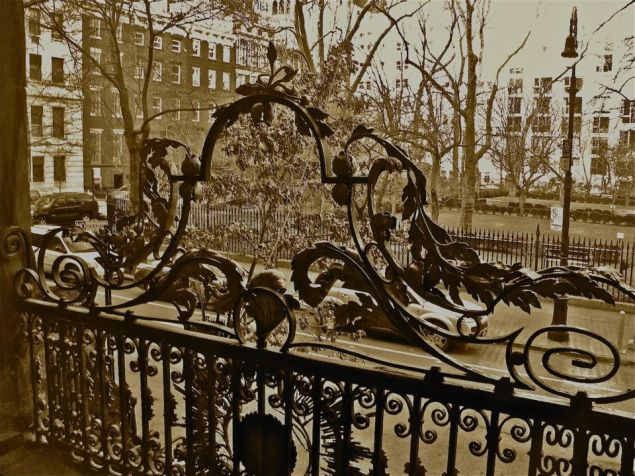 For the first time, members at The Players Club and their guests can enjoy fine dining on the balcony of the social club's historic mansion overlooking Gramercy Park. On Friday nights, the club's pop-up restaurant, Edwin's, will be serving a three-course pre-fixe menu featuring entrees like a NY Sirloin steak and a balsamic glazed vegetable tower. Unlike most rooftop bars that tout vast views, dining on the balcony at Edwin's offers an escape from the massiveness and hustle and bustle of NYC. It's quaint, and you feel like you're drinking in the private park.