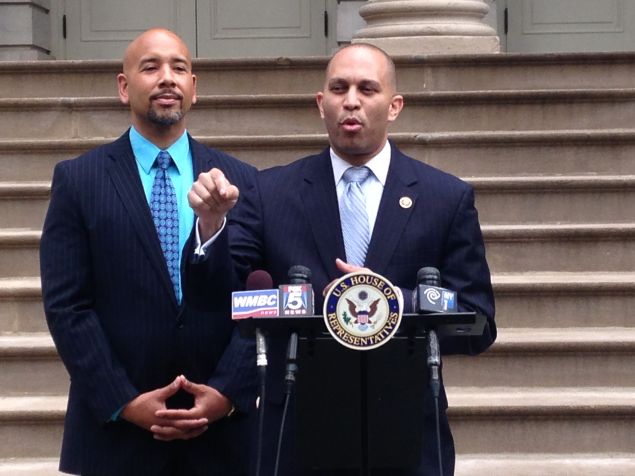 Bronx Borough President Ruben Diaz Jr. and Brooklyn Congressman Hakeem Jeffries—two top critics and rumored challengers to Mayor Bill de Blasio—joined up outside City Hall today to attack the mayor's budget priorities and weigh in on the investigations besieging his administration.
The putative purpose of the press conference was to demand the mayor steer $80 million toward summer jobs' programs targeted at low-income minority youth. But the pols soon turned to ladling praise over each other, and alluding darkly to the interlocking probes into Mr. de Blasio's political fundraising and his dealings with developers.
"There certainly is a lot of smoke emanating from City Hall these days. But it's not clear to anyone yet that there's fire," Mr. Jeffries said, calling for a thorough investigation. "The mayor is entitled to the presumption of innocence, just like every other citizen of the United States of America."
The borough president insisted that he did not have all the details on the five probes into Mr. de Blasio's political nonprofits, his funneling cash into Democratic State Senate campaigns in 2014, his administration's decision to lift a deed restriction for a well-connected developer, on his acceptance of cash from potential straw donors in 2013 and into his relationship with animal rights groups dedicating to abolishing horse-driven carriages in Central Park.
"These investigations, they're serious and again, I don't have enough information. But, unfortunately, what they do is they take away from, from the important issues that the two of us, that elected officials, that the mayor has wanted to address," Mr. Diaz said.
The pols served alongside each other in the Assembly last decade, and are both tight allies of Gov. Andrew Cuomo, Mr. de Blasio's nemesis.
"Ruben and I have worked together for 10 years," said Mr. Jeffries. "There's no better, more talented, more intelligent, more committed public servant in the City of New York than Ruben Diaz Jr. And his mother didn't tell me to say that."
Both men remained coy, however, about whether either of them might seek to unseat Mr. de Blasio in next year's Democratic primary—both insisting they were focused on the presidential election, and on various state and congressional races. They also both maintained they intended to seek only their own seats in the immediate future.
"I've said this in many different interviews: I have every intention of running for a third term for re-election next year. That said, it's always flattering when people want to mention you for higher office, or to serve in a greater capacity. I love my job, I don't know what the future may hold," said Mr. Diaz, turning to Mr. Jeffries. "He can be a great representative, he can be great at whatever office he holds now, or ever in the future."
As a congressman, Mr. Jeffries comes up for reelection on even numbered years, while the borough president's race is lined up with the four-year election cycle for other city offices. That means Mr. Diaz would have to forego Bronx Borough Hall to take a run at Gracie Mansion, since New York law forbids candidates from seeking two different seats on the same ballot.
Mr. Jeffries would not have to make any such choice. Neither man would commit to backing Mr. de Blasio in 2017.
"It's still premature," Mr. Jeffries told the Observer, praising the mayor's affordable housing plan, but criticizing what he saw as the sluggish pace of police reform.
Mr. Diaz echoed that sentiment.
"I think there's always room for improvement, and it's too early to tell," the borough president said.