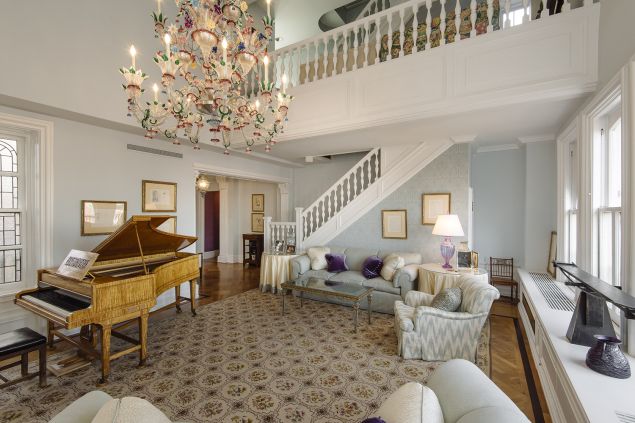 "I think this building is the best-kept secret," Corcoran broker Anne Snee confided as we stepped into the foyer of the 14th-floor penthouse at 44 West 77th Street.
She should know—she herself lives in the building. And indeed, we were greeted by an exceptionally lovely view from the living room of the $17.5 million listing, which looks at the Museum of Natural History.
"This is all original," Ms. Snee said of the formal dining room's dark oak paneling and leaded glass windows. Next to it, an eat-in kitchen with blue-and-white tiled backsplash led, in turn, to a small home office with a full bath.
"The light is totally protected," Ms. Snee said as we entered a sunny bedroom with en-suite bath. "Behind us are all landmarked buildings—none of this will ever change, thank goodness!"
The space exudes grandeur, from the expansive master suite designed by the Prince of Chintz, Mario Buatta, to the double-height living room, with its 18-foot ceilings, wood-burning fireplace and white, wood-carved staircase. "This is the musicians' balcony," Ms. Snee said of the wide landing, "for when you have a party and hire your own orchestra."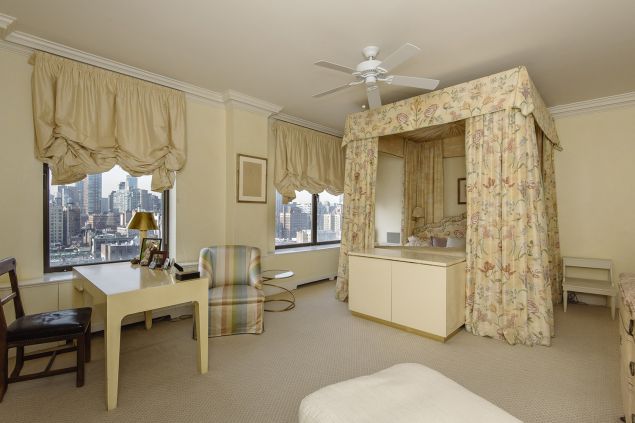 For more relaxed occasions, the second-floor living room, with an open kitchen, is the designated "informal area—it feels like you're in California," Ms. Snee opined.
"This is 660 square feet of catwalk all the way around," she added as we stepped out onto the wraparound terraces from the second-floor living room.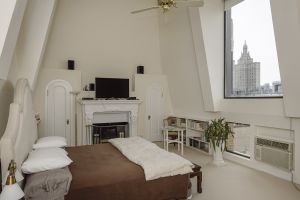 Other than the two additional bedrooms located on the second floor (one with en-suite bath and the other with a private terrace), there's also an attached studio at the very top of the apartment.
"There's no bathroom up here," Ms. Snee conceded of the studio, though it did have 18-foot-6-inch ceilings and a fireplace with white plaster detailing. "You have a beautiful view of the San Remo," she added.
"You don't get views like this in these new condos," Ms. Snee declared, "unless you're going up into the stratosphere!"