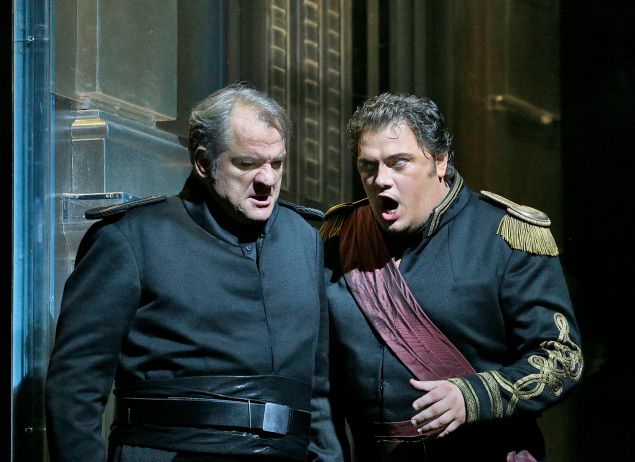 When I say the onstage action Saturday afternoon at the Met was overshadowed by what was going on in the auditorium, that's not meant to belittle the performance, a solid revival of Otello, but rather to point out that the noisy altercation between two audience members in Orchestra Row P was melodramatic in the extreme.
Involved were a man and a woman, respectively two and three seats in from the aisle. She loudly accused him of striking her, and as she tried to exit the row, the guy stood up and blocked her way. Meanwhile surrounding audience members were shushing them and hissing "down in front." Eventually—very eventually—plainclothes security came tromping down the aisle to escort the antagonists from the theater.
No further blows were exchanged that I could see, but what the fracas may have lacked in physical violence it made up for in sheer duration, continuing through almost all of Desdemona's mournful "Willow Song," one of the longer arias in the operatic repertoire. It was particularly unfortunate that the brouhaha happened to disrupt this performance of that piece, because the singer, soprano Hibla Gerzmava, was in gorgeous form, as she had been for the entire opera.
Ms. Gerzmava's polished and sumptuous singing came as a delightful surprise since her previous performances at the Met since 2010 have mostly seemed promising but not quite complete. Her voice is large, with a glamorously cool quality in the middle and lower registers and patrician poise in her phrasing. The vibrato is a silvery shimmer, opening up to an exciting throb as the voice ascends.
In the last act, Desdemona anxiously awaits a confrontation with her jealous husband Otello, a scene in which Verdi challenges the artist with constant changes of mood and tempo. Ms. Gerzmava bound all the varied strands with a noble legato, hinting at strain only on a climactic high B-flat. Just as Sonya Yoncheva's intensely personal Desdemona was the highlight of this production when it premiered last fall, Ms. Gerzmava's more classically elegant take was the pearl of this revival.
So beguiling was this soprano's artistry that at first I overlooked what seemed to be an intruder onstage, a stocky man in a black cloak huddled near the stage left proscenium. He turned out to be tenor Francesco Anile, who sang Otello's music in the final act while the announced star, Aleksandrs Antonenko, lip-synched. Mr. Anile's rough-hewn but firmly projected voice came as a relief after Mr. Antonenko's wild and atonal cries earlier in the afternoon.
The opera's third principal singer, baritone Zeljko Lucic, offered a lazy, generalized reading of the villain Iago, all uninflected mezzo-forte singing and Tony Soprano "Fugeddabouit" shrugs. So listless was his performance that for minutes at a time he seemed to disappear from the stage.
To be sure, even a more protean artist might have an uphill climb making much of an impression in Bartlett Sher's severely handsome but stolid production, notable primarily for avoiding stereotypical blackface makeup for the title character. Conductor Adam Fischer kept the Met Orchestra solidly in control for a warmly romantic reading, despite the plethora of non-Verdian melodrama both onstage and off.
The night before, Friday, was also notable for reasons only in part related to the opera at hand. The first night of a brief revival of Mozart's Die Entführung aus dem Serail marked the beginning of what might be called the post-James Levine era at the Met, the first opera led by the company's longtime musical director since his retirement from that post was announced on April 14.
The veteran maestro's last few years of performances have been uneven, but happily this Entführung provided the opportunity for a graceful victory lap. If Mr. Levine's take on this music, which he's been leading here since 1976, now sounds a little dated, too thick and too slow, he more than compensated with crisp attacks and vibrant rhythms. Even with a less than ideal cast, Mr. Levine's buoyant musicianship was the star of the show.
As the defiant captive Konstanze, soprano Albina Shagimuratova offered virtuoso coloratura, stolidly phrased. Conversely, tenor Paul Appleby as her rescuer Belmonte had striking musical ideas minus the vocal wherewithal to bring them off. Bass Hans-Peter König had all the notes for the harem overseer Osmin but acted about as bloodthirsty as Burl Ives singing "Froggie Went A-Courtin'." Soprano Kathleen Kim and debuting tenor Brenton Ryan worked hard as the comic servants without ever achieving comedy.
It's hardly fair to hold this revival to the dramatic standard of the last Entführung I saw, Calixto Bieito's terrifying sex-trafficking staging for the Komische Oper in Berlin. On the other hand, is it too much to ask that the Metropolitan Opera present this masterpiece in a production that doesn't look like a middle school Kismet that's been left out in the rain?