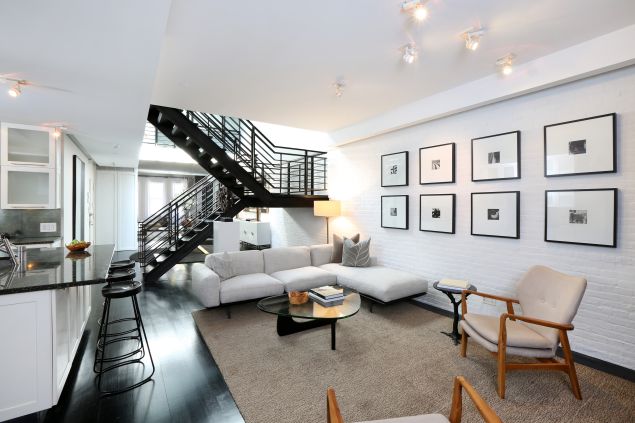 "Welcome to the new Tribeca," Brown Harris Stevens broker Siim Hanja greeted the Observer as we entered the first floor of the duplex penthouse at 81 White Street.
"This corridor, from Canal down to Worth Street, is all popping up like crazy," he continued, as he led us into the living room of the 3,202-square-foot loft condo, which he is listing for $7.365 million.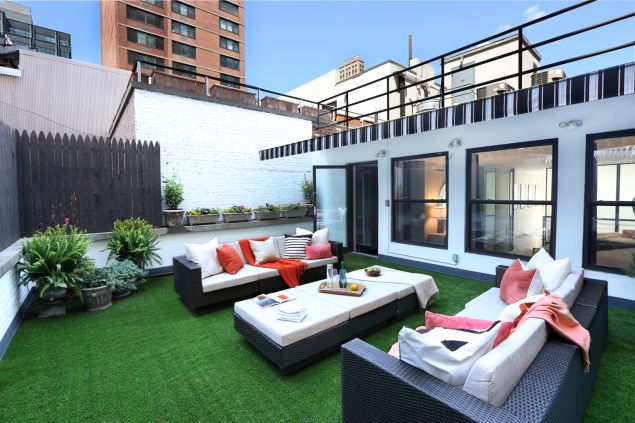 A wall of white-painted exposed brick spanned the length of the first floor, which has separate sitting areas, one with a gas fireplace; a dining area complemented by a wet bar with marble sink; and a kitchen—Viking stove, titanium backsplash and granite countertops—that opens to another living space.
Past the kitchen is a large bedroom, which is "designed so that it could technically be split into two," Mr. Hanja explained, with its rows of closets lining opposite sides of the room and non-en suite granite bathroom.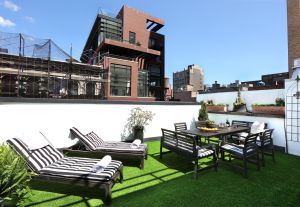 A steel and hardwood staircase led up to the second floor, where we took in the full effects of the skylight in the center of the ceiling. "From the first floor, the skylight is 27 feet!" Mr. Hanja said.
The bright light shone down on a bedroom-slash-office with a full bath, from which one can step from the ebony-stained hardwood floors out onto a 332-square-foot terrace. A striped awning extended over the patio, though "there's a wind monitor," Mr. Hanja told us, "so if a big wind comes in and goes over 8 miles per hour, it hits a monitor and the whole awning retracts."
Not to be outdone, the master suite, on the opposite side, has its own 437-square-foot private terrace. "All the plants here are irrigated," Mr. Hanja noted.
Its bathroom features a waterfall behind a Jacuzzi, and a wall and floor of California river stones on the floor, and dual rain showerheads.
"It all just ties together so well," Mr. Hanja declared. "It's for someone who knows New York, who likes being tucked away and knows where they are!"