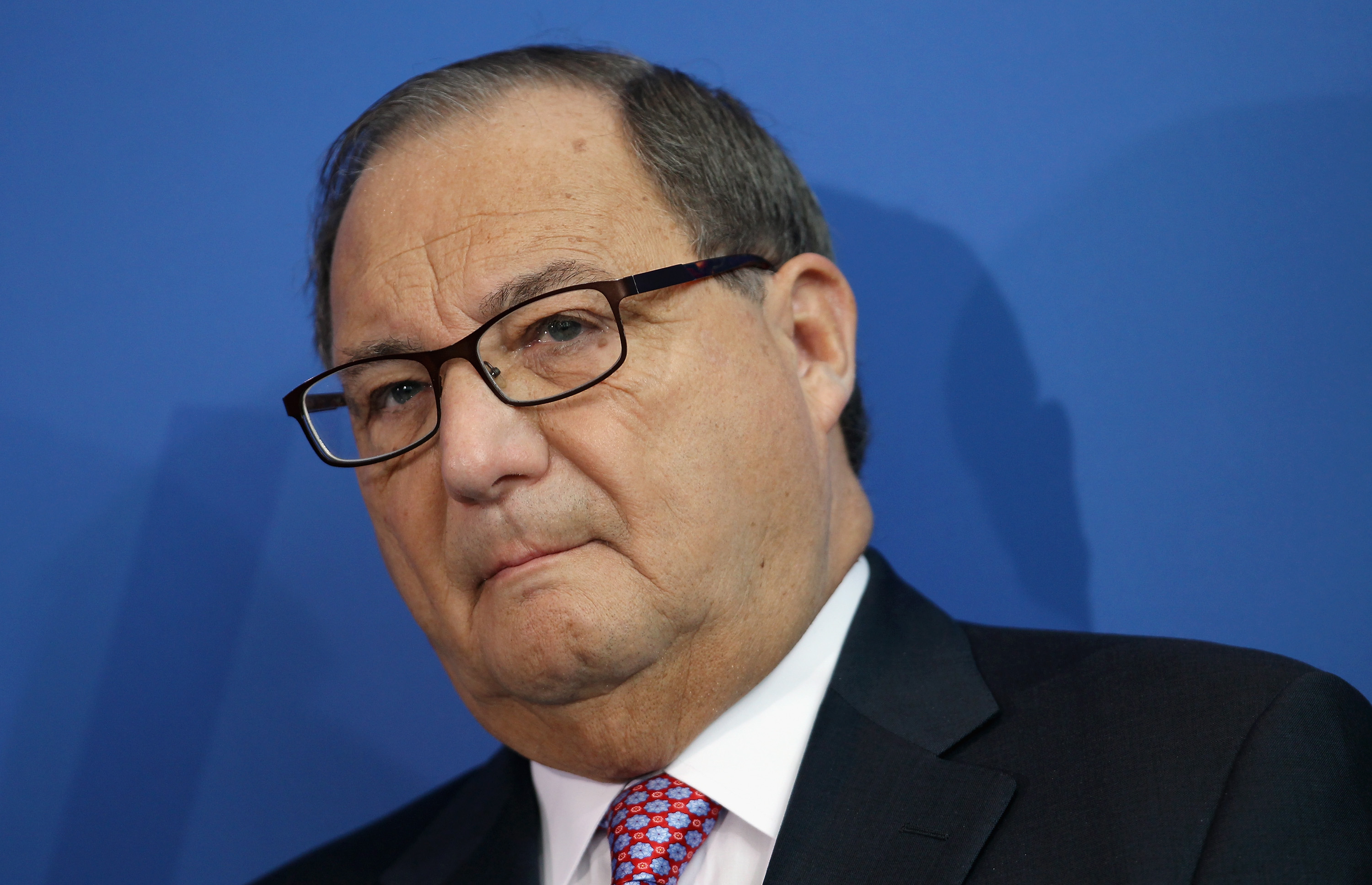 For Abe Foxman, it's a case of same book, next chapter. After 50 years working for the Anti-Defamation League—the last 28 as its National Director—Mr. Foxman turned the ADL's reins over to former Obama aide Jonathan Greenblatt last July. But the 76-year-old Mr. Foxman, American Jewry's answer to the Energizer Bunny, has now taken on a new project, spearheading the formation of a center for the study of "anti-Semitism and other forms of hatred" at the Museum of Jewish Heritage in New York City. This is on top of his role as a Non-Resident Fellow at the Institute of National Security Studies in Tel Aviv, and an unsurprisingly wide array of requests to speak, write and advise that are directed his way.
"Anti-Semitism is the mother of all prejudices," Mr. Foxman says. "Not only is it not abating, but it is increasing."
Mr. Foxman's successes in making the ADL a political force in Washington and a civic force in the nearly 30 regions in which it maintains offices around the country both reflected the upsurge in American Jewry's confidence in speaking out on its own behalf, and enhanced it. His ballsiness in challenging leaders and institutions when he thought it warranted rankled many—and not only those at whom his ballsiness was directed. But there was never any denying that he was prepared to speak his mind, or the mind of the Jewish community, to anyone. And it was frequently evident that those facing an emerging conflict with Mr. Foxman concluded that they needed a fight with Abe Foxman like they needed a hole in the head, and would try to avert the hole in the head if possible.
For his part, Mr. Foxman used that leverage to massage, cajole, extract or bludgeon changes in government policy, or corporate behavior, or media coverage, on matters ranging from anti-Semitism to Israel to LGBT rights to discrimination against minorities and immigrants. American Jews, so disposed to disagree with one another if given half a chance, so inclined to believe they know better than anyone else, could not help but notice Mr. Foxman's willingness—and sometimes eagerness—to stake out a position on matters consequential to them. It made American Jewish organizations, and American Jews individually and collectively, stronger and more vibrant than they would have been had there never been an Abe Foxman to watch in action over several decades.
Say what one will about Abe Foxman: He has never been faint of heart.
During his years as ADL's head, Mr. Foxman served at times as the Great Explicator, interpreting Israel for Americans and vice versa, here acting as a secret back-channel for either America or Israel with other governments, there acting as a public prod, deploying a sui generis mixture of personal warmth, reproach, familiarity, history lesson and toughness in order to advocate for what he regarded as the right result. American leaders turned to Mr. Foxman when they wanted to take the temperature of American Jewry; Israeli leaders turned to him when they wanted to know what American leaders were thinking. He has known many on both sides for a long time, and it shows. Midway through a meeting with American Jewish leaders in the Prime Minister's office in July 2012, Benjamin Netanyahu, in obvious pain from a torn Achilles tendon, visibly brightened when he spotted Mr. Foxman's wife at the end of the conference room. "Hey, Golda!" he blurted. The Foxmans had known Netanyahu since he was a mid-level Israeli diplomat in the United States decades earlier.
Though for much of his tenure at the ADL the poison of anti-Semitism flowed largely from the far right, Mr. Foxman says that that is no longer the case.
"The clear and present danger comes from radical Islam," he says. "Islam has replaced Christianity as the principal source of anti-Semitism. The highest level of anti-Semitism in the world is found in the Middle East. This is the function of a radical Islam that teaches and preaches anti-Semitism."
Mr. Foxman says that, at present, cancerous anti-Semitism is metastasizing from both political directions and penetrating the mainstream. "You have it on the right, you have it on the left," he says, "and it affects the center."
He is particularly troubled by the spread of anti-Semitism posing as something more innocent on American college campuses, pointing to a 2015 incident at UCLA as emblematic of where things are headed. Rachel Beyda, a second year economics major at UCLA who was seeking a position on the student council's Judicial Board, found herself at the receiving end of some unusual questioning.
"Given that you are a Jewish student and very active in the Jewish community," a member of the Undergraduate Students Association Council asked her, "how do you see yourself being able to maintain an unbiased view?" The council first rejected Ms. Beyda's nomination before a faculty advisor intervened to point out that the line of questioning was improper. But the toxic toothpaste had been let out of the tube for all to see.
"You wouldn't ask an African-American student: 'since you are African-American, how would you vote?'" says Mr. Foxman, and neither the ugliness of the incident nor Mr. Foxman's assessment of its implications seems open to challenge. "Anti-Semitism today is the worst that it has been since World War II, regardless of the inventory that you take, whether events or attitudes," says Mr. Foxman flatly. "The prognoses of 50 years ago that anti-Semitism was gone, that Israel would be accepted as a normal nation among nations… were wrong."
Mr. Foxman notes that the Israel-haters have gotten awfully good at sidestepping scrutiny of who they are and what they stand for. The Boycott, Divestment and Sanctions groups that single out the Jewish state—and could care less about countries whose human rights credentials can't hold a candle to Israel's—indignantly deny their conduct is anti-Semitic. They have succeeded in neutralizing critics by proclaiming that the last thing they are is anti-Semitic, even though what they are doing speaks loudly to the contrary. It now seems that unless one states forthrightly: "You're damn right I'm an anti-Semite" one will be spared the appropriate critique.
Israel's Ambassador to the United States, Ron Dermer, has a fairly clear view of the matter.
"If Israel is one of many countries they are boycotting then at least I know these groups may have some principles by which they are judging Israel," he says. "I would not call them anti-Semites. I would say they are ignorant or misinformed, and that we need to educate them about the facts. But if these groups single out Israel, the only liberal democracy in the Middle East, and are silent on all the egregious human rights violators that exist throughout the world, then they are anti-Semites."
Mr. Foxman concurs and, if anything, is even more blunt. The BDS movement "is an anti-Semitic movement. You don't have to ask me; ask the Pope," he says, referring to Pope Francis' statement a year ago that "anyone who does not recognize… the State of Israel and [its] right to exist is guilty of anti-Semitism." He adds: "This is not a movement to change the policy of the Israeli government. It's just not. It's a movement to challenge the very legitimacy of Israel."
This is a point Mr. Foxman has hammered home for some time, and there is some evidence, at least, that it is beginning to penetrate in some places. Earlier this week the 12 million member United Methodist Church rejected a series of resolutions calling for divestment from companies doing business in Israel. The BDS resolutions "pretty much went down in flames," one member told Religion News Service. In January, the American Historical Association rejected a resolution targeting Israel by more than a two-to-one margin, and in February the students at McGill University in Montreal, long a center of anti-Israelism, rejected an anti-Israel motion by 57 percent to 43 percent.
Between the pincer of anti-Semitism from the right and the left and the hand-to-hand combat being waged over Israel on American campuses, it is not exactly a time for the faint of heart. Say what one will about Abe Foxman: He has never been faint of heart. He knows that the outcome of the current battles will depend heavily on who has the fortitude to fight them and, as always, he insists on doing his part.
Jeff Robbins served as Chief Counsel to the Democratic Senators on the United States Senate Permanent Subcommittee on Investigations. Twice appointed as a United States Delegate to the United Nations Human Rights Commission under President Clinton, he is an attorney in Boston. Follow him on Twitter: @jeffreysrobbins