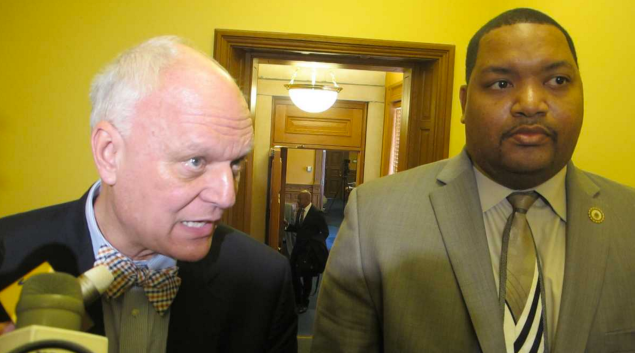 Following a Wednesday press conference where Senate President Steve Sweeney (D-3) took his final shots at Atlantic City officials before his takeover bill sees an official challenge in the Assembly this week, the president of the gaming hub's city council is pointing the finger back at Sweeney. City Council President Marty Small said that Sweeney's call for council members and mayor Don Guardian to take 20 percent pay-cuts as a show of good faith amounts to little more than political theater.
"I'm not in the mood to do no ceremonial things for the sake of saying 'Ooh look at us, we did something' when even if we did that they would have had a complaint," Small said. "That would be political theatrics."
"What's the point of doing political theatrics?" the Senate president asked of the Assembly bill from Speaker Vince Prieto (D-32) earlier that afternoon. That bill would allow the city two more years of benchmarks, as opposed to the 130 days under Sweeney's bill.
"That does absolutely nothing," Small added of the pay-cuts, which would add up to $50,400 between the council's nine members. "I'm not going to sit here and play with the public, I'm not going to lie and do the politically expedient thing. I told it like it was."
Sweeney and Governor Chris Christie have been pushing for the Senate bill's aggressive state takeover of the city's finances since January, and have criticized the city for having a budget disproportionate with its small permanent population of 39,000 residents. Guardian has called that number misleading, as it does not account for the tourism.
Those 20 percent cuts to council members' $28,000 salaries, Sweeney said, should be enacted as a sign that the city is willing to make deeper cuts to the overall budget.
"Sometimes symbolism matters," Sweeney said after invoking the city council cars that were only cut from the budget this year. That move, he said, was the result of pressure from the press and an investigation from Philadelphia's ABC 6 back in February. ABC 6 found that Councilman George Tibbitt, who officially turned in his city car in 2012, still had it parked outside his home on several occasions.
Small said he and the Senate President met before that investigation aired.
"I met with the Senate President in Atlantic City for two and a half hours on January 16," he said. "I told him that I was going to put on the books the strongest legislation to date with the cars.
"For him to bring that up saying that we only did it after the expose on 6 ABC in Philly, he's trying to make it seem like it was a reactionary move when actually it was a proactive move."