New York is the center of the arts, both the fashion and financial capital of the world and a major hub for sports. It is also, apparently, a great place to get over a bad breakup. After all, who can be sad with so many great distractions, interesting people and rainbow bagels surrounding you? That was clearly former Bachelorette Andi Dorfman's reasoning, as not only was she going through a bad breakup, but one that the entire world (well, at least Bachelor nation fans) knew about.
"I think New York is a great place to start over in any stage. It is the greatest city in the world, you can be whoever you want and there is just so much energy here. You can't make a mistake by moving to New York in my opinion. There's only good things here," she told the Observer.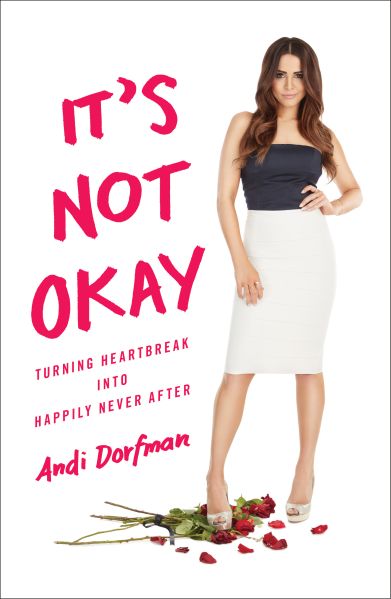 She writes all about her breakup with Josh Murray, whom she got engaged to on the finale of her season back in 2014, in her new book It's Not Okay: Turning Heartbreak Into Happily Never After which hits shelves today. If you are expecting a typical how to break up guide, in which the protagonist is upset for approximately one day and then channels her sadness into becoming a fitness guru who builds a lifestyle empire, this is not that book. Ms. Dorfman goes to some dark places and it is surprisingly refreshing.
She describes not being able to get out of bed, details the paunch she develops from a diet of wine, Thin Mints (the cookie with a particularly deceptive name, she points out) and Sour Patch Kids. That's all in addition to her lack of showering. She also reveals details about the emotionally abusive relationship her and the picture perfect Mr. Murray experienced. She told the Observer, "When I decided to turn [my journal] into a book I made this promise that I would go all the way, 100 percent and really say what happened, for better or for worse. I wanted readers to have that transparency so they could relate to it because the worst thing would be for them to read this book and be like, 'This isn't that bad. This girl has no idea what a breakup is!' I wanted it to be relatable, so that meant bearing all."
New York, which Ms. Dorfman, 29, moved to in the winter of 2015, seemed to be the perfect place to write a book, despite it's many distractions.
"You've got the good distractions for when you don't feel like writing and can't get the words out. I'd be lying if I didn't say I pretended to be Carrie Bradshaw while I wrote from my apartment." When she had writers block she'd walk around or take a pre-sunrise bike ride to the Brooklyn Bridge (you can bet Carrie Bradshaw never did that though.) However, Ms. Dorfman's enthusiasm when she talks about her romance with her new city is pure Carrie. "I still am just awe struck by the city and that I live here. Sometimes I'll just be crossing the street and I'll take a huge breath, toss my hair over my shoulder and just have a moment. My friends make fun of me. I love just walking around so much," she said.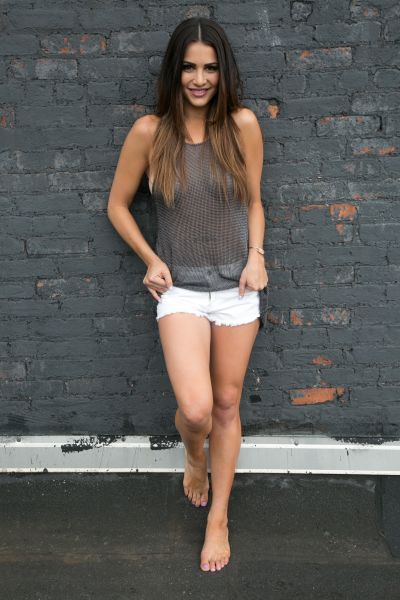 The West Village resident who frequents the Polo Bar and has adopted the New York habit of never cooking (a major departure from her life in Atlanta where she served as an Assistant District Attorney before quitting to star on The Bachelorette) seems to have even started a trend amongst her Bachelor and Bachelorette sisters. In addition to Ms. Dorfman, who often hangs out with Sharleen Joynt from her season, Olivia Caridi from last season of The Bachelor as well as Caila Quinn (who was supposed to be this season's Bachelorette, but was passed over at the last minute for Jojo Fletcher) recently moved here to start their new post-reality TV fabulous New York single lives. "Yeah, it's kind of funny it's becoming a thing. You go through a break up on national television and then find yourself in New York City!"
So her best advice for single gals dating in New York City? (Keep in mind, this is coming from the woman who dated 30 men at the same time.) Think the way a guy does, she says. Women are always worried that for guys there is always another woman around the corner (who is potentially a model). "My friends get caught up in this mentality and I have to remind them, there's another guy around the corner too. It works for both guys and girls. It's the feminist coming out in me," she said.
As for her next New York adventure? She'd like to take another stab at writing, possibly a sequel to this book. "I didn't realize how much passion I had for it," Ms. Dorfman said. Better grab your pink tutu skirt for those early morning writer's block rides Andi.