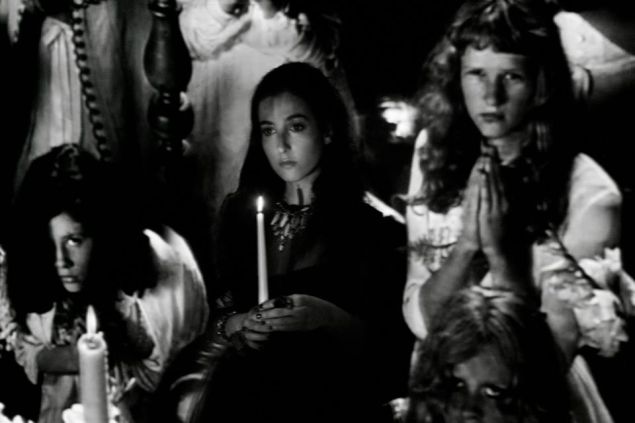 Where do Marissa Nadler's sonic tapestries reside, in our world or somewhere else?
Two evenings before she releases Strangers, her seventh record of spectral gothic Americana and most immaculately arranged collection to date, Ms. Nadler explores the songs in the intimate back room of Brooklyn's Union Pool. There are spirits all over Strangers, hungry ghosts and haunted houses. But despite the considerable oomph she gets from the album's rich and varied instrumentation, during this record release show, she's most in her element playing them solo.
Opening with Strangers' sweeping first single, "All The Colors of the Dark," Ms. Nadler turns the full band track back into the gentle, rolling progression from which it came. Channeling Leonard Cohen's knack for finding gorgeousness in dread, she paralyzes the room into rapt silence, giving us a glimpse of an artist on the thresh of releasing their masterwork.
"I don't read music," she told the Observer over the phone a few days earlier. "I really wish I did, I'm gonna learn. I wanna do it just so my vocabulary is a bit more extensive in terms of collaborating."
The fact that Ms. Nadler is able to write her own songs without reading music is a feat in of itself, considering how she similarly controls every facet of her life. She's also ventured into directing her own videos for the songs on Strangers; the beautiful stop-motion haunted house she creates for her "All The Colors" video captures the work of a true perfectionist honing yet another creative trade.
And for the next video she's working on, a clip for Strangers stunner "Janie in Love", Ms. Nadler is already getting tighter. It's a cross-disciplinary background she's been cultivating since she studied illustration at RISD, when recording music became the relief from having her aesthetic choices graded and judged. Twelve years since that first record came out, she's still finding new ways to evolve her sound, keeping the bleak but comforting pragmatism of her stunning warble as the only constant.
"One of my goals is to create a body of paintings I can be proud of," she said. "In some ways I'm harder on myself about the fine art because my expectations are higher. I've been trained in it, and I'm a real perfectionist across the board. It's really difficult to me, all this content creating where you have to do these interviews and guest posts and stuff. I can't just half-ass shit."
[youtube https://www.youtube.com/watch?v=JWO7Vg7wpyU&w=560&h=315]
This necessity to not just do everything on her own, but do it well, leads to several apologies for Strangers tracks sounding rawer and less ornate than on the record, but no one seems to mind.
She then goes into the opener of her previous record, July, "Drive", prefacing the song by saying there are definitely more than 17 people in the audience. This cryptic missive soon makes sense in context of the lyric, "17 people in the dark tonight." She's staring into the void and choosing to see beauty in the darkness. Such are the powers of a formerly trained painter who's turned her nuance to writing music.
Part of this comes from her willingness to bare her reality through song and just put it all out there, no matter how naked. When asked who the titular women who she's speaking those empathetic words to in "Katie I Know", she seemed taken aback. That's something painters do, not musicians do. To take something so personal and put it in another dimension.
"A lot of people think because there are a lot of names on my songs they're about characters, and it's funny," she said. " 'Katie I Know' is quite literally about the dissolution of a friendship.I see a very similar aesthetic link between my visual work and my music."
The stereotypical visual artist who puts the totality of their personal lives on the canvas—drama, rapture and all—is traditionally a hermetic lot, and Ms. Nadler fits the bill. My attempt to uncover her history with our mutual friends on Facebook, stalwarts of the Cambridge, Mass., independent music scene, led her to confess something to me that would soon prove crucial in understanding her self-imposed exile.
"I have to be honest with you: I'm a really solitary person and I've always felt like an outsider," she said. "I think a lot of it is, in order to make the kind of work that I do you have to just be very self-disciplined. I can choose to go hang out with people but I often veer on the side of, 'I should stay home and work on this song or work on this video,' and my life is very isolated."
Though this creative exile Ms. Nadler has set out on is wholly self-imposed, it's not self-serving. She's recently stopped drinking, recently married and built a home and accepted the new life developments with a calm clarity. "Change, change, I got married on a Sunday," she sings on "All The Colors of the Dark." There are other changes in her life too, though, adding up to a growing empathy for others that Ms. Nadler says is necessary for her to feel like she's doing more good in the world than just releasing beautiful music into the air.
Recalling a short stint she spent teaching in Harlem, Ms. Nadler has a keen self-awareness for why she felt it so necessary. "I spent a little bit of time working at a therapeutic high school for special needs kids, teaching a lot of young girls how to record, paint and draw," she said.
"Giving back is a nice thing. It's definitely nice to step outside of the insular indie rock community scene. It can be more eye-opening, especially because it can be very isolating being a full-time, self-employed artist and musician. It's nice to have some one-on-one time stepping outside your own world."