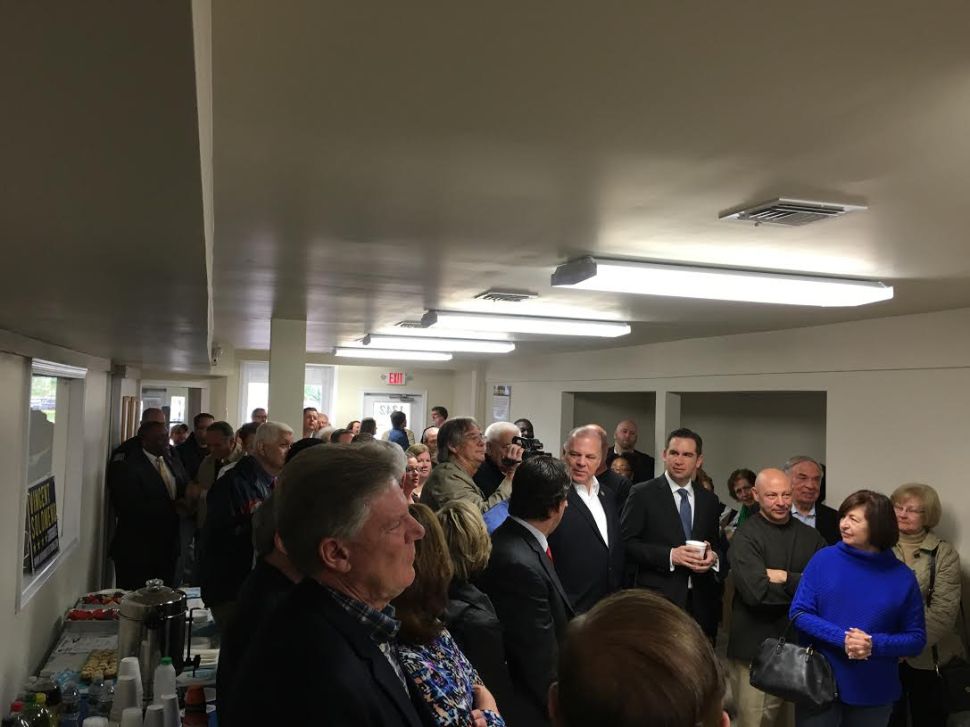 Embroiled in one of the all time New Jersey political battles, Senate President Steve Sweeney and Jersey City Mayor Steven Fulop this weekend stood side by side at a Headquarters Opening in Hazlet Township for the Monmouth County Democrats as if nothing were amiss. Former U.S. Ambassador to Germany Phil Murphy and U.S. Rep. Frank Pallone also attended the rally.
Two days after the Trenton mud fight during which Assembly Speaker Vincent Prieto (D-32) pulled a bill on an Atlantic City rescue package after failing to summon sufficient votes, statewide rivals Sweeney and Fulop powwowed with Monmouth County Democratic Chairman Vin Gopal and newly elected Assemblymembers Eric Houghtaling and Joann Downey to officially open the office for Matt Doherty and Sue Fulton for Freeholder, Colonel Jeff Cantor for Monmouth County Sheriff and Captain Vincent Solomeno for Monmouth County Surrogate.
"With all respect to the folks in the room, we don't care about North vs. South politics – we care about Monmouth and all of our local municipal and county races and it is great to see everyone here together in this room, working together to support us," said Gopal.