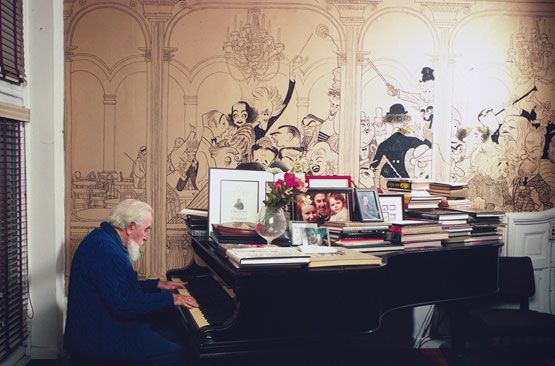 It looks like there's going to be a rather interesting new chapter in store for the cheerful pink townhouse once owned by famed caricaturist Al Hirschfeld.
The townhouse at 122 East 95th Street has a history that might be as colorful as it's wonderfully pink-painted exterior–it's the former residence and studio of legendary cartoonist Al Hirshfeld, who passed away in 2003. It was purchased by Paul and Denise Lachman in 2011, who embarked on a renovation of the five-bedroom, five-bathroom Upper East Side home, before they put it on the market in 2015.
The Upper East Side townhome has many attributes, like 11-foot ceilings and multiple fireplaces, along with a deck, terrace, and a garden, but perhaps the most unique aspect was that, per the listing held by Sotheby's International Realty broker Serena Boardman, is that "one of his most iconic works of art remains today as a restored mural" in the living room. As the Observer previously reported, however, the fifty-year-old eight-foot "mural" is actually just wallpaper, per Hirschfeld's longtime dealer Margo Feiden. The work is a reproduction of a series of original Hirschfeld drawings from the 1950s, which features stars including Marilyn Monroe, Frank Sinatra, and Charlie Chaplin.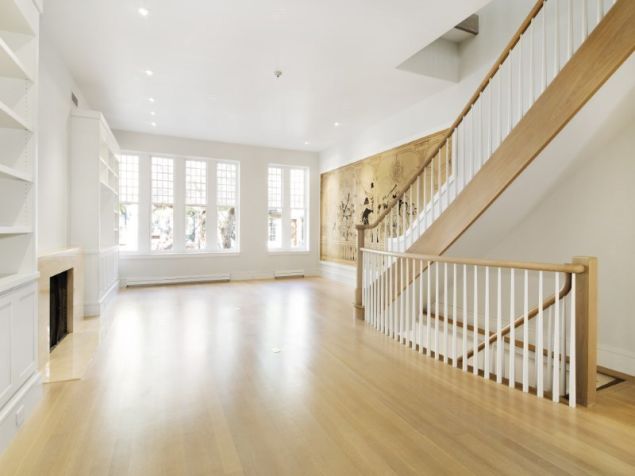 That didn't seem the deter the new owner, Phyllis E. Battista, who paid $8.25 million to take ownership of the Carnegie Hill abode. It would appear, however, that this is the same Phyllis E. Battista who owns 312 East 86th Street, a townhouse on another Upper East Side block that has a perhaps less…dignified, shall we say, reputation than Hirschfeld's former abode–Ms. Battista has garnered something of a hoarder. She has reportedly been issued eleven violations by the City Department of Buildings in the last ten years, and in 2015, there were reports and photos of her stoop being covered in broken flower pots, plastic bins, and plastic trash bags.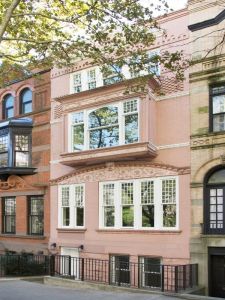 While neighbors on 86th Street have said that "Nobody wants to talk to her. She's always yelling at people," Ms. Battista refuted the claims and said the abuse went both ways–that her neighbors spray her with water and throw food on her porch. She also said she has no intention to sell the 86th Street home, and she "has 'money plenty' and doesn't want to leave her home."
Either way, we do hope that she takes better care of Hirschfeld's famed pink residence in the same—not just maintaining the lovely pink exterior with no trace of peeling paint, but curbing her collecting practice's to the home's interior rather than allowing it to spill onto the stoop.