If the word "Eurovision" means nothing to you, congratulations on living your entire life in the United States. No, no, I know you spent junior year abroad in Prague. That doesn't count.
The Basics
For the uninformed (cough, cough, we on this side of the Atlantic), the Eurovision Song Contest is a massive annual TV event that pits 26 countries against each other in a balls-to-the-wall competition to determine who can come up with the most inexplicable dance routine to an original song that reminds everyone of "Let It Go," from Frozen.
I'll wait here while you read my excellent primer for dumb Americans, but if you'd rather, I can just you the basic equation:
American Idol in 2008 + a Miss America pageant + a passive-aggressive geopolitical grudges – any awareness about when camp is too much camp = Eurovision Song Contest. Also Justin Timberlake was there promoting Dreamwork's Trolls.
Here's what you need to know to become the most cultured American at the water cooler this week, straight from an American who watched it for the first time this weekend:
 The Controversy
Ukraine won with a song called "1944," written and performed by the artist Jamala.
As far as pyrotechnics go, it was one of the more low-key productions, but what it lacked in human-sized hamster wheels and lightning storms, it made up in pathos. Because "1944" is about the Soviet deportation of the Tatars from Crimea during World War II, something that affected Jamala's ancestors directly.
Many, including Russia, saw the song as a response to the more recent Russian annexation of Crimea in 2014, and Russia complained that the song violated the Eurovision rule prohibiting "songs with lyrics that could be interpreted as having political content."
But the Europeans in charge denied the song contained "political speech" and Jamala's heat felt ballad came from behind for a surprise, last-minute victory over Australia.
("Australia?" You should be asking. "Australia isn't in Europe." Yes I know. They were allowed in last year for Eurovision's 60th Anniversary and just got to stay this year. America really is the only one not invited.)
Australia ended up in second place with a song called "Sound of Silence" performed by Dami Im who perched on a stage in a white poof of a dress that looked like a cross between what a princess would get married in and the hat a British duchess would wear to the wedding.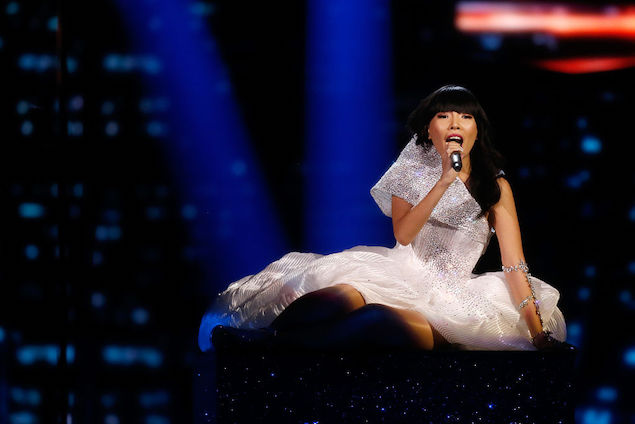 And Russia came in third. Their song, "You are the Only One," performed by Sergey Lazarev had been the bookie's favorite to win, and Russia has made no secret of how much effort they put into their Eurovision entry. "You are the Only One,"–an admittedly catchy club banger­–featured a lightning storm, choreographed dance moves that would put the Backstreet Boys to shame, and a magical sequence in which Mr. Lazarev climbed a wall as it crumbled beneath him. I'd link the actual performance, but in a second act of wanton hatred towards the United States, the videos haven't been made available here.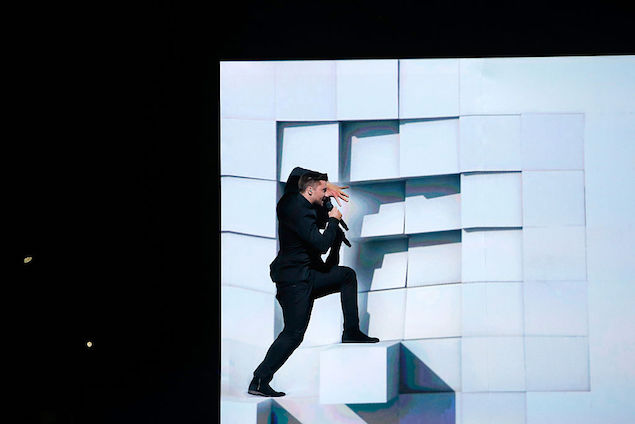 As if it even needed to be said, Russia is a bit of a sore loser. In 2013, Russia was awarded zero points by Azerbaijan, and Russia's Foreign Minister responded by saying, "This does not makes one happy. We will agree on a unified course of action so this outrageous action will not remain without an answer."
This year, the Russian MP blamed her nation's third place finish on an "information war" and "general demonization" of the country.
"The contest has never been so blatantly political and the agenda so obvious," Russia Today, a Kremlin-backed news outlet said. "While Russians will understandably feel cheated – in one way what happened last night was good as it shows to everyone the limits of democracy in the West."
The Daily Mail claimed that the results "have caused an all-out diplomatic war." Russian politician Frants Klinsevich hinted that Russia would boycott the Contest in the future "if nothing changes in Ukraine."
The Inside Jokes
The best five-minute primer on what Eurovision is was delivered by the show itself, in a hilariously self-aware parody song called "Love Love, Peace Peace" about the empowering anthems that usually win the competition. Sung by the show's two hosts, Swedish comedian Petra Mede and last year's Swedish winner, Mans Zelmerlow, the number went through every trope that makes Eurovision the campy, inexplicable spectacle it is. ("Four women baking bread…and a man in a hamster wheel!")
Keep an eye out for 2007 winner Alexander Rybak on the violin, and Finish rock band Lordi, the ones in monster masks, who won in 2006.
Last night on the Late Show, Stephen Colbert made the strongest case for letting America participate: a Euro-style anthem that proves we would win every single year.
[youtube https://www.youtube.com/watch?v=CTP17rWuUMo]
If you're feeling sad you missed out, don't worry: it's an annual thing. Get a group of your friends together who share your love of musical theatre and enough Pimms to last eight hours (this thing goes long), and maybe eventually they'll let America in.
In the meantime, enjoy this seventeen-year-old Swedish child singing your new favorite song:
[youtube https://www.youtube.com/watch?v=h8D7KNFtTlE]