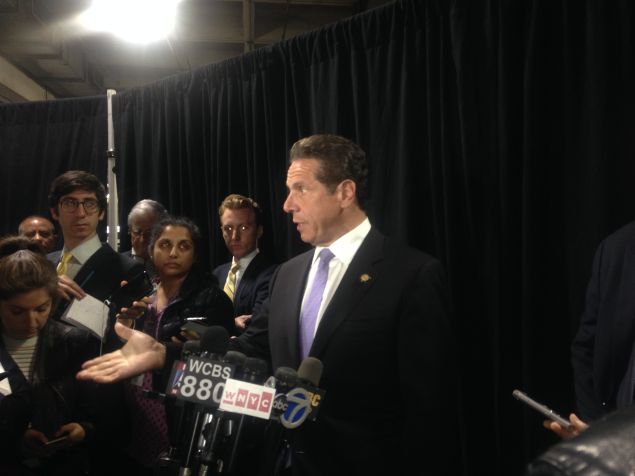 Gov. Andrew Cuomo denied the federal investigation into one of his major economic development initiatives and two of his former top advisors had rattled him or his administration—but seemed to acknowledge wrongdoing had likely occurred.
Speaking to reporters after an unrelated event in Manhattan, the governor insisted his administration was cooperating with U.S. Attorney Preet Bharara's probe into the Buffalo Billion program and into lobbyist Todd Howe and Cuomo confidante Joseph Percoco. Mr. Cuomo's office announced last month it had enlisted a former federal prosecutor to conduct an internal "review" of the Western New York program to examine potential "improper lobbying" and "self-dealing" involving "former state employees"—an apparent reference to Mr. Percoco, who left his post as Mr. Cuomo's executive deputy secretary at the end of last year to take a job at Madison Square Garden.
"We take any allegation very seriously, we're not getting defensive," Mr. Cuomo said today, recalling his own experience as New York attorney general. "What's vitally important to me, not just as governor but as a person, is I want people to have full confidence and trust in the integrity of this government. Any relationship is only as good as the level of trust."
At the heart of the investigation are payments Mr. Percoco and his wife received in 2014 from entities with business before the state, including with the Buffalo Billion, and which donated to Mr. Cuomo's campaign. One of the companies, Syracuse's COR Development, had also retained Mr. Howe.
The governor ordered last month that state agencies and employees immediately sever all contact with Mr. Howe.
Mr. Percoco had taken a sabbatical from his job at the state in order to manage the governor's re-election campaign when he received the income. Mr. Percoco served under the late Gov. Mario Cuomo, and he and Mr. Howe worked as advisors to the younger Mr. Cuomo when he was secretary of the Department of Housing and Urban Development during the Clinton administration.
Also entangled in the federal inquiry are Buffalo developer Louis Ciminelli—a top Cuomo donor and one of the main beneficiaries of the state's largesse—and State University of New York Polytechnic Institute Alain Kaloyeros, described as the "centerpiece" of the Buffalo Billion program.
Over the weekend, the Buffalo News obtained portions of the subpoenas Mr. Bharara had fired off to the governor's office over the past year. The newspaper found the prosecutor had requested reams of records and internal communications relating to an array of state business dealings, well outside the purview of the Buffalo Billion.
The governor told the Observer that he had a "purely personal" conversation with Mr. Percoco just a few weeks ago. He also maintained that the state had treated every dollar it expended through the Buffalo Billion as "sacred" since the project's inception, and argued the probe did not prove any kind of misconduct.
"The U.S. Attorney started an investigation for whatever reason, right? As attorney general, I started all sorts of investigations," Mr. Cuomo said. "You get a tip, you get information, your job is to follow it up and conduct an investigation. It does not mean something bad happened. It means you have gotten a tip or some information that merits looking into. And that is a good thing."
"All sorts of questions, all sorts of rumors. So, you get a tip, God bless you, follow it up. That's just what I did as attorney general, that's what the U.S. attorney should be doing," he continued.
But his long, meandering answer also seemed to allow some malfeasance may have transpired.
"I'm realistic enough to know, in an operation this size, with this much money and this many players, it's unrealistic to say 'nothing bad is ever going to happen.' People are venal. Some people have bad intent. Some people, frankly, are stupid. And things will happen," he said. "What I can say is, 'if and when something bad happens, we will have zero tolerance for any abuse. We will throw the book at anybody who does anything wrong.'"