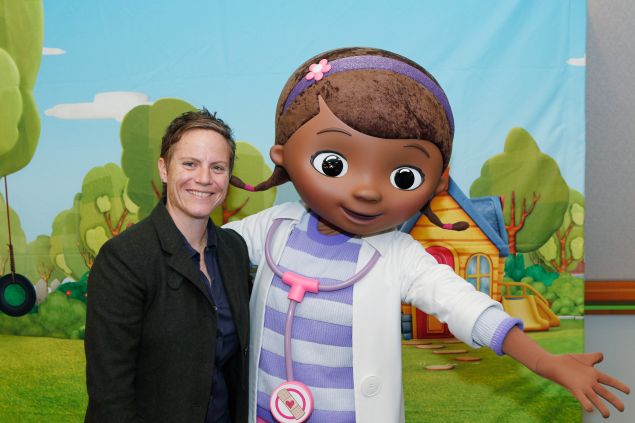 When a TV show spawns a whole 'society' you know it's doing something right. When that TV show is an animated kids' series and the new society consists of a consortium of doctors, you can't help but wonder exactly how that happened.
Enter Disney (DIS)'s Doc McStuffins which features as its title character a six-year-old African American girl who plans to be a doctor when she grows up.
Dottie 'Doc' McStuffins, who wants to follow in her mother's footsteps and become a physician, spends each episode diagnosing and patching up stuffed animals and other toys who suffer from various ailments, each of which corresponds to an actual medical situation that real life folks may at some time face.
Doc's creator, Chris Nee, had been writing kid's television for years before she had a child of her own. When her son's asthma resulted in frequent doctor visits, Nee decided she wanted to tell stories that made going to the doctor less frightening for kids.
"We all have those toys that comforted us when we were little," says Nee. "We either remember them or still have them. I have a mine for sure," she adds with a laugh. "By using these toys that we love, we can show that getting an exam or having to undergo a medical procedure is not as scary as it seems."
To tell the tales on Doc, Nee says that she and her team craft stories in one of several ways. "Sometimes we start with a toy and think 'how can we break this so we can tell an interesting story,' sometimes we start with an illness or a topic that we want to explore, like allergies or getting a shot. And, sometimes we start with a character that we want to feature. However we get into the story, it really has to be relatable and something that we think will resonant with our audience."
Other than finding ways to break and heal toys, Nee admits that there are other challenges in creating episodes. "In the beginning, it was difficult to find the balance of between the medical part and telling stories in a way that made sense for preschoolers," says Nee.
To do this successfully, Nee opted to take a different approach to storytelling. "I think a lot of people see what they can't tell whereas I think of the story I want to tell and the emotions I want to touch upon and I challenge myself to get there within the boundaries that we have." She equates the task with, "being a comedian who works hard to make you laugh without swearing and using shock value to elicit laughs."
Translating serious medical issues into storylines for the younger set makes for some interesting plot interpretations, reveals Nee. One that she's particularly proud of is in an episode called, "'Selfless Snowman.'
"In that episode, we wanted to talk about blood donations and about being there for other people in your community, but how do you do that for kids and do it with toys? So what we did was we had a 'stuffing drive.' Telling a story like that that has such larger implications is really important to us so when it comes together it's just a really great feeling."
Since its inception in 2012, the series has received worldwide recognition, including winning a prestigious Peabody Award and attracting First Lady Michelle Obama to guest-star in an episode.
The significance of the lead character being African-American has had an unforeseen effect that came as quite a surprise to Nee and the entire team behind the series.
"We learned that the number of African-Americans in the medical field is less than 2%.
When we started this, I knew that it was an important choice for us to have Doc be an African–American little girl, but we had no idea about that number and what none of us realized was how big the reaction to that would be."
This is where the aforementioned new society comes in. Nee explains, "There's an organization that was started because of Doc McStuffins called the Artemis Medical Society."
The group is comprised of more than 4,700 women physicians of color from around the world.
"I spoke with one of the members and she told me that as a black female doctor for her there is 'before Doc McStuffins' and 'after Doc McStuffins' and that this has made a big difference in how she's perceived. Before, she'd walk into a room and people thought she was a nurse. After, they knew that she was a doctor. That's a pretty powerful thing to happen as a result of a kids' TV show."
All of this has made Nee realize the enormous power of the series, something that she doesn't take lightly. "We're doing our best to present positive, diverse images on our show because we really want our series to reflect the way society looks. We want people to see themselves in our cast. And, yes, we feel a real sense of responsibility in what we're doing, but we're really happy to take that on because we really think that there're going to be a bunch of little girls who will go to medical school because of this show and to me that's just absolutely amazing."
Nee sums up her Doc McStuffins journey by saying, "When you work in kid's TV you hope that what you're doing might have some sort of positive effect on the next generation. I just wanted to help my son feel better and show kids that doctors aren't people to be afraid of. I never imagined that the series would inspire kids with regard to the medical field in the way that it has. I hope that someday I'll go to see a doctor and he or she will say, 'I decided to be a doctor after watching this fun kid's show…' That would just be one of the best things that could ever happen to me."
Doc McStuffins airs daily on Disney Channel and Disney Junior. For specific episodes and air times, check your local listings.