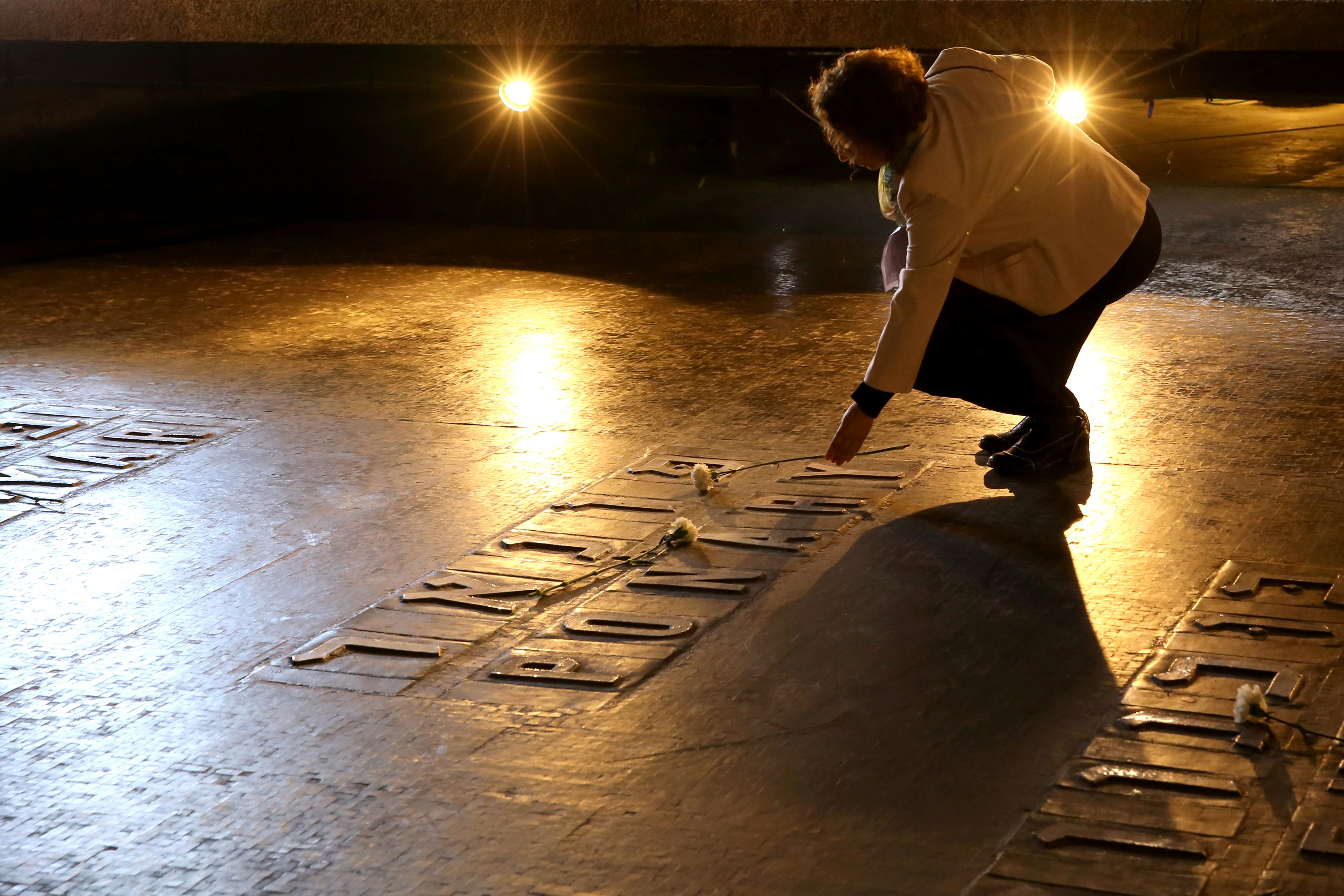 University of California-Irvine (UCI) student Kevin Brum is not Jewish. But that didn't matter to the northern California native after he saw the film "Schindler's List." In the scene that replays in Mr. Brum's mind, a Jew asks a Soviet soldier where to go, now that he was just liberated from the concentration camp—only to realize that no matter where he goes, he will be hated because he is a Jew.
It was this scene in the Steven Spielberg classic that inspired Mr. Brum to become a supporter of Israel and ardent defender of the Jewish people. Today he serves as vice president of Students Supporting Israel (SSI) at UCI, leading the fight against Anti-Zionism Week taking place on campus.
Spearheaded by the Muslim Student Union, Jewish Voice for Peace, Students for Justice in Palestine and the American Indian Student Association, events on campus have been marketed under the title, "Anti-Zionism: The Roots of Oppression." All the while, Jewish and pro-Israel students found themselves caught in what they describe as a "fire of hate" and feelings of mourning as they observed Holocaust Remembrance Day this past Thursday.
On the UCI campus, several events marked the occasion. Programs denying Israel's right to exist and condemning Israel over the conflict with the Palestinians were featured. SSI combated the anti-Israel festivities with an "engaging workshop" Israel 101: An Introduction to the Only Democracy in the Middle East. The campus Hillel will be honoring those who perished in the Holocaust with an event featuring Holocaust survivor Pinchas Gutter this week.
'These people are Jew-haters. It's disgusting. They hold it deliberately to humiliate Jews. The fact that Irvine is funding them is a disgrace.'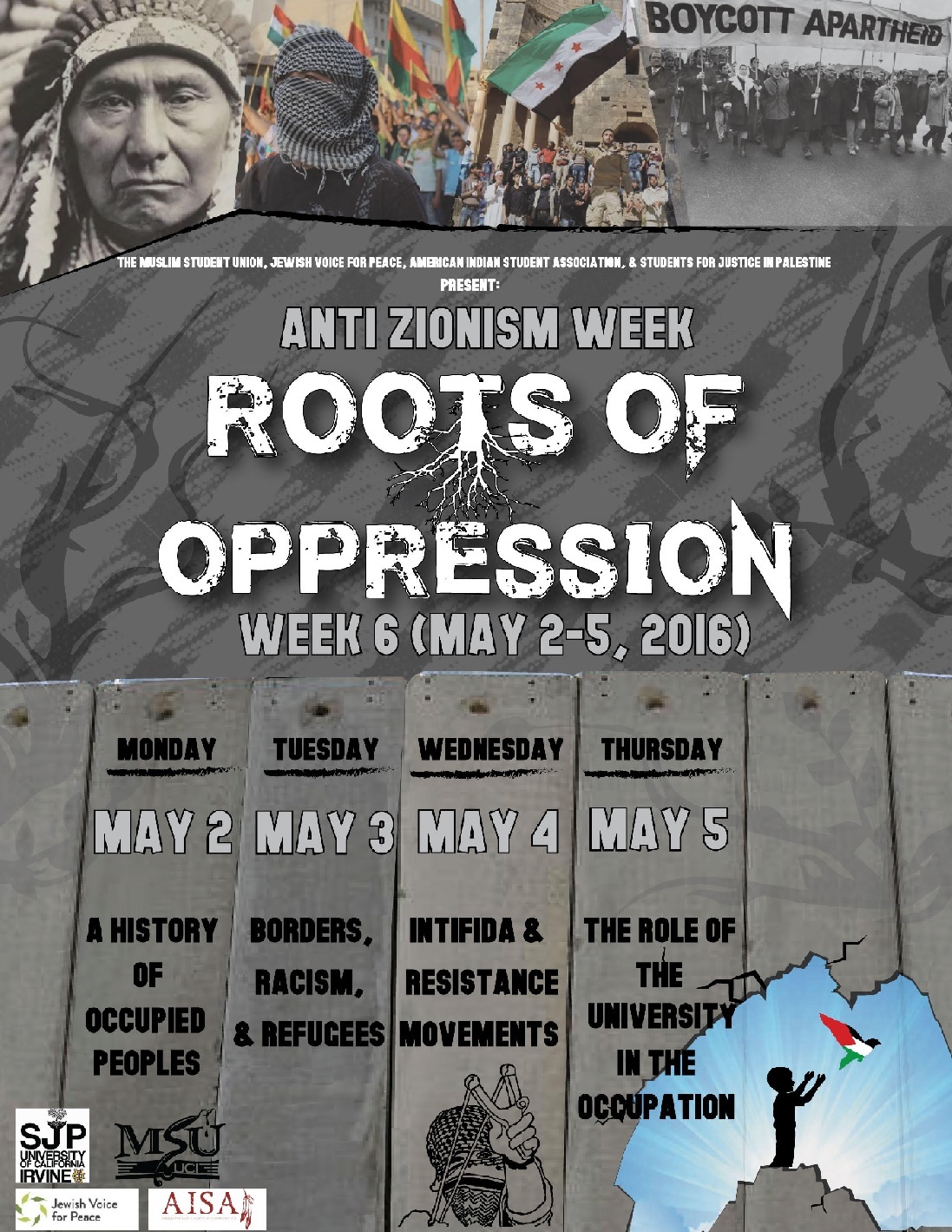 Last Tuesday, as Mr. Brum was protesting against the anti-Israel activities of Students for Justice in Palestine (SJP), he was approached by a member of the Black Student Union.
"He told me he loved Hitler because he killed white people," Mr. Brum recalled.
Anti-Israel activism and incidents of anti-Semitism as described by the Anti-Semitism watchdog group AMCHA Initiative, are not new to the UCI campus.
A 2012 report by the Anti-Defamation League lays out a decade of anti-Semitism on UCI campus. The Muslim Student Union (MSU) is named as the leading culprit of anti-Semitism on campus. In 2010 the student group was suspended for a semester after nine students from the group were arrested for disrupting the speech of Israeli Ambassador Michael Oren.
Anti-Zionism Week's activities included a discussion comparing the Israeli-Palestinian conflict to the dispossession of land from American Indians, as well as a talk by Rabbi Yisroel Dovid Weiss, activist and spokesman for the anti-Zionist Neturei Karta.
"Once again, the anti-Israel students at UC Irvine are attacking Israel and its supporters through extremist voices like Netura Karta, a Jewish group that rejects the existence of the state of Israel and has been excommunicated by similar religious authorities and the greater Jewish community," explained Roz Rothstein, CEO of the Israel advocacy group, StandWithUs. "It is particularly heinous to ask for the destruction of Israel during Holocaust Remembrance Day, but is a common tactic of these anti-Israel groups to hold events during Jewish holidays and days such as these."
In response to last week's anti-Israel and alleged anti-Semitic activities, UCI's College Republicans invited David Horowitz, founder of the Horowitz Freedom Center, to speak Friday evening.
Mr. Horowitz caused controversy on the campus of San Diego State University last week when his organization painted the campus with posters calling support for the Boycott, Divestment and Sanctions movement (BDS) against Israel "Jew hatred." His speech last week at SDSU took place without incident.
When asked about the concurrence of Anti-Israel Week with Holocaust Remembrance Day, Mr. Horowitz told the Haym Salomon Center, "These people are Jew-haters. It's disgusting. They hold it deliberately to humiliate Jews. The fact that Irvine is funding them is a disgrace."
The Muslim Student Association did not respond to our request for comment. Early last week, Falmata Mohamed, Public Relations representative for MSU, told the student newspaper, "There are a number of speakers who could have been invited to provide a different perspective. It is not necessary for College Republicans to incite polarization and hostility by inviting a renowned Islamophobe on campus."
In response to the "apartheid" wall put up on campus for the week's anti-Israel events, SSI at UCI countered with a bridge that pro-Israel students built.
"They build walls; we build bridges," was the slogan that kept Jewish students at UCI heads held high during the troubling week.
Ms. Rothstein applauded the efforts of UCI students, "who are responding to a campaign of hate with their own effort to promote justice, peace, and coexistence."
Shani Shahmoon is a contributor to the Haym Salomon Center and an opinion columnist and a member of the Daily Bruin Editorial Board. She writes about student activism, the Israeli-Palestinian conflict and mental health issues.