Last week, the writer Ta-Nehisi Coates revealed that he would not be moving into the $2.1 million Brooklyn townhome he and his wife had just purchased.
In a piece in The Atlantic, Mr. Coates explained that, after the New York Post wrote a story disclosing that Mr. Coates was the buyer, and included the home's address, 207 Lincoln Road, he was too concerned about security and safety to move in.
"You can't really be a black writer in this country, take certain positions, and not think about your personal safety," Mr. Coates wrote in the Atlantic. Mr. Coates won the National Book Award for nonfiction for his 2015 memoir, Between the World and Me—the memoir is written in the form of a letter to his son, about the history of racial injustice in the United States.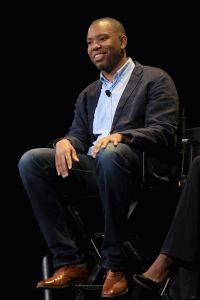 It's not the first time that a public figure has expressed displeasure with their information—as in, home address—being posted on the Internet. In fact, Mr. Coates's decision came shortly after the Observer was at the receiving end of an aggressive letter from the lawyers of Leicester City soccer player Christian Fuchs, demanding that we remove a story posted about Mr. Fuchs's purchase of a Harlem townhouse (we did not).
But Mr. Coates's decision not to live in the townhouse that, by his own admission, he was greatly excited about, is on the more extreme end of what a celebrity will do if their address is made public, especially in the city. In New York in particular, privacy in terms of purchasing real estate is limited—public records systems, like Acris, make it pretty simple for anyone with knowledge of the internet to access such information as property deeds. Mr. Coates, for example, had used an LLC to purchase the townhouse, but he had signed it himself. Mr. Fuchs did not use an LLC at all.
"There's zero expectation of privacy," Douglas Elliman broker George van der Ploeg told the Observer.
"There's not much," Stribling broker Ross Evangelista agreed. "For recent property records, there's generally something that gets one to a name or address."
Yet many buyers aren't going too crazy over these concerns.
"People are taking extra precautions," Mr. van der Ploeg conceded, "and we've noticed that certain buyers have purchased their properties in ways that make it so that you can't really figure out who they are—they'll typically have a lawyer or accountant sign," he explained. Knowledgeable buyers may take precautions like using a limited liability company to purchase the property, and then having an authorized third party sign the documents, but those who don't cannot assume their purchase won't come to be public knowledge.
"As private individuals see the kind of information that gets out about others, they become a little more careful about the way they can keep things really private," Mr. van der Ploeg continued. "I have noticed people being more conscious, but not to an extreme degree. I think it's just a little more awareness than there has ever been."
That awareness rarely translates into the decision not to go through with a planned purchase. "We deal with a lot of wealthy people, a lot of billionaires. Nobody we've dealt with has ever reneged on a deal because of that," Mr. van der Ploeg told us. "They don't have kidnapping concerns, but we are aware that if your name is Carlos Slim or some big international billionaire, there are security issues."
On the other hand, some brokers have found that safety concerns over kidnapping are real, but are mostly limited to foreign nationals.
"In the era of the Internet, if news of their purchases are leaked to the media and reach their countries, they run the risk to kidnapped or extorted in their volatile countries of origin, such as Mexico, Brazil, Venezuela, much of Africa and Eastern Asia," Stribling broker Mercedes Menocal Gregoire told the Observer.
"These individuals still tend to purchase in new developments with tight security, even if they travel with their own security detail," she added. "These buyers go to great lengths to keep their purchases private, establishing Florida, Delaware or Nevada corporations, [and] assigning a director to appear as the corporate owner," she continued.
Mr. Coates and Mr. Fuchs both made the decision to purchase townhouses, and expressed concern over their full address being printed for everyone to see—Mr. Coates noted that the Post's article circulated around the Internet, making it easy for anyone to discover exactly where he lived with just a quick Google search.
"Townhouses are more exposed if someone knows your address," Mr. van der Ploeg pointed out. "With apartments, you have a doorman, and you don't need to worry about someone knocking on your door." Additionally, if the property record doesn't already reveal the buyer, it seems very possible that a neighbor would notice that someone of prominence just moved onto the block.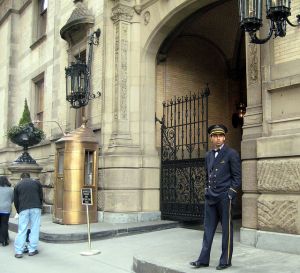 There are certain things a broker can do to somewhat lessen privacy or security concerns a buyer might be feeling when checking out a new townhouse in the city, other than simply heading for a high-security new development.
"Generally, sending them a list of top politicians, businessmen, actors and actresses who live in townhouses, with no doorman or security, alleviates concern," Mr. Evangelista laughed.