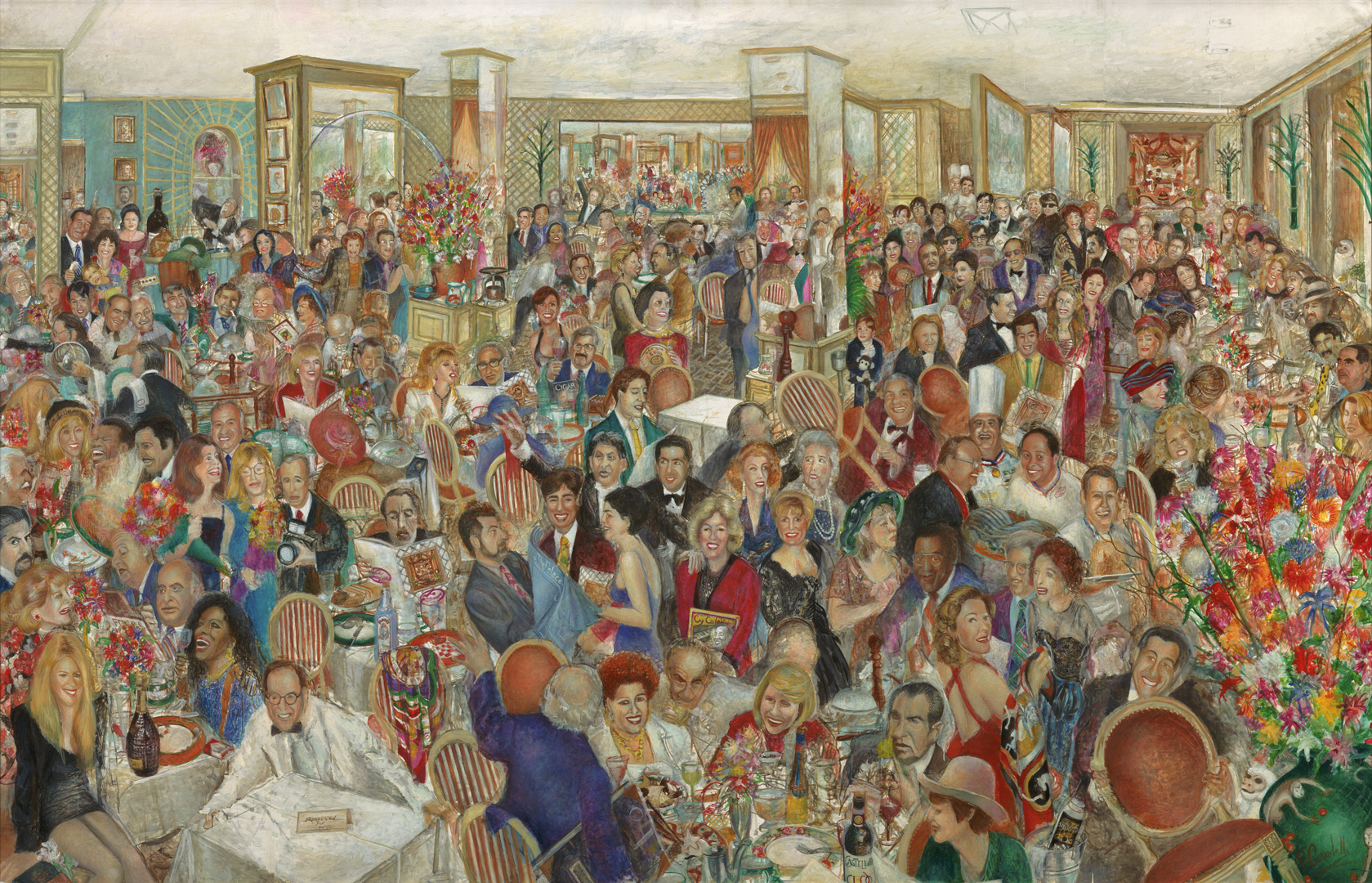 The art world has a big "99 percent." Those are artists who sell their work for modest prices, or don't sell much at all. And Robert Cenedella, who paints satirical scenes of frenzy in the streets, has spent decades in that wilderness.
Mr. Cenedella dresses the part, not in a Rodney Dangerfield "I don't get no respect" dark suit, but in a wide-brimmed hat, with a worn-out shirt and colorful necktie. The convivial painter's name isn't one to drop at Frieze or Gagosian, but he is known at P. J. Carney's, a bar on Seventh Avenue near 57th Street, which, like Mr. Cenedella, is a stubborn holdout from an era of friendly customers and lower prices.
Now 76, Cenedella has taken on abstraction, Pop Art, the contemporary art market and Christmas—worthy credentials for a rebel. Yet he also painted the legendary 1998 mural Le Cirque – The First Generation, a group portrait of 150 of the city's glitterati. The improbable style is more agitated James Ensor than Norman Rockwell harmony. Even an outcast like Mr. Cenedella sometimes gets lucky.
Today, Mr. Cenedella the outcast has friends in all circles except the art trade. A new documentary film, Art Bastard, tells his story. Directed by Viktor Kanefsky, Art Bastard was funded by the financial printer Chris Concannon, a collector and Cenedella fan. Mr. Cenedella's paintings now adorn the Angelika Film Center, where Art Bastard opens next week.
The title prepares you for Mr. Cenedella's merciless satire inspired by his mentor, the charicaturist George Grosz. But Mr. Cenedella learned he was a bastard before he ever knew he was an artist. When he was six, his mother, tipsy from a few drinks, informed her son that his real father was not her husband, a blacklisted radio writer, but a professor with whom she had an affair. "I'm not legitimate," he said.
Expelled from the High School of Music and Art for mocking atom bomb drills, he entered the Art Students League, the only place that took students without a high school diploma. There he met George Grosz, who fled Nazi Germany, where his grotesque satirical art was condemned as degenerate. That, for Mr. Cenedella, was a badge of honor. He would paint New York streets with the same grotesquery that Grosz saw in Berlin.
"He was the first adult that I ever respected," Mr. Cenedella said. "He taught me how to draw, but he also taught me how to drink."
The bastard's first 15 minutes of fame came in 1965 with the Yes Art show, his mocking response to Pop Art. It was a commercial hit, with spaghetti on canvas, Heinz soup cans and S&H Green Stamps given out with each purchase.
"I got more publicity than any artist, including Warhol, and that was my aim.  I fought fire with fire. I called it Yes Art, so I knew enough to be positive," he said.
Disheartened by the success of Yes Art— "I could have become one of them" —Mr. Cenedella gave up painting for a career in advertising, and brought along his mind for satire. Soon, he developed the Hostility Dart Board, which came with a picture of a famous figure (Lyndon Johnson, Richard Nixon, Spiro Agnew, Sigmund Freud) and three darts. "For a few dollars extra, you could put a relative or an ex-wife there," he said, "I had more success in doing these gimmicks than I did at my art." It was another 15 minutes.
By 1975, Mr. Cenedella was back to painting huge scenes of the congested city. He took over Grosz's class at the Art Students League, a job that he still holds. The art world wasn't paying attention. It still isn't.
But in 1988, the ad agency Saatchi & Saatchi asked Cenedella to loan paintings for its lobby at Christmas time. One of them, The Presence of Man, was a scene of a crucified Santa Claus, with gift-wrapped presents strewn beneath him. Saatchi took down that painting and eight others. "Censorship does work," Mr. Cenedella said.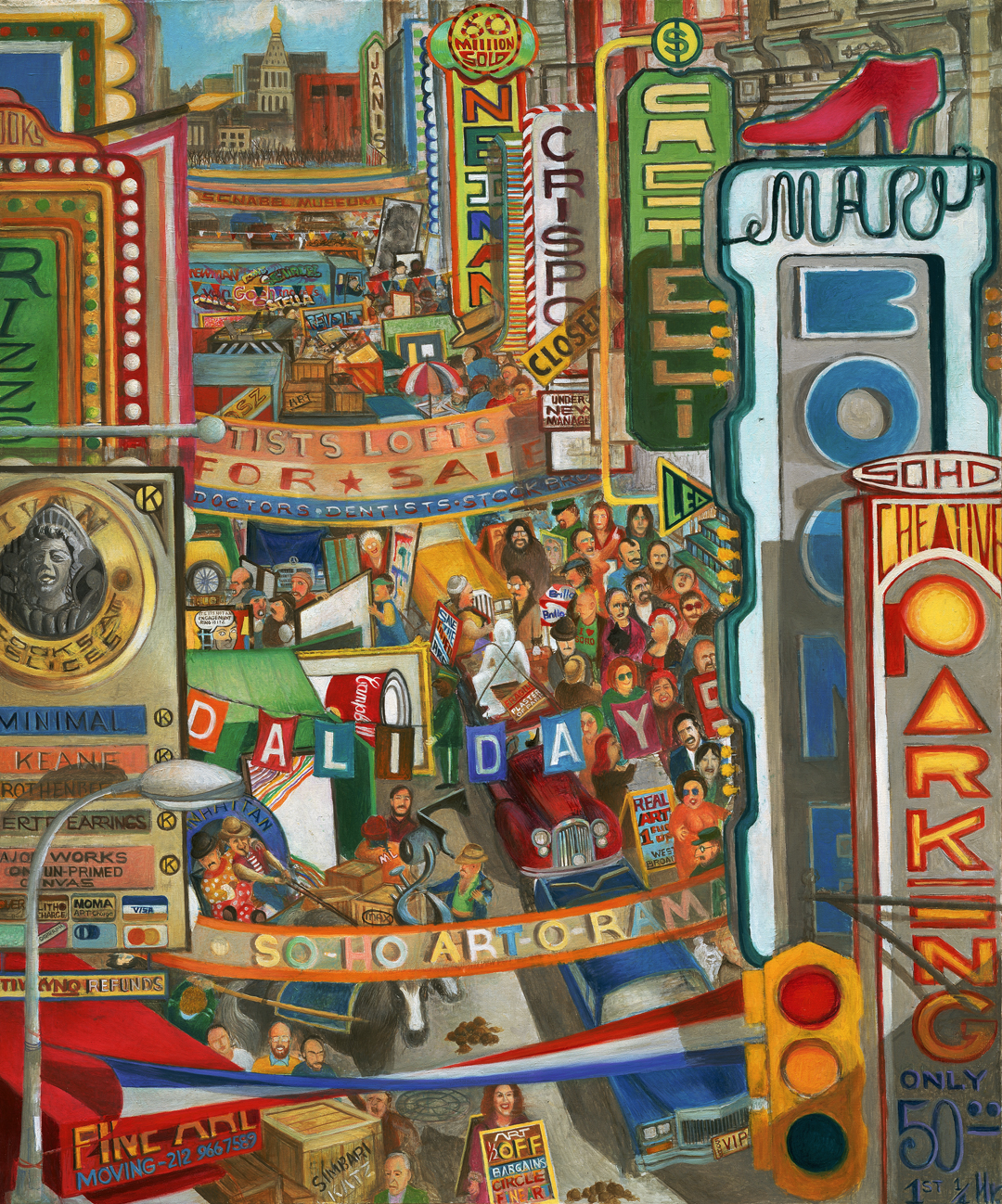 The picture disappeared into his studio, but re-emerged in 1998 in the window of the Art Students League on 57th Street. This time he was denounced by the Catholic League, who suggested that Santa in a noose might have been less blasphemous.  The Art Students League considered firing Mr. Cenedella, but didn't, and kept the painting on view.
The artist still hasn't sold it. "Based on the meaning of the painting, it makes no sense to make it a commercial item," he said, "maybe we'll give it to the Pope some day."
That same year, Mr. Cenedella unveiled his group portrait Le Cirque – the First Generation, which included figures from Liz Smith to Henry Kissinger to Le Cirque owner Sirio Maccioni's doctor to Morley Safer (another contemporary art skeptic) to Frank Zappa (a frequent customer) to Mr. Cenedella, with his head turned away. Mr. Maccioni was wary of the project—celebrity artist Leroy Neiman had already tried, and given up on capturing the group. Mr. Cenedella took it "on a dare," which came with free meals— "I ate there fifty times, even before I started painting." He was eventually paid $50,000 for the two-year project, which was "more than I would have gotten if we'd made a deal at the beginning."
Mr. Cenedella and friends celebrated the New York premiere of Art Bastard on May 23, upstairs at Le Cirque, in front of the painting. Almost 20 years after the unveiling, many of those boldfaced names are no longer with us, although Marco Maccioni, Sirio's son, whose boyish face is in the center of the painting, was passing hors d'oeuvres. "I'm a waiter," he said. "I'm a painter," Mr. Cenedella said back.
Mr. Cenedella turned 76 the next day. He's still teaching and painting. He could find that the documentary film audience is at least as hard to crack as the art market. "The dart board and the Yes Show could have been conceptual art, which wasn't a word back then," he recalled. "It's kept me honest with my painting." He took a sip on a drink of vodka and passion fruit juice, a drink which Le Cirque calls an "art bastard."
"Even if I tried to sell out, I don' t think that I could do it. I don't think that it would work," he said.
Art Bastard opens June 3 at the Angelika Film Center and the Lincoln Plaza Cinemas.