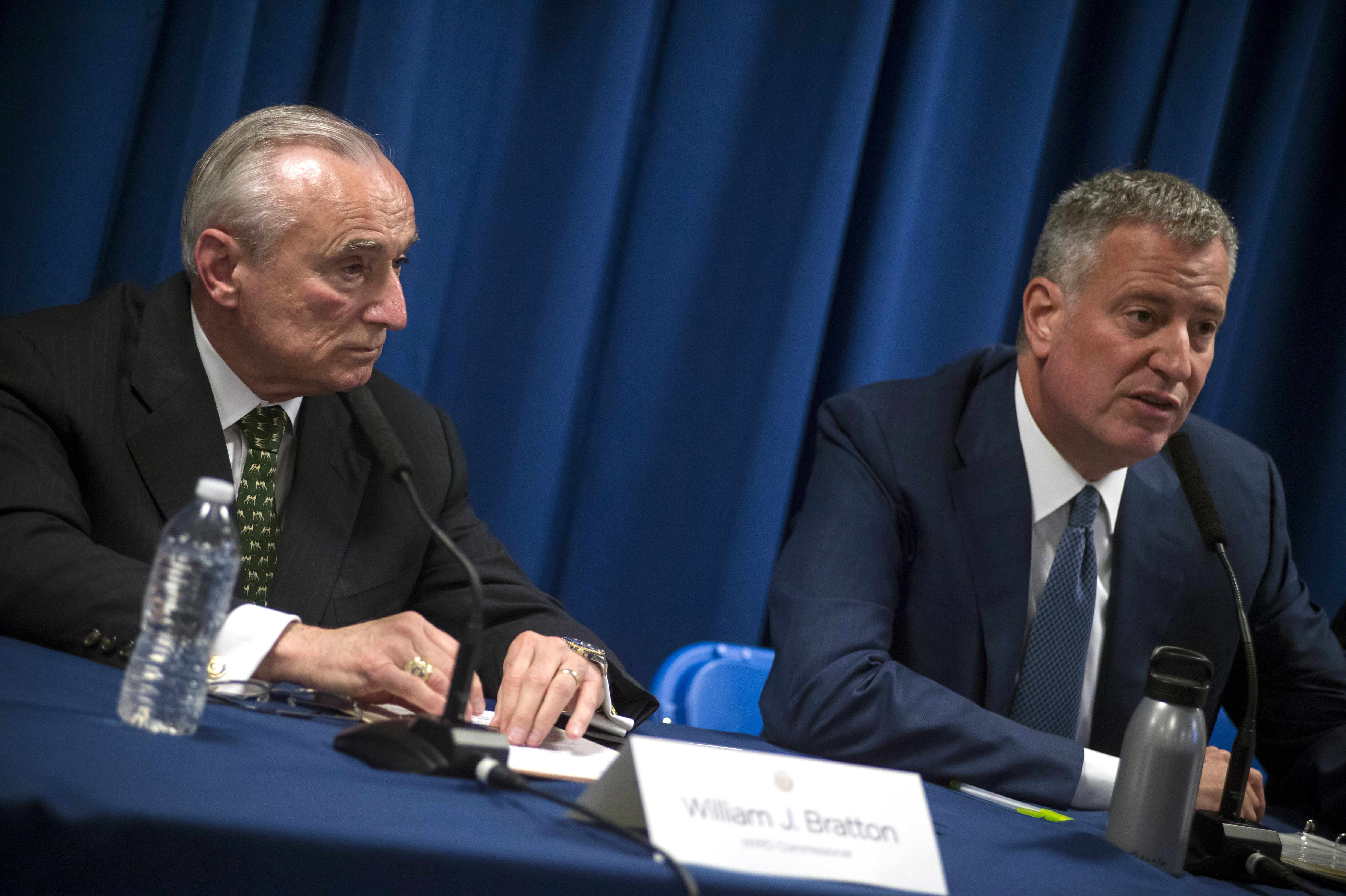 When it comes to the several criminal inquiries swirling around his City Hall, Mayor Bill de Blasio has clearly found his talking point—and he's sticking to it.
"I'm confident of the fact that we handled everything legally and ethically, that we did the things I wish more people would do in public service—we sought guidance from an ethics board, we followed that guidance and disclosed everything we did," Mr. de Blasio said today, fielding questions from reporters in a police precinct in a far-flung neighborhood of Queens.
Some of those words seemed to come up over and over: "confident," "legally," "ethically," "disclosure." Mr. de Blasio endeavored to look non-nonplussed by the fact that investigations into his administration and campaigns are stacking up so quickly it will soon be impossible to count them on a single hand.
There's the investigation into his State Senate fundraising—subject of a leaked state Board of Elections memo and several subpoenas. There's the investigation into corruption at the NYPD, where officers accepted gifts from two business who also donated handsomely to Mr. de Blasio. Then there's the look into Rivington House, a former AIDS hospice where the city lifted a deed restriction that will ultimately allow for the development of lucrative condos at the site, where developers were at times represented by a lobbyist tight with Mr. de Blasio. And there's also inquiries into Mr. de Blasio's non-profit, the Campaign For One New York, and whether donors got favors from City Hall.
In response to every one of these inquiries, Mr. de Blasio has argued he's followed the law and the advice of his attorneys—and, in soliciting donations to State Senate candidates or using a non-profit to collect hefty donations for his priorities, that he's doing things other politicians do but is, for some reason, being singled out.
"I don't conjecture. I can say, I think there should be a fair standard. I think there should be a consistent and fair standard," Mr. de Blasio said. "We're convinced that things were done legally and appropriately, and I think it's a very important fact when someone discloses voluntarily. It suggests comfort that they have that they're doing things the right way."
Mr. de Blasio's campaign has indeed voluntarily disclosed the donors to his non-profit, something that is not required by law and that others have not chosen to do. But whether it was appropriate to accept the donations—which came from unions who have contracts with the city, real estate firms with interests in re-zonings and others matters, activists calling for a horse carriage ban and others—has been questioned.
Last night, NY1 reported on a letter from the Conflicts of Interest Board advising Mr. de Blasio not to solicit any donations from entities that have matters "pending or about to be pending" before the city. But in a story last year, Politico New York reported that 62 percent of donors had business or labor contracts before the city, or were trying to get a project approved—including the union DC37, which was negotiating a contract, and a manufacturer of scented garbage bags who eventually got a contract to provide them to the city.
Mr. de Blasio would not offer an explanation of how accepting donations from those people squared with COIB's advice, other than to say everything was reviewed by his attorneys.
"This is a very important thing to get the definitions right on, which is why we went to the Conflicts of Interest Board, got a definition on it, and then had lawyers determine how to follow that definition," Mr. de Blasio said.
The mayor repeatedly referred to how frequently he spoke with lawyers about donors and the fundraising issues now under the microscope—which of course, to some, might raise the question of whether he or his team suspected they were running up against the law. (When a reporter posited that the legal advice the mayor had gotten may have been up against the line, which would seem to be a given since it's led to formal criminal inquiries, Mr. de Blasio accused him "editorializing.")
The mayor has argued that there are problems in the laws governing campaign finance—but said that even if he doesn't like the current rules and thinks the laws should be change, he will play by them as long as his enemies are. So, while he's decried the role of money in politics and called for publicly funded campaigns and the overturning of Citizens United, he's solicited large donations to county committees that are then passed on Senate candidates, who would not legally be able to accept those donations directly. And he set up his non-profit to take larger donations than he could accept to his re-election account, though he repeatedly singled himself out for praise for taking the extra step of disclosing those donors.
That argument—that the conduct might be ugly but it isn't against the law, and everybody else does it—might sound familiar: it was what former Assembly Speaker Sheldon Silver's lawyers said when U.S. Attorney Preet Bharara indicted him on accepting kickbacks disguised as outside income. (It is not illegal to earn outside income while serving in the State Legislature; many pols do.) Mr. Silver was convicted and was sentenced to 12 years in prison today.
Did Mr. de Blasio think Mr. Silver was unfairly targeted?
"I don't know the details of the case," Mr. de Blasio said of the trial, which consumed the city's press corps for weeks and was closely watched by politicians and lawyers. "I think it's a tragedy what happened, I think it's exceedingly sad, but again I'm not a lawyer. I don't know the detail of the case. I think it's clear something was done wrong."
But does the mayor worry that his argument might remind some New Yorkers of Silver's defense?
"No. I think these are entirely different matters," he told the Observer. "And first of all, to the credit of everyone involved in this discourse, no one's talking about anyone lining their pockets—which unfortunately has happened in way too many instances. The thing we're talking about is what we were trying to achieve working with outside colleagues, things like pre-k for all, affordable housing programs, a Democratic State Senate that we thought would better serve the people of New York State and New York City. So I think that's apples and oranges to begin with."