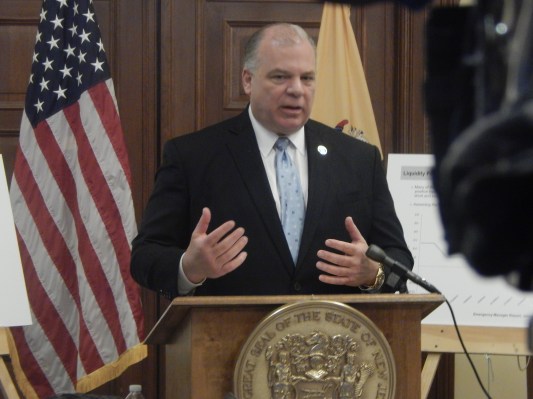 TRENTON — As the drama over a bill to delay a state takeover of Atlantic City comes to a head in the Assembly this week, Senate President Steve Sweeney (D-3) said Wednesday that he will not post that measure in the Senate if it passes tomorrow. That takeover bill from Assembly Speaker Vince Prieto (D-32) would allow the city two more years before the state could assume complete control the city's finances and assets, where Sweeney's would give the troubled gaming enclave only 130 days to cut municipal spending and keep the state at bay.
"He should put his bill up for a vote," Sweeney said of Prieto's takeover plan. "He really should. And once it doesn't pass, then he should pass my bill. Otherwise, Atlantic City is going bankrupt."
The vote will be close tomorrow, with Prieto's support hovering close to the 41 votes needed for his bill to pass. Assembly sources were unanimous in calling the vote too close to call. But Sweeney said that because Governor Chris Christie would veto the bill if it reaches his desk, he will not consider putting the Prieto bill to a vote in the upper house.
Sweeney predicted that the city will face default within 8 to 10 days without casino revenue from his takeover bill's accompanying payment in lieu of taxes agreement between the city and its remaining casinos. Sweeney maintained that his takeover bill, which Christie favors over Prieto's, is the city's best chance of getting back into the bond market after its credit rating dropped to junk status.
The Senate President also laid into Prieto for failing to approach him with a compromise, saying that the speaker had rebuffed his attempts to hash out a deal. Sweeney said that the next time he and Prieto meet, he would "have witnesses in the room."
Prieto was quick to fire back in a statement.
"As I've told everyone, I never promised to post a state takeover bill nor did I receive a private compromise offer from the Senate president. In fact, the only 'public' compromise I ever saw was a press release," Prieto wrote. "I'm also not the one repeatedly talking about politics. This is all about policy, and the compromise bipartisan Assembly bill remains the right choice. I look forward to Thursday's voting session."
"The mayor recognized the severity of the crisis in city government but he has failed to make the major changes that are needed," Sweeney said. "I had high hopes for Mayor Guardian at the beginning, but the lack of leadership only allowed the problems to grow worse and to spread. Now the city is out of money and we are out of time.
Sweeney also doubled down on his criticisms of Atlantic City mayor Don Guardian, one of the staunchest critics of Sweeney's original takeover plan. The city has to make a $7 million payroll payment before the end of this week, after making its last bond payment of $1.8 million by the skin of its teeth on Monday.
"There has been plenty of opportunities for Atlantic City to help itself. The fact that he withdrew his own layoff plan because he was anticipating revenue, he said 'Oh, I don't have to do this now.' Yeah you've got to do it!"
Asked about South Jersey Democratic boss George Norcross III and his involvement in the takeover effort, Sweeney asserted that private profit has not played any role in the drafting of his Senate bill. Norcross' brother Phillip is a lobbyist for New Jersey American Water, the company widely expected to take over Atlantic City's water supply under a takeover. Jersey City mayor Steve Fulop, Sweeney's rival for the Democratic nomination in 2017's gubernatorial race, criticized the pro-takeover troika of Sweeney, Christie and Norcross earlier this week.
"I do not want the water company privatized," Sweeney said. "Either take it in-house or give it to the county."