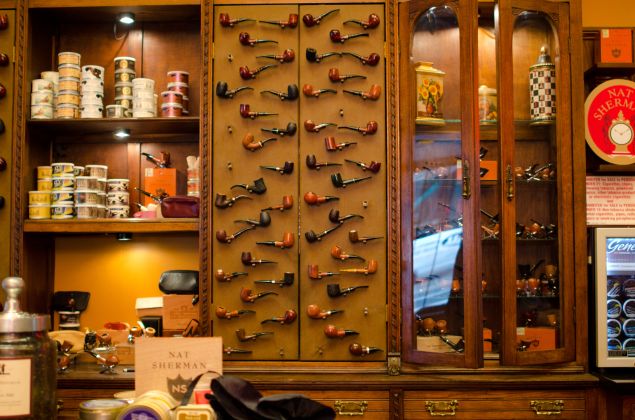 Somewhere between innovation and nostalgia, you'll find Nat Sherman, a heritage cigar brand with a panache for the past and an eye on the future.
Celebrating its 85th anniversary this year, the third-generation, family-operated company is far from stuffy, excluding the implacable pungency of smoke that wafts from its flagship Nat Sherman Townhouse on 42nd Street between Fifth and Madison avenues. The Townhouse is Nat Sherman's fourth iteration since its titular founder opened shop at 1400 Broadway in the Garment District in 1930.
"Looking from our 85th year, it's about listening," Larry Sherman, 46, grandson of the eponymous founder, told the Observer. "It's about adapting, changing our product mix and exploring areas that maybe we were not accustomed to doing in the past." He runs the business with his older siblings, Bill and Michele Sherman, and their father, Joel Sherman.
To commemorate the milestone, the brand has issued limited-edition cigars that have a fuller, more robust taste profile than many other in-house products. For those unfamiliar, evaluating a cigar's nuances is comparable to describing the attributes of a wine. The special smokes come packaged in a box designed to recall the art deco look of Nat Sherman's original location at 1400 Broadway.
In addition, Nat Sherman also hosted a series of dinners to raise funds for food banks across the country. Out of $100,000 raised, $30,000 went to New York City's City Harvest. One of the event's partners was Iron Chef Geoffrey Zakarian.
This year has presented another turning point in the company's history: the easing of US-Cuba relations.
Nat Sherman's ties to Cuba are deep. Before the 1963 trade embargo, the company was one of three east of the Mississippi licensed to sell them. Ramón Cifuentes, whose family owned and operated the enduring Partagás brand, was nearly Bill Sherman's godfather.  
Post-embargo, Nat Sherman's cigars were first sourced in the Canary Islands. Now, the majority come from the Dominican Republic.
"It's no different than comparing a French wine to a California wine," Larry explained, the cigar-vino comparison inescapable. "They have different characteristics and different flavors, but it's not to say that one is that much better than the other."
Another shift that forced the company to adapt was the enactment of the Family Smoking Prevention Act. Signed into effect in 2009, the legislation granted the FDA control over tobacco.  
"Now this is one of the only places you can enjoy a cigar," Bill Sherman, 52, said. "It kind of internalized the business … creating that sense of community inside the Townhouse."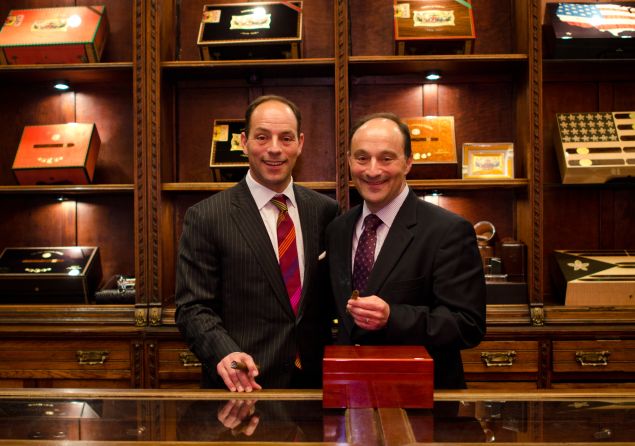 The two Sherman brothers may be foils in height and voice―Larry is taller and pleasantly stridulent, Bill smoother and shorter in stature―but during a tour of the Townhouse, each equally lauded the accomplishments of the Sherman patriarchs, speaking warmly about the influence of "my father" and "my grandfather" on the business.
Bill calls socializing over cigars "an affordable luxury" accessible to "the melting pot of different personalities and different income levels" that comprises New York City. Cigars in the in-house portfolio range from $5.25 to $25 each, while a few rare offerings hover at the $100 price point. Also on offer are ornate cigar accessories such as hand-painted lighters and Spanish cedar humidors.
On a Friday afternoon earlier this month, it was evident just how diverse a customer base the Townhouse attracts. A wizened Orthodox Jewish man perused the shop's pipe collection—according to Bill, "being a true tobacconist is also having pipes and not just focusing on one area of the tobacco products"—while a middle-aged patron with a sleeve of tattoos passed through the space.
"We're a safe place, so it's not about throwing their picture on the wall and making them feel uncomfortable," Larry Sherman clarified. "We're a fabric of New York and so being a fabric of New York, I think you have all the people that make up this great city and most, not all of them, have graced us with their presence."
Walking into the flagship store is to step back into Old New York. The shop's set-like interior, for example, is designed by Broadway scenic designer Charles McCarry, and as Larry underscored during the tour, the mahogany-heavy look recalls Henry Higgins's library in My Fair Lady.
"We took [the building] down to the bare bones," he said. "We built the whole balcony and began to kind of help lower the space a little bit." False doors, ribbed accents, birdcage-like chandeliers, and a staircase also enhance the illusion of roominess.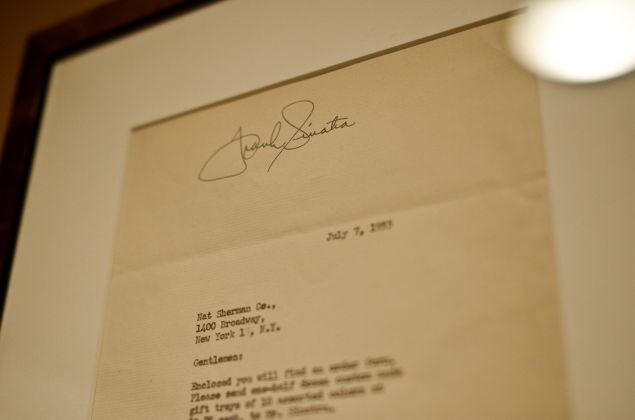 Beyond the décor, an impressive cache of memorabilia harkens back to New York's heyday— the walls are lined with mementos ranging from letters signed by Frank Sinatra and John Wayne to historic snapshots of Nat Sherman himself judging a Birdland dance contest and distributing tobacco tins during World War II.
Then there's the Johnson Club Room, a subtle homage to Nat Sherman's wife, Lautia Sherman.
"Johnson was not her maiden name, it just happened to be that he, for some reason, called all the women in his life after men's names," Larry said. "I hope it wasn't derogatory but he called her Johnson. My mom was like Max. It was his thing."
Access to the parlor-like room, which is bedecked with clusters of woven chairs and a neon "cigars" sign, comes at a $3000 fee. In exchange, club members―famous names among them include Joe Torre, Rudy Giuliani, and Bill Richardson―receive one of 320 lockers in the downstairs humidor and have their deposit returned to them as store credit.
"We're a safe place, so it's not about throwing their picture on the wall and making them feel uncomfortable," Larry clarified. "We're a fabric of New York and so being a fabric of New York, I think you have all the people that make up this great city and most, not all of them, have graced us with their presence."
Bill even recalled a story his father told him from the 1400 Broadway days about unknowingly assisting the triggerman from the St. Valentine's Day Massacre. "We've had everything from the famous to the infamous and everything in between in the store," he said.
Beside the lockers, the aforementioned humidor also contains over 400 pre-Castro Partagás cigars in a cabinet made by Mr. Cifuentes, a priceless collection.
For Bill, helping a customer select the right cigar is a personalized experience. Every employee at Nat Sherman has undergone so-called "Tobacconist University" training and is a certified tobacconist. Cigar size, liquor pairings, and the height of the smoker are just some of the criteria that the staff rely on.
"It's in our blood. This is what we know how to do well, and we're really proud of that," Bill said. "Nat Sherman is still the same ethos, it's the same values that it started with. But how [that] represents itself in 2016 might be a little different than it was in 1980 or 1945 or 1930."