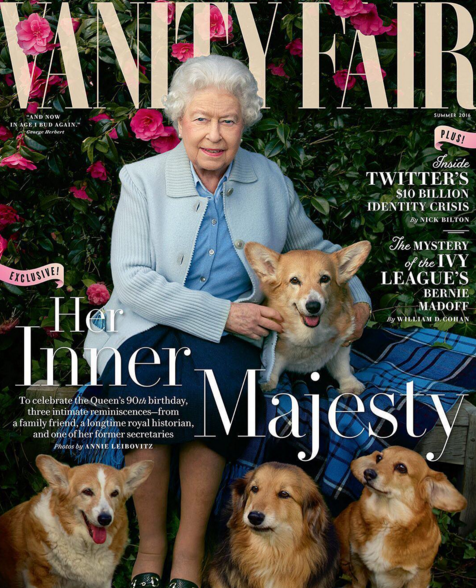 In the latest cover story for Vanity Fair, Queen Elizabeth posed with creatures even more adorable than her many grandchildren: She shares the cover not with Prince George or Princess Charlotte, but with her pack of pups. The Queen allocates the bottom of the cover to Holly, Willow, Vulcan and Candy, who might be overshadowing the royal with their regal gazes…or just looking for off-camera bones.
The exclusive portrait is in honor of the Queen's 90th birthday. It was shot by Annie Leibovitz, who's taken many glamorous portraits of Queen Elizabeth throughout the years. Her photo companions have included her grandchildren, great-grandchildren, her husband Prince Philip, her daughter Anne and of course, her corgis and dorgis.
The magazine even includes a deep dive into the Queen's love of corgis, which is obviously the most important facet of her life. Now, someone just needs to find out if she knows about the men who live like human pups, because they're currently the second most influential dog story in London–only time will tell who will be top dog.