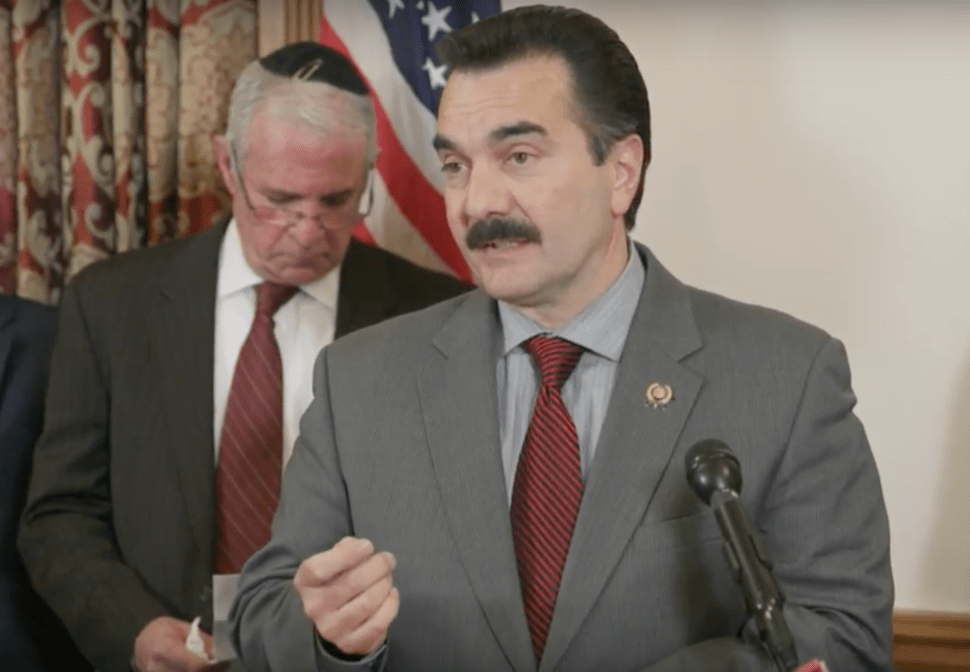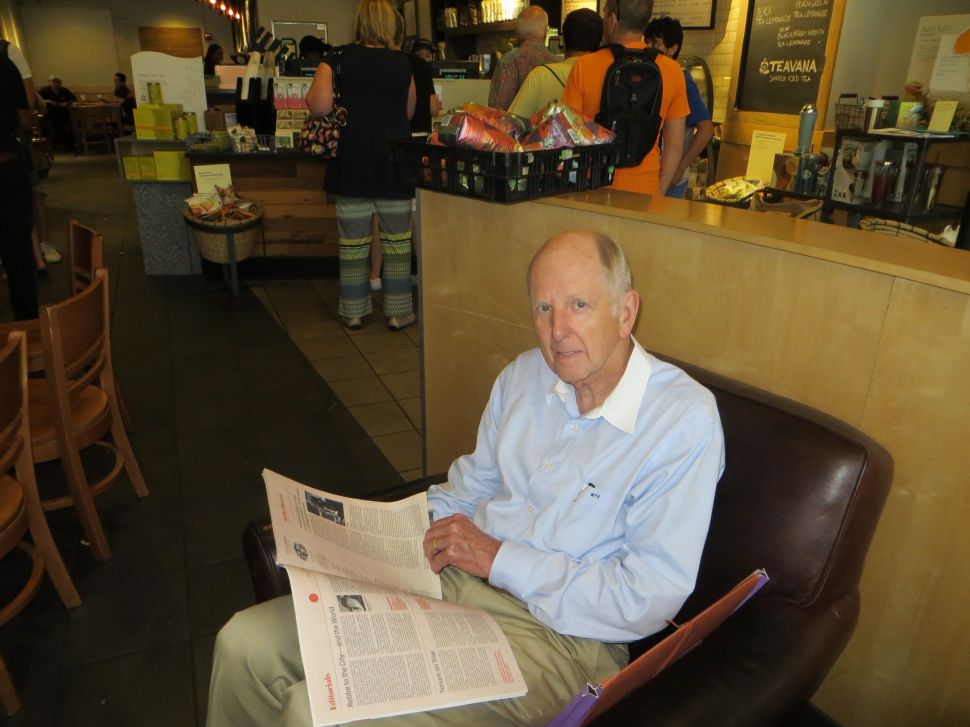 The hand moved shakily from bar top to lip as the source confessed to things never having been this bad. He expressed fear and discomfort and glanced at his cellphone with darting eyes, setting the device on vibrate – as if not hearing a sudden shriek might take the sting off an incoming message.
"The wife?" PolitickerNJ cracked.
The source laughed nervously in response.
He feared a boss on the other end of that line all right, but not his wife.
PolitickerNJ considered the eyes of the source, middle-aged metallic blue and watery, devoid of irony and tinged with worry.
"Oh, God," he moaned.
It was the night prior to the scheduled vote on Atlantic City and everyone was comparing notes, this source in question sweatily scribbling out different scenarios on a scotch-stained bar napkin.
Thirty-seven votes for Speaker Vincent Prieto's bill, the source figured, having just taken – with some irritation – Assemblyman Jim Kennedy out of circulation. The source then crossed off Assemblywoman Holly Schepisi, who had seemed willing earlier today. It was 37 hard without Kennedy and without Assemblyman Joe Egan, chair of the Assembly Labor Committee.
"Let's see, 13 for South Jersey, plus Egan," the source muttered.
The ballpoint pen hovered near the name of Assemblyman John Wisniewski, a longtime South Jersey ally, but left him untouched for the moment.
"They need four Republicans," the source croaked, a reference to the immediate requirements for success of Team Prieto, which sometimes looked like legions of Star Trek guys in red shirts with phasers set for stun up against a trained and heavily armed Green Beret in the form of South Jersey Democratic boss George Norcross III, who for the past week had cut a punji stake strewn swath through New Jersey in an effort to derail Prieto's bill.
Arguing for the financial state takeover of Atlantic City to save the gurgling gambling town, Norcross at one point earlier this week looked like he had certainly prevailed. But the game kept turning.
The source left alone the names Assemblyman Chris Brown and Assemblyman Erik Peterson on the napkin.
They would be with Prieto, the speaker's allies assumed.
"Still two short," the source groaned.
There were people out there who might reveal themselves tomorrow – maybe an Assemblyman John DiMaio (R-23) for example, Peterson's slate mate, or the odd duck in Morris County, where Democrats affiliated with the speaker reached in the closing hours before the session to try to make something of former bar stool connections.
Forty-one was the magic number.
Prieto promising to put up the bill Thursday was a hopeful sign for his side, if not a mixed blessing for those members who now just wanted the whole episode to go away.
Republicans, though, appeared to be peeling.
Up against Norcross and company, North Jersey Democrats all week confessed to being at a strategic disadvantage. No one possessed the boss' maneuvers. Maybe U.S. Senator Bob Menendez (D-NJ) came closest to being able to compete at that level, but he wasn't currently at what one would call his peak.
So they played a card with Prieto that presented itself as their strongest asset under all the politics and gamesmanship and brass tactics, including the raised dukes optics of Jersey City Mayor Steven Fulop rising in the north up against Norcross and Senate President Steve Sweeney (D-3).
They had one play with Prieto.
Ultimately they saw the drama boiled down to Norcross versus the speaker, the former possessed of considerable chessman's skills and unsurpassed ferocity and the latter; by general acclimation, a nice guy – the kind of technically proficient fellow who tackles a squealing microphone at a Jefferson-Jackson Dinner amid 200 grimacing faces and quickly brings resolution to the situation.
A businessman, Norcross fits the classic description of a New Jersey boss: the dealmaker who knows how to count heads and then work levers behind the scenes to move the chins on those heads in the directions he wants. Defining the Democratic Party as a "party" implies loose and festive connections. But the party is more like a network, with easily obtainable access and egress points. An easy way to get someone to change his or her mind involves locating a public contract or job that person has and then leaning heavily on the suggestion that the job could be altered or disappear. There's also the threat of a valve turning off without warning so that cash an incumbent long depended on vanishes, leaving a backslapping pol suddenly up against the prospect of himself raising money to fend off suddenly intrigued challengers to his district power. A barrage of phone calls from the boss or a surrogate often turns conscience into compromise, stiffened resolve into crumbled rationalizations about feeding one's family.
Public sector employee Prieto knows the drill. He comes from a variation on that world or a facet of that world in North Hudson County, where bosses wind up their loyal subjects and set them to act in strict accordance with the aims and ideals of the party.
"You can do what you want," a North Jersey boss once told PolitickerNJ, describing the expectations of party members and elected officials attached to his organization. "Just don't hurt us."
Prieto's bill hurts the South Jersey Democratic Organization, and it's compounded hurt.
Tried of Speaker Sheila Oliver routinely going off the reservation two and a half years ago, South Jersey Democrats offered their support to Prieto.
He's an organization guy, brought up to understand the dynamics of staying in one's lane, playing ball, knowing the rules, and generally being a good guy. He wouldn't make things difficult, the way Oliver had, an outcome that at the time soured Norcross on Oliver's benefactor Essex County Executive Joe DiVincenzo  and prompted the South Jersey kingpin to work with state Senator Nick Sacco.
DiVincenzo employed Oliver at the county but apparently didn't relish telling her what to do. But Sacco would be different. Unlike Essex, which was all over the place, Hudson responded to Sacco, and Prieto responded to Sacco.
Sacco didn't have to yell. He spoke plainly in monosyllables, his local power built on school system foundations.
Stepping around DiVincenzo and Oliver, Norcross cut the deal with Sacco to make Prieto speaker.
"Vinny," as everyone called him, was such a nice guy that one of his closest confidants felt compelled at the time to mention to PolitickerNJ, lest anyone mistake him for a stooge, that if he's pushed too hard, "The Cuban comes out of him."
What does that mean?
A playful, sneaky grin appeared on the confidant's face.
The South Jersey relationship with Prieto worked well for a little while, but as the next gubernatorial contest developed and Jersey City Mayor Steven Fulop began to deepen his game on the way to running in a statewide Democratic Primary, the speaker gradually detached from South Jersey. It didn't help when Sweeney – himself a competitor for governor 2017 – and Governor Chris Christie closed him out of most backroom negotiations.
Each big issue became an opportunity for Prieto to prove independence from the organization that once made him, and in conversations with South Jersey this past week, the speaker's adversaries relied most often on the adjectives "disloyal" and "lying" when referring to their former friend.
"This is all about money," another Northern source said on the phone tonight, convinced South Jersey and Christie's allies want contracts and big dollar opportunities in a refashioned Atlantic City.
"That's all it's about. Vinny's messing with the money."
But the source also admitted that it's about Prieto's pride. Constantly left out of the conversations, said the source, the speaker is risking deep-sixing AC for the sake of preserving the integrity – or finally finding the integrity – of the Assembly by making it relevant to the process and not simply a repository of rubber stamps programmed to do whatever Sweeney and the front office wheel barrow into the lower house's midst.
Prieto is no three-level chess player. But – and this is the adjective constantly trotted out by the north to describe him – he's a nice guy. He's like every other Democrat who sits in the Assembly with the expectation of a boss to do what he's told in the clutch. He's not angry or aggressive or prone to threats. He's likeable.
But sometimes that person gets pushed too hard – and the Irish or Sicilian or street – or Cuban – comes out of that person.
Prieto was making a stand, but ultimately forced to play the sympathy card in the face of Norcross, and there was real sympathy with Prieto among his allies. It revealed itself during the northern gaming fight when building trades workers spilled into the hallways as part of an overwhelming effort to get him to join Sweeney. "I hate what they're doing to Vinny," an assembly source told PolitickerNJ that day, literally expressing worry over the impact of all that hardhat power in the building aimed at shaming the speaker.
Unable to beat Deep Blue, Prieto's allies prayed that a majority of assembly people backed him Thursday out of an understanding of his having been fair and even-handed.
But they knew it might not be enough in the end, in a game Norcross played with spare eyes, where one phone call to some member of this club might turn someone, unforeseen and unexpected and change 41 votes into 40 votes.
Who would get a flat tire on his way to the statehouse on Thursday?
The source on the adjoining stool fidgeted with his napkin, glancing and re-glancing at the names, as time ticked down on Wednesday, and his eyes darted to the cellphone, which was still for the moment and silent as the barkeep slopped another drink down on the bar.