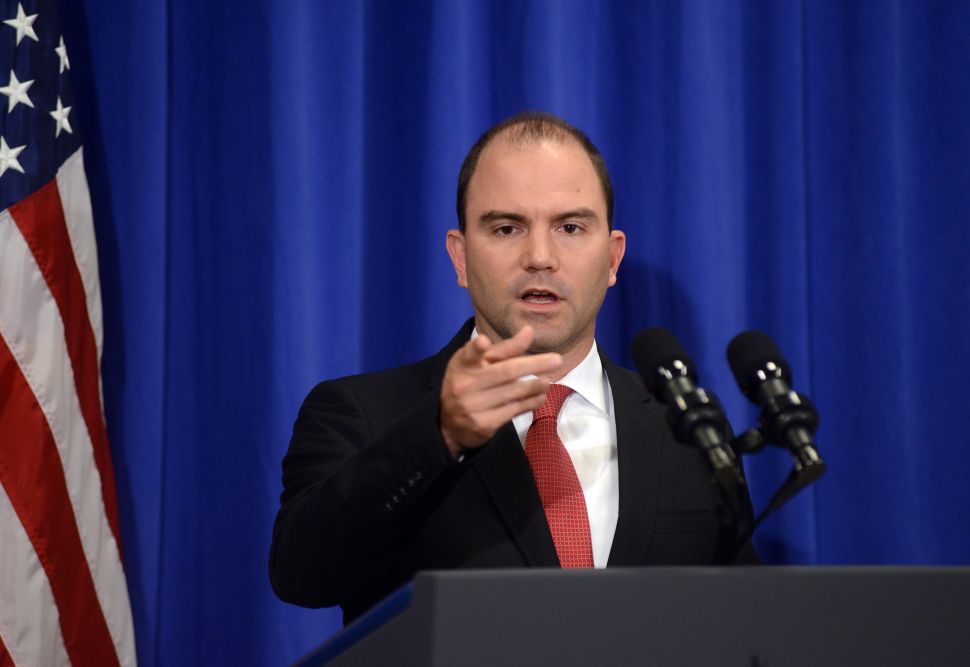 David Samuels has posted a lengthy response to the criticism of his lengthy profile in The New York Times Magazine of Obama's deputy security advisor Ben Rhodes.
"I stand behind every single word I wrote. This newspaper does, too. The New York Times has looked closely at every complaint leveled against the piece and has found absolutely nothing to correct. If anything is found to merit a correction, it will certainly be corrected," Mr. Samuels stated, for the record, before addressing the criticism itself.
Mr. Rhodes assertion echoes the position of New York Times Magazine editor in chief Jake Silverstein, who defended the profile in a series of tweets yesterday:
The story has come under fire since it was published last week. In the over 9,000 word feature, Mr. Rhodes is depicted as a Holden Caulfield-like character with an MFA and a casual disdain for the press, an aspiring writer of depressing short stories who gave up fiction for foreign policy after witnessing 9/11 from Williamsburg. Mr. Rhodes' literary aspirations, according to the profile, was instrumental in shaping a narrative to sell the public—via easily spun journalists—on the Iran deal. The backlash to the story has mainly centered on Mr. Samuels, who, critics contend, was not exactly unbiased when it came to the Iran deal.
"The fundamental thing to understand about this story is that it is a profile of Ben Rhodes, not a story about the Iran Deal specifically," Mr. Silverstein wrote on Twitter yesterday.
But much of the criticism continued to focus on Mr. Samuels' stance on the Iran Deal, and contended that he used the profile to promote his opposition to the deal. Two instances were cited where Mr. Samuels had argued against it: a 2009 story Mr. Samuels wrote for Slate and a 2015 panel discussion that Mr. Samuels participated in about the deal, put together by The Hudson Institute, a conservative think-tank. In his response, Mr. Samuels explains his rationale for both.
Mr. Samuels wrote that his initial interest in profiling Mr. Rhodes was, in large part, based on Mr. Rhodes' effective use of social media as a means to promote the White House's agenda. The same tools, Mr. Samuels seems to be arguing, are responsible for the negative reaction to his story.
At the end of his 2,765 word response, Mr. Samuels concludes that, as evidenced by the backlash to the profile, Mr. Rhodes has won.