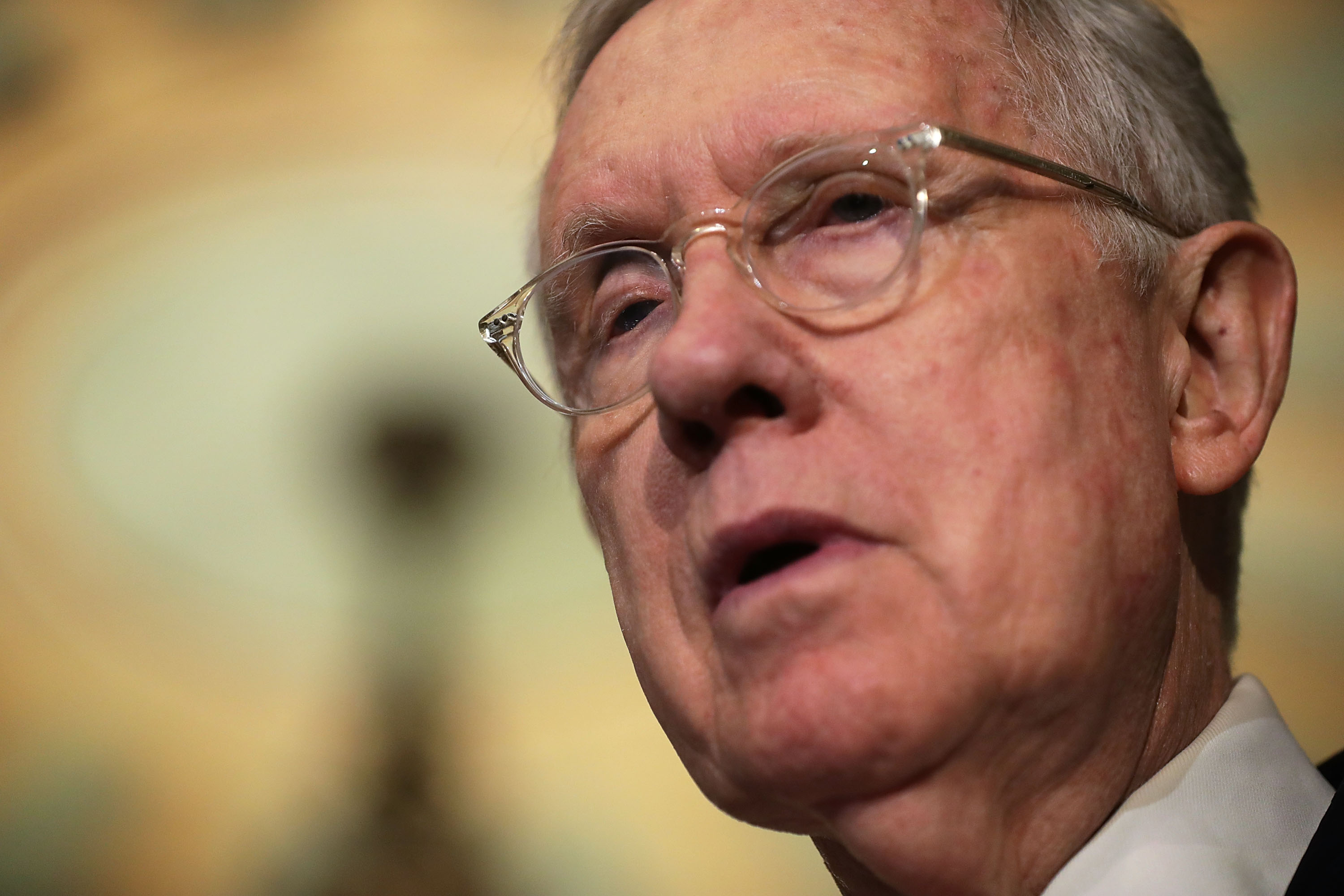 Sen. Harry Reid, one of the highest-ranking members of the Democratic Party, is winding down his long career at the age of 76. At the end of this year, Mr. Reid will retire instead of running for re-election in the senate. For a Democratic Party in desperate need of new faces and new ideas, the change should be welcome, as the highly influential senator and his brand of corrupt politics have stained the Democratic Party.
For years, Mr. Reid has personally selected which candidates Nevada's Democratic Establishment put their resources behind in every election, making it virtually impossible for anyone to build a formidable campaign without his blessing. In 2016, Sen. Reid has continued to single-handedly manage Nevada's Democratic Party. He hand-picked Attorney General Catherine Cortez Masto—the replacement to run for his senate seat—in addition to choosing which candidates his Democratic machine supported in every other election. From controlling Nevada's closely contested Congressional primary races to outlining the specific parameters by which Hillary Clinton should confine her vice presidential search, Sen. Reid has built a new brand of political corruption.
Although Mr. Reid was impartial going into the Nevada caucuses, as Bernie Sanders' campaign became powerful enough to be a thorn in his side, the senator started calling in favors. To help Hillary Clinton squeeze out a marginal victory in Nevada—an early voting state largely due to Mr. Reid's influence—at his request, casino owners sent their employees to flood the caucuses. Although Nevada's voter turnout dropped nearly 30 percent from 2008, the casino sites protected Ms. Clinton from an embarrassing defeat.
Mr. Reid initially claimed his impartiality (before the Nevada caucuses) was born from a desire to increase voter registration and turnout among Democrats—yet, shortly after the caucuses, the senator formally endorsed Ms. Clinton and continued to work against the Sanders campaign. In the wake of the unrest at the Nevada State Democratic Convention, Mr. Reid propagated the false allegations that Mr. Sanders' supporters were violent—going so far as to personally accuse Bernie Sanders of condemning their actions. Mr. Sanders stood by his supporters, maintaining the allegations were false, and Mr. Reid eventually responded by criticizing the statement released by the Sanders campaign as "silly." After the Democratic Establishment's efforts to silence Mr. Sanders' supporters backfired—instead, providing his campaign with new momentum—Mr. Reid called on the Establishment to "lay off Bernie Sanders."
The Congressional careers of Mr. Reid and Mr. Sanders rest in stark contrast. While Mr. Sanders has rallied against corruption, special interests and lobbyists, Mr. Reid has embraced them—increasing his political power through close ties to family and friends serving as lobbyists in every major industry in Nevada.
In 2003, The Los Angeles Times investigated Sen. Reid's bill, "The Clark County Conservation of Public Land and Natural Resources Act of 2002," and discovered the legislation used environmentalism as a smokescreen to provide a "cavalcade of benefits to real estate developers, corporations and local institutions that were paying hundreds of thousands of dollars in lobbying fees to his sons' and son-in-law's firms, federal lobbyist reports show."
Of course, Mr. Reid's influence extends to the press. In 2015, Nevada-based political analyst Jon Ralston claimed the editor of the Las Vegas Sun refused to publish a column he wrote in 2012 on Mr. Reid. The decision to block Mr. Ralston's piece—which examined Mr. Reid's unsourced allegations that 2012 Republican presidential candidate Mitt Romney hadn't paid taxes in a decade—intended to protect Sen. Reid from criticism. In turn, Mr. Ralston resigned from the company.
"Reid will do whatever it takes to win, no matter the battlefield, and what his utterly execrable approach with Romney indicates is that after 25 years, we still don't know where he draws the line—if indeed he draws one at all," wrote Mr. Ralston, a liberal. "As a public figure who had had to endure vicious and often tenuous allegations—in the 1970s, he was even linked to organized crime after a mobster boasted of having him in his pocket—you would think Reid would be more sensitive to such tactics."
To the contrary: Sen. Reid's political tactics have been shamelessly dirty and corrupt for the duration of his political career. He has led Nevada and legislation in the state under the pretense that his efforts were in the best interest of his constituents. In reality, everything he did was to further his own political career and the special interests of those who helped establish and maintain his authority in Nevada.