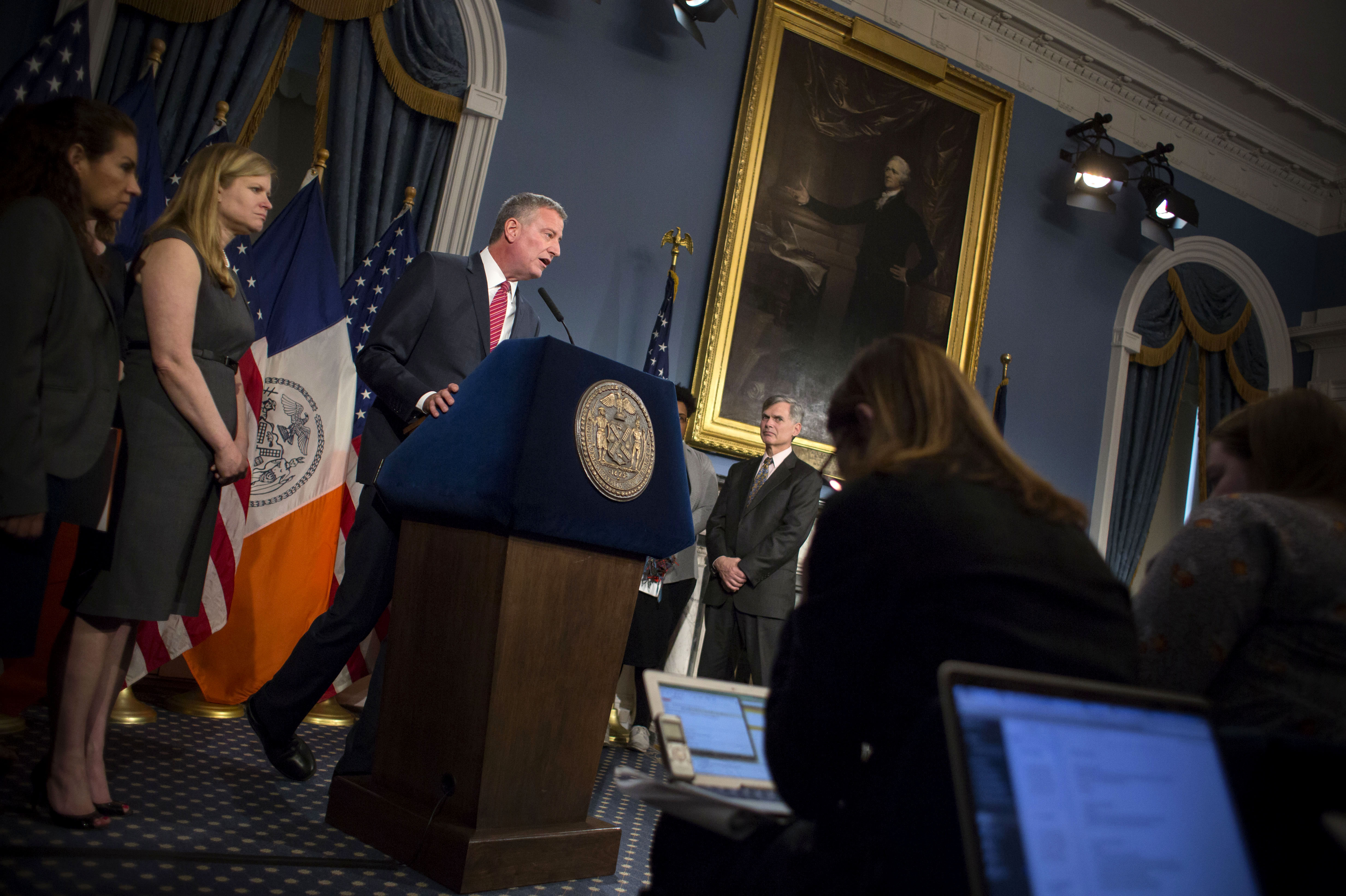 Mayor Bill de Blasio said again today he intends to cooperate with investigations into his fundraising and his administration—except for a state inquest he's decided has gone too far.
"When an entity goes beyond its legal purview—possibly for, you know, the wrong motivations—there's a point at which you say enough is enough," Mr. de Blasio said about an investigation by the Joint Commission on Public Ethics, or JCOPE, at a City Hall press conference today.
But the mayor doesn't get to pick and choose which regulatory board he deems worthy of dealing with, a JCOPE spokesman told the Observer.
"Nobody gets a right to decide who is going to regulate them," commission spokesman Walter McClure said. "We regulate lobbying in New York State."
For more than a year, JCOPE has been probing whether The Campaign for One New York, a nonprofit fundraising group Mr. de Blasio has used to push his agenda and which can accept larger contributions than his campaign, was improperly lobbying. Six of JCOPE's 14 members are appointed by Gov. Andrew Cuomo and his lieutenant governor—and the mayor has repeatedly implied that he is being targeted by the governor, even as he refuses to explicitly say Mr. Cuomo's name when reporters push him to explain.
"I'm not going to editorialize about motive, just, I would urge all of you to look into these fascinating interconnections and potential motivations and the cast of characters," Mr. de Blasio said today. "Because we keep seeing the same thing over and over."
On Friday, an attorney for the nonprofit, Laurence Laufer, released a letter saying the group would no longer cooperate with JCOPE or respond to its most recent subpoenas, calling its probe a "blatantly political exercise." The letter was released just a few hours after Mr. de Blasio, on the Brian Lehrer Show, vowed to cooperate with a slew of concurrent investigations into his administration—but he said today his position had been "quite consistent."
"I've told everyone who works with me, I want the fullest cooperation—but JCOPE has started to go into areas that have nothing to do with its stated mission," Mr. de Blasio said.
This week, JCOPE filed a court order in an effort to force Mr. de Blasio to comply with their subpoenas.
"Our job is to look at lobbying and look at what lobbyist behavior is and how they're spending the money, and we have every right to do that, and that's what we were doing in this situation," Mr. McClure said.
He noted the mayor is not actually part of JCOPE's proceeding—its his nonprofit that's a party to the investigation—and that whether JCOPE is within its rights is a matter for the court to decide, not to be hashed out in "press releases or press statements."
In a joint statement, three good government groups—Citizen's Union, Common Cause New York, and New York Public Interest Research Group—all assailed Mr. de Blasio's nonprofit for "flouting" JCOPE's subpoena.
"With its refusal to comply, the Campaign for One New York brings even greater concern over its operations. The mayor has a responsibility to ensure maximum public accountability since he was the architect of the nonprofit," the statement said. "We urge the mayor to publicly demand that the organization comply with JCOPE's requests."
But Mr. de Blasio has insisted he is being singled out, while other elected officials—again, implying the governor without saying it—have raised money similarly and without the voluntary disclosures Mr. de Blasio has made about donors. (When asked if he meant the governor, Mr. de Blasio said he wanted to speak "broadly.")
"It's quite clear a double standard is being held. I think it's quite clear that there are other motivations," Mr. de Blasio said of JCOPE. "And if they want to go to court, they can go to court. We think it's quite clear that they are beyond their purview."
Mr. McClure said it was "absolutely not true" that politics were behind the investigations, saying the commission is a bipartisan group.
But Mr. de Blasio and Mr. Cuomo, though nemeses, are both Democrats—and today Mr. de Blasio said he didn't think the party affiliations of the commission's members were "pertinent."
"I think the history of how JCOPE was created and who it responds to is quite clear," Mr. de Blasio said.
JCOPE was created by Mr. Cuomo. In his letter last week, Mr. Laufer noted that the subpoenas were drafted during the tenure of Letizia Tagliafierro as JCOPE's executive director—who was in Mr. Cuomo's administration before running JCOPE and then departed in July to return to his administration. The current executive director is Seth Agata, who previously served as Mr. Cuomo's counsel.
The investigation by JCOPE is just one of many Mr. de Blasio is at the center of at the moment, including a separate probe of whether donors to the Campaign for One New York got favors from City Hall. U.S. Attorney Preet Bharara and Manhattan District Attorney Cyrus Vance Jr. are investigating the mayor's fundraising for State Senate candidates—a case referred to them by the Cuomo-run State Board of Elections, which has led Mr. de Blasio to insist politics are at play in that case, as well. Mr. Bharara is also reportedly probing the city's role in removing a deed restriction on a former nursing home to allow for lucrative condo development. In another case, Mr. Bharara is also probing two fundraisers for Mr. de Blasio for trading gifts for favors from the NYPD. Yet another investigation is looking into Mr. de Blasio's relationship with animal rights groups, who donated to his nonprofit and ran ads against his primary opponent. Mr. de Blasio has promised to ban horse-drawn carriage, a cause of the groups.