Manhattan is not a small town. But when you spend the day with its borough president, Gale Brewer, it feels like one—and Ms. Brewer feels like its mayor.
That even held true when she appeared alongside the actual mayor, Bill de Blasio, at a town hall for senior citizens in her Upper West Side neighborhood earlier this year, where Ms. Brewer called her constituents to order.
"I kept them in line, you know. 'Ann, shut up, you already asked your question.' 'Belinda, it's your turn,'" Ms. Brewer told me as we rode through Manhattan in her city-issued SUV. "You know, because I know them all."
And then Ms. Brewer launches into the quintessential West Side story. An older woman, in her 70s or 80s, white and "very attractive," with "lovely gray hair," asked the mayor a complicated question about rent control. The mayor punted to the finance commissioner, Jacques Jiha, who is Haitian and speaks with a strong accent. Ms. Brewer sets the scene for the punch line.
"She's a very tall, thin woman, you know, character face. Very attractive. And she looked very quizzical, like: 'I don't really understand what you said.' That was what her face said. And then she says, 'Je ne comprends pas alors,'" Ms. Brewer said. Mr. Jiha answered the woman's question again, but this time in French, and the room applauded. "I laughed so hard my stomach hurt. Only on the Upper West Side."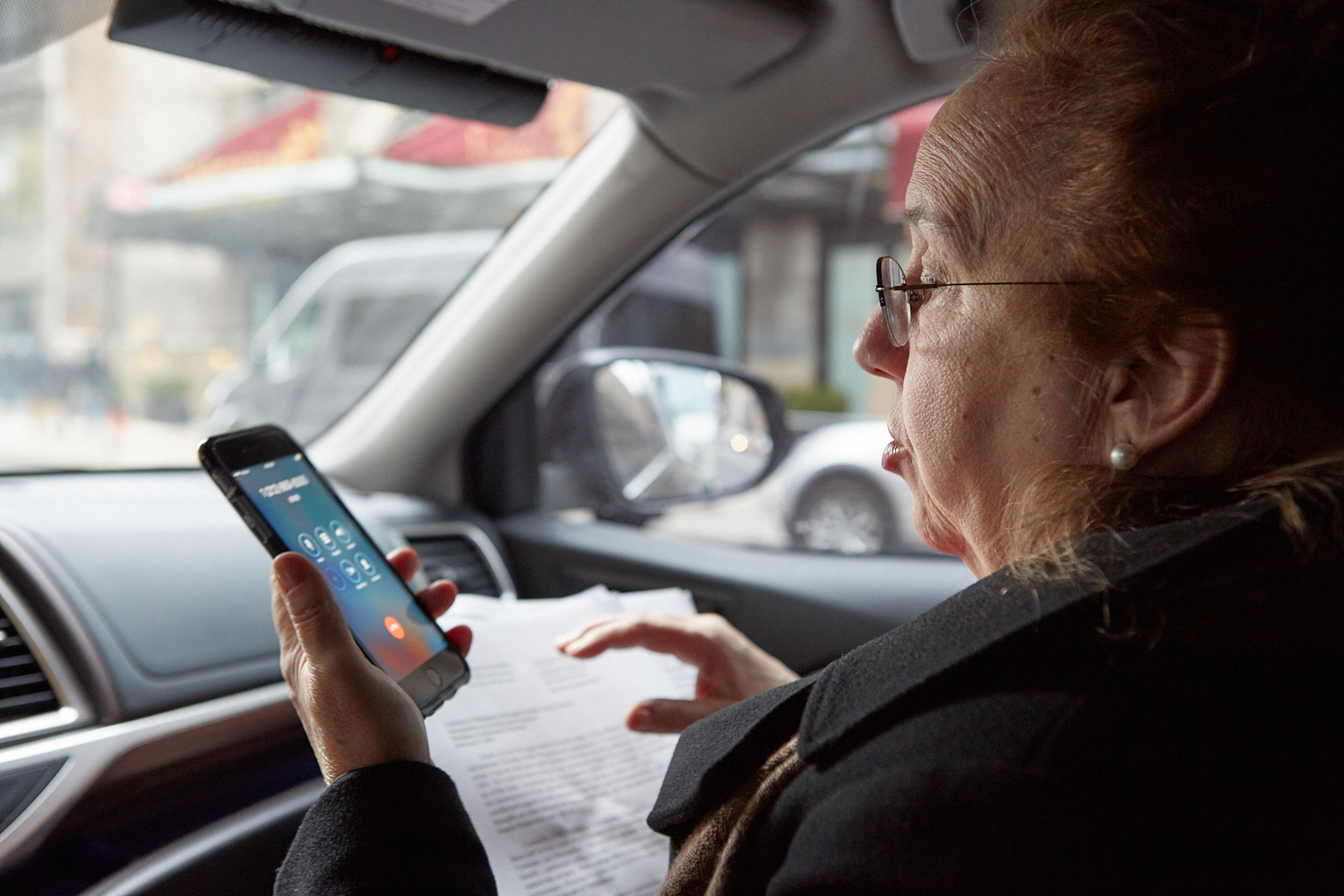 While her turf now includes the entire island of Manhattan, Ms. Brewer, 64, who lives in a brownstone on West 95th Street with her husband, Cal Snyder, an author, is every bit an Upper West Side character. On the February morning she met with me, she emerged from a yellow cab vaguely frazzled and slightly late for her first meeting of the day. She was clutching three bags containing four cellphones, two of which don't work but contain data she's transferring over to the ones that do. Her blonde hair, as it usually is, was pulled back from her long face by two banana clips. She's one of the wealthiest elected officials in the city, according to disclosures filed with the Conflicts of Interest Board, a proud feminist who came to politics through the women's movement, and an unabashed wonk.
And like any good Upper West Sider, she knows everyone and they know her.
"I think people know that they could approach me," Ms. Brewer said. "I don't know if they do that to everybody else."
While Ms. Brewer is perhaps the Platonic ideal of the Upper West Sider, she is not much like everybody else—at least not like everybody else in politics. She isn't flashy, and does not like or seek praise, but she is also never timid and has been known to drop a few expletives behind closed doors. Her political passions include saving the city's records (I once wrote about her quest to save VHS and Betamax tapes of city meetings) and expanding the use of civic data—not exactly marquee issues. She once chaired a council committee on bedbugs.
"You know how a lot of politicians like to tell you they're not a politician?" said city Comptroller Scott Stringer, a neighbor and Ms. Brewer's predecessor as Manhattan borough president. "Gale Brewer is not a politician."
And yet, she wins. First, she won when she ran for an open City Council seat in 2001, at the urging of her political mentor, the former borough president, councilwoman and mayoral contender Ruth Messinger. Ms. Brewer had worked for Ms. Messinger as her chief of staff, and before that for Lt. Gov. Mary Anne Krupsak under Hugh Carey and for the National Women's Political Caucus. Later, she served in the Dinkins administration's federal affairs division, and then for public advocate Mark Green. She even did a stint in the private sector, working for affordable-housing builder Telesis.
"I still knew every single person in the tenant associations and the Mitchell Lamas, you know, the people who matter in the neighborhood," Ms. Brewer said. "And that's what helped me get elected, to be honest with you, those 20-year relationships."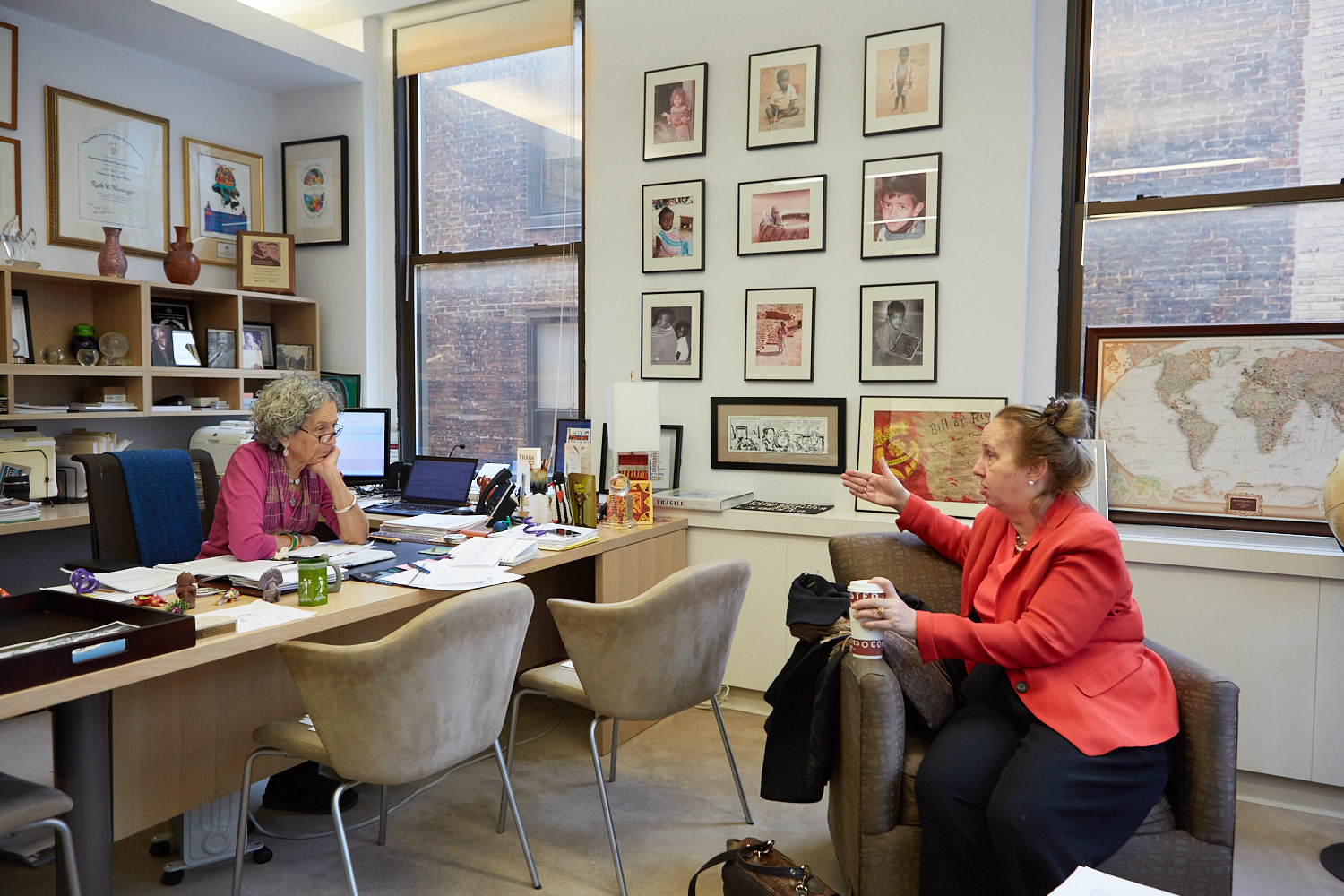 After winning reelection twice and being forced out by term limits, she ran for borough president in 2013, getting into the race late, lagging behind in fundraising and facing three serious opponents, including two other white women with whom she might have split the vote, but didn't.
"She was like the anti-candidate—didn't really care about raising money, wasn't gonna start a campaign until the paid sick leave campaign [in the Council] was done. The rest of us are running for our lives," Mr. Stringer recalled. "Sometimes I get the sense that she didn't think about the campaign until the last few weeks."
The race was cordial and professional, said Jessica Lappin, a former city councilwoman who ran against Ms. Brewer. They'd been colleagues for years, and Ms. Brewer had once sent Ms. Lappin a handmade quilt after the birth of one of her children.
Asking Ms. Brewer how she won reveals a lot about the things that seem to matter to her.
"I've had 10,000 interns. I've been teaching college since, let's see, I don't know, 30 years, 20 years. I have all my students, all my interns, all my National Women's Political Caucus people," Ms. Brewer said. "It's hard to describe, but literally in every corner of the borough, I know people. Every intern has a family, every student has a family."
Ms. Brewer has a knack for fitting in with many groups—on the day I followed her, she went to an event for the Collegiate Congress at the rooftop bar Hudson Terrace ("Oh, God, I go here all the time") and then crossed town and a couple generations for a Valentine's Day party for the Turtle Bay Association. But she seems especially at ease with young people.
"We moved the event because I wanted her to attend this evening," Christo Thomas, who founded the Collegiate Congress and interned for Ms. Brewer, told me. "We could have gotten more elected officials from the Assembly and the Senate. But Gale is a must for us. I'm serious."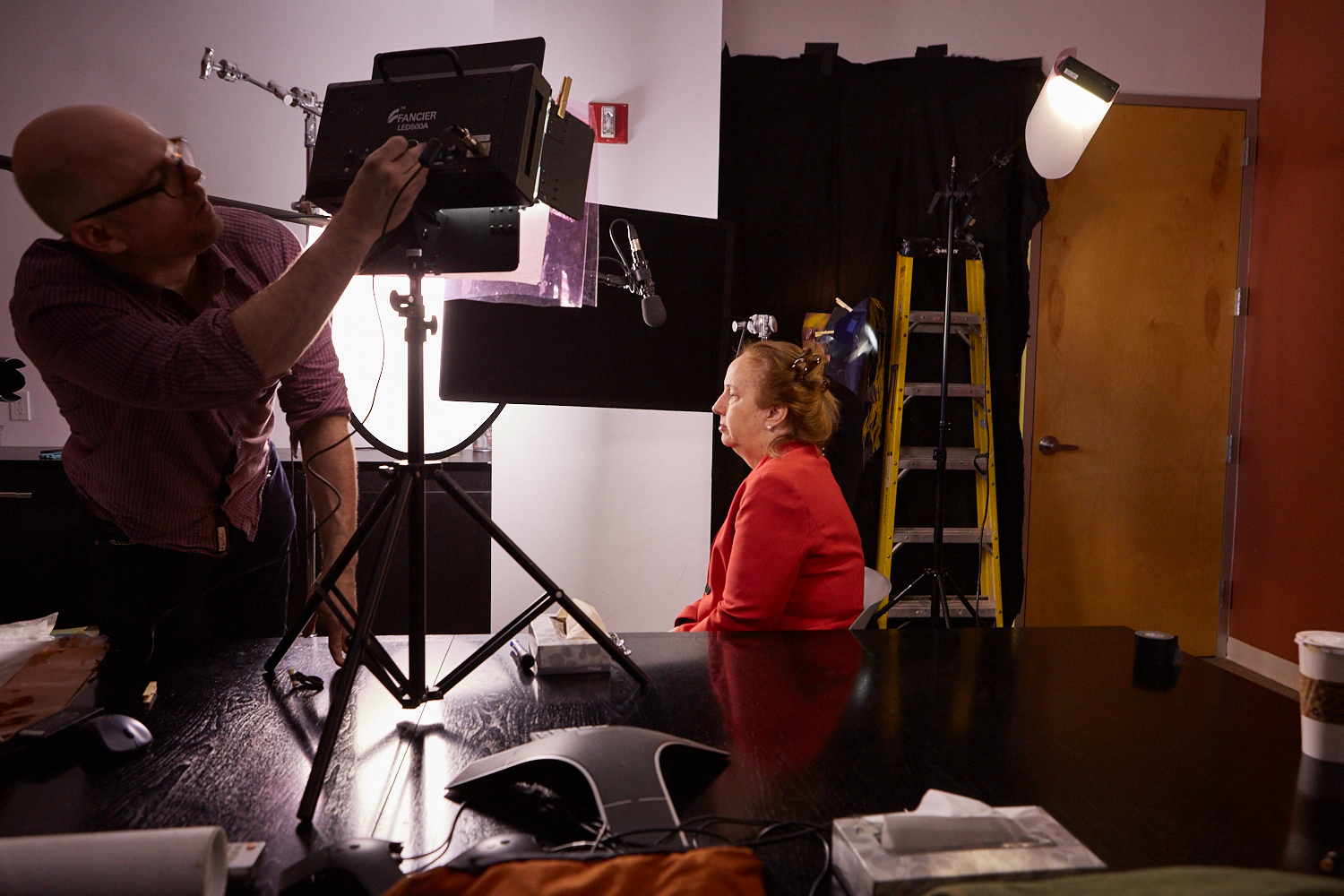 If Ms. Brewer is comfortable with young people, it may be because she's spent much of her life surrounding herself with them. Ms. Brewer and her husband have helped to raise 35 foster children, and adopted two of them. She's mentored countless interns like Mr. Thomas since her time working for Ms. Messinger, and also taught hundreds of students.
"She doesn't like anyone to say anything nice about her—that's one of the challenges of working with Gale—but she's always had an intense notion of investing in the future," said Ms. Messinger, who co-teaches a class at CUNY with her.
In the course of our day, Ms. Brewer spoke with knowledge and empathy about a spate of construction deaths, especially of undocumented workers. "I wish people cared more about the people who died. I don't know why they don't. But I do." When it comes to reigning in hawkers and costume characters, she rattled off the spate of constitutional challenges and admitted she, like every other real New Yorker, avoids Times Square. She outlined her long battle to save local businesses from proliferating banks and chain pharmacies. She was willing to say when she didn't know about something but always seemed to want to learn more.
"She is somebody who knew what her universe of concerns were and knew how to focus on them," Ms. Messinger said. "And she didn't try to be all things to all people."
She speaks her mind. Ms. Lappin described it as telling it like it is—"Gale is very straight." Councilman Corey Johnson added that she "doesn't suffer fools."
"The mayor will be saying something at a press conference, you know giving a talk, and Gale just interjects, without being called on," sometimes to correct him, Mr. Johnson added. "She's not a suck up."
In the evening, she bounced from a reception for artists in her office to a meeting on the perils of the property tax system a few doors down to a retirement party for a friend, all before the collegiate and Turtle Bay events.
"She's famous for going to 87 meetings a night, and you always notice when she walks in because she's always carrying three bags worth of paperwork," said Ms. Lappin. "People joke about that, but it really just speaks to the incredible work ethic."
Mr. Johnson formerly chaired a community board in Hell's Kitchen—where just a few blocks were in Ms. Brewer's old council district. For eight and a half years, Mr. Johnson said, Ms. Brewer came to every community board meeting.
"She's sort of working at a breakneck pace, for years, in government. And I don't know how she does it," Mr. Johnson said, recalling nights when he'll text her at midnight and then get an email reply at 5:45 a.m. "I think to myself: When does Gale Brewer sleep? Or does she sleep?"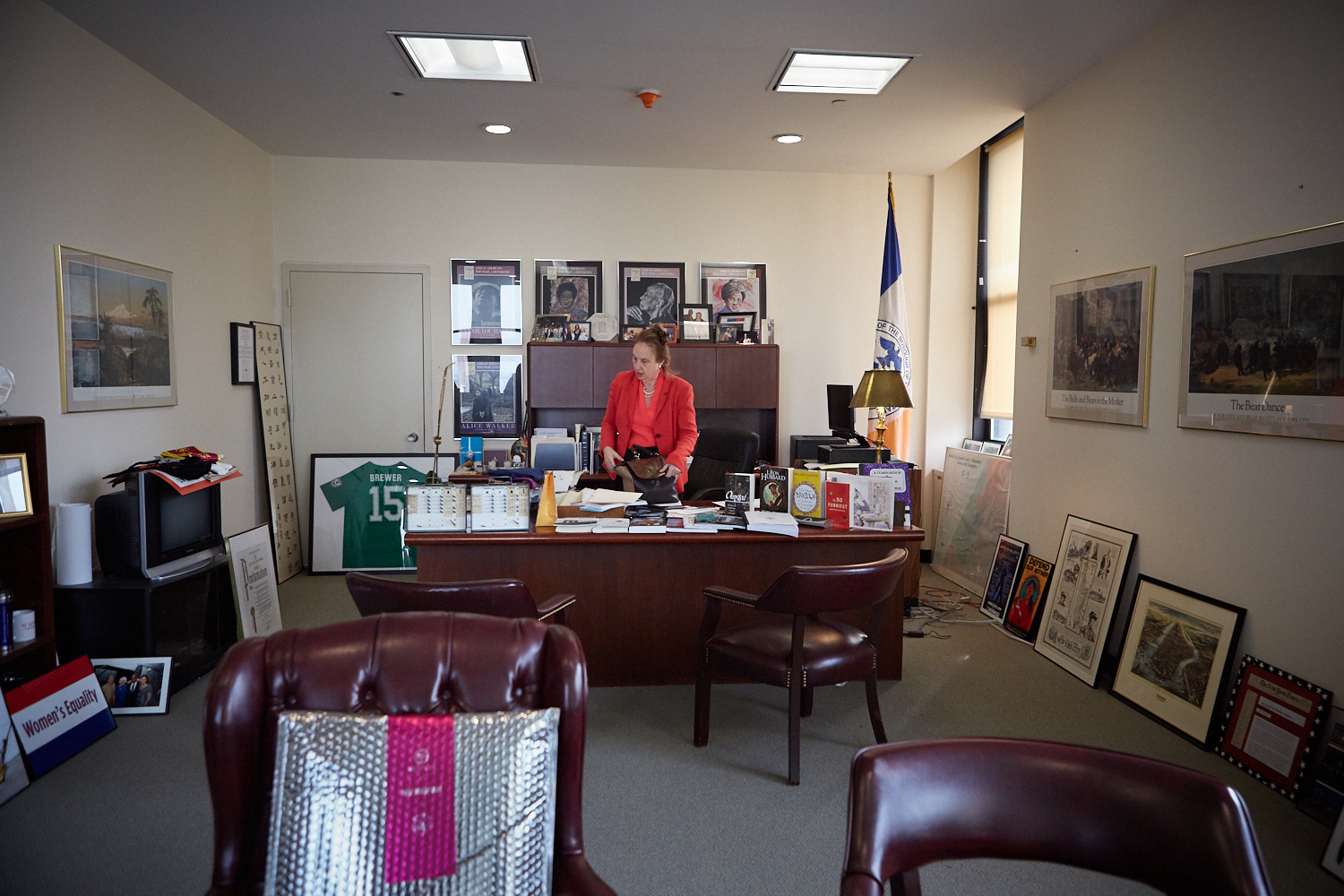 Ms. Brewer said she strives be accessible.
"I'm more on the policy wonk side. I do know the issues. That's one thing I know," Ms. Brewer said. "I think I know how something should work. I'm not saying I can fix everything, but I know how something should work."
It can be tough, Ms. Brewer said, when you're not an operative or don't always command the limelight. You have to learn how to build your own constituencies. You have to work hard for change, "pushing every lever."
"You just really want to make a difference," she said. "I don't know how else to say it."
Ms. Brewer's Manhattan doesn't feel like a small town just because she seems to know everyone in it, young and old. It's because the small-town aspects of government are some of her favorites. She's a diehard proponent of community boards. In her morning meeting with the Building Owners and Managers Association of Greater New York, she chatted with big wigs about land use and real estate like a pro. Then she urged the landlords to join their local community boards.
When discussing the difficult question of affordable housing in New York, she once again returned to the idea of Manhattan as a community.
"When you have rentals, affordable and market, the affordable people stay forever, you know, turn over when they die or move or whatever. But the other people change like this," Ms. Brewer snapped, "because the rent goes up all the time. So you don't get a permanent, you don't get a permanent neighborhood group. That's a real problem…You don't participate in the affairs of the community."
Michael Slattery, a senior vice president at the Real Estate Board of New York who serves on Ms. Brewer's Midtown East Steering Committee, has disagreed with Ms. Brewer plenty—on things like landmarking or her efforts to keep Duane Reades and big banks out of her district.
"It was always done in a cordial, friendly manner," he said. "She's a fierce competitor and a fierce advocate, but so are we at times. But we continue to work together on other issues after that."
"You can disagree with her," Mr. Slattery added, "but you can't dislike her."
Of course, Ms. Brewer is not actually the mayor of the small town of Manhattan. That's a gig reserved for Mr. de Blasio—someone Ms. Brewer has long supported. She backed him when he ran for council speaker, and paid the price when he lost to Christine Quinn: she was stuck on the Technology Committee, something Ms. Brewer openly says was meant as a punishment. But Ms. Brewer—who believes she had City Hall's first Blackberry—embraced the position, with her crowning achievement being open data legislation that makes it easier for people to access city records. And she didn't look back when it came to Mr. de Blasio, backing him for mayor.
That doesn't mean they always agree.
"I'm called 'Conscience.' 'Here comes Conscience.' He says, 'Here comes Conscience.' So I like that. I consider that a badge of honor," Ms. Brewer said. "I think I get along with him fine. I don't work for him."
Later that day, Ms. Brewer testified about the mayor's affordable housing re-zoning plan to the City Council—outlining the areas where she'd given conditional support, and areas where she wanted changes. (The plan eventually passed, with amendments and Ms. Brewer's blessing.) She was at home in the Council chambers even as she sat on the sidelines, patiently waiting her turn on a riser reserved for press, her feet dangling a few inches above the ground.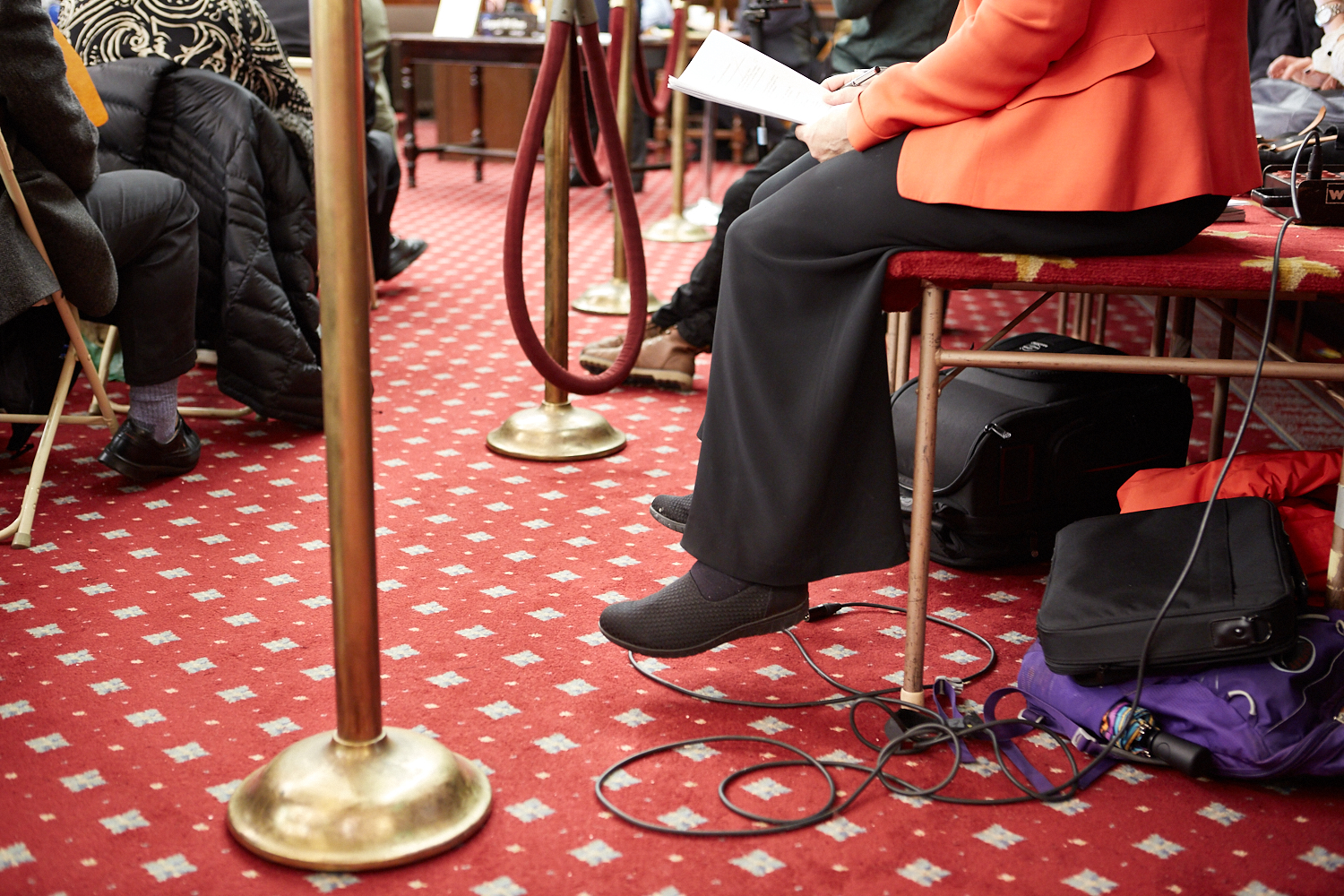 James Oddo, the Republican borough president of Staten Island, served with Ms. Brewer in the Council, where he sat in front of her.
"I can't tell you how many times I spun my chair around slowly, and at the end we knew each other so well we would just make eye contact," Mr. Oddo said. "But that was preceded by a period where she would say, 'Don't get me started, Jimmy Oddo,' in response to comments made by our colleagues."
Ms. Brewer gets along swimmingly with all her fellow borough presidents, noting the five of them have a group text message string. "You probably can't—no, you can't see these texts," she says with a laugh. Mr. Oddo recalled a recent meeting the five of them had with Schools Chancellor Carmen Fariña. The "two alpha males," Eric Adams of Brooklyn and Rubén Díaz Jr. of the Bronx, battled it out to talk first. Then Melinda Katz of Queens jumped in, Mr. Oddo said.
After, Ms. Brewer looked at Mr. Oddo. He moved to yield to her, but Ms. Brewer mouthed to him: "I have her cellphone number. I can talk to her later."
"That's it. Gale knows everyone. Everyone knows Gale. Gale does in fact have everyone's cellphone number, because she has been working with everyone so long, and she, to me, is what this job is supposed to be about," Mr. Oddo said. "She's invested in it. She's very good at it. It's not about her."
That's the kind of personal infrastructure that could pave the road for a mayoral run.
"I absolutely will not. Absolutely, unequivocally no," Ms. Brewer says when asked if she will ever run.
Of course, once upon a time Ms. Brewer didn't think she'd run for everything. But her answer lacks the wiggle room most politicians give themselves, as does her explanation about why.
"Because I like Manhattan. I don't know about those other boroughs. Too complicated. I know Manhattan," Ms. Brewer said. "I'm not a five-borough person. I'm a Manhattan person. I like my borough."
Not knowing enough about the city to be its mayor hasn't stopped any of the previous candidates from seeking the job or winning it. But Ms. Brewer truly seems to see it as a disqualification.
"Too complicated," she said again.