Meditation—the practice of focusing on one thing, intentionally, on a regular basis—regrows grey matter, the part of the brain that helps keep memory working. That finding by Harvard researchers convinced Miriam Bekkouche to recommit herself to the practice. She'd toyed with meditation since childhood, but has since turned her personal interest into a business, called The Brain Spa.
She now teaches others how to take care of their minds, with the help of a new wearable called the Muse, an EEG reader. The device, like a plastic headband that sits across your brow, takes brainwave readings as users meditate in order to assess whether they are in a state of distraction or calm.
But gadgets aren't the point of The Brain Spa. Ms. Bekkouche aims to show clients innovative ways to quiet their minds in a distracting world. In fact, the technology itself can be a distraction, as I can attest from my personal experience in a demo she recently gave at the Observer's offices.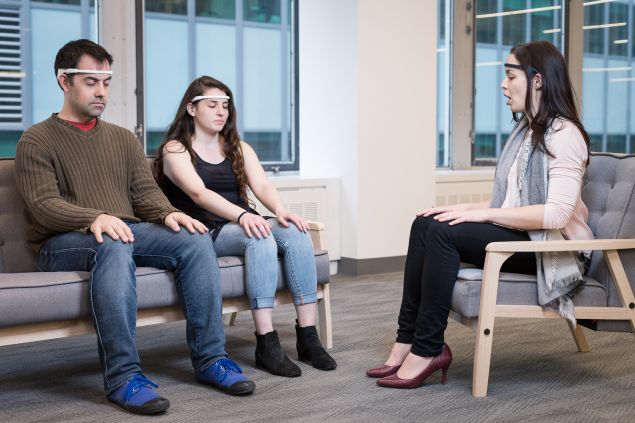 For someone who teaches others how to slow down and appreciate the quiet, Ms. Bekkouche speaks quickly and gets palpably excited as she describes how finding inner peace can rebuild and rewire overworked brains. She's eager for questions, but it was tough to catch her pausing long enough to ask one during our abbreviated "Hacking Mindfulness" workshop, which normally costs $495.
She started off by talking us through how meditation can improve the very wiring of our brains (by growing new, stronger neural connections), explaining how the Muse works and how to meditate: by focusing on our breath. The Muse connects via Bluetooth to a mobile device, sending data from its brainwave sensors to be analyzed and used in biofeedback that it delivers via headphones.
'I had been committed to self-development, practices of developing the mind, since I was a kid'
To get started, the system asks questions over the headphones as it takes a reading of what their brains sounds like when busy. In our case, its version of Siri asked us to list every vegetable we could think of. Then the meditation session began. As Muse's manufacturer notes on its website, the gadget "gives you feedback about your meditation in real time by translating your brain signals into the sounds of wind. When your mind is calm and settled, you hear calm and settled winds. When your mind is active, the winds will pick up and blow." Plus, if the brain wave readings show a user has really gotten in the zone, the Muse plays the sound of a bird's call.
Once Ms. Bekkouche had me turned into a cyborg yogi by settling the Muse correctly on my head, I realized that the device might give me some kind of score for my five minute mindfulness practice. This got me excited in the wrong way: I wanted to wrack up a lot of points.
This despite the fact that "the only measure of whether you're good at meditating or not," as she explained, "is whether you sit down in a meditation posture with the commitment of coming back to your point of focus."
SEE ALSO: How this golf pro uses The Muse to get elite players back in the swing.
The Brain Spa, which for now is a side-gig for the founder, mainly caters to companies in New York's innovation economy. Ms. Bekkouche runs her tech-enhanced meditation workshops at company offices and corporate retreats. Her mainstay is a 90-minute training where she leaves behind a Muse for the team. She also does workshops where anyone can learn about meditation.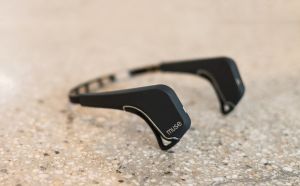 The Montreal-born entrepreneur initially came to New York to help the Canadian government set up a tech accelerator, which hosted companies from home that wanted to access American resources. But she grew restless in that role. "I realized that I had been committed to self-development, practices of developing the mind, since I was a kid," she said.
Meditation helps people work better in several ways, as the psychologist and monk research team of Dr. Edo Shonin and Ven William Van Gordon showed in a 2014 paper. It reported on 76 workers they followed through a rigorous meditation training, comparing them to a control group of the same size. Newly minted meditators had greater productivity and were more satisfied at work after an eight-week training. In a discussion of the results on the researchers' website, they wrote, "Findings from our study indicate that rather than make changes to the external work environment, a more effective means of reducing work-related stress (and improving job performance) might be to focus on changing employees' 'internal' (i.e., psychological) environment."
In other words, meditation makes people more resilient in pressure cooker-like workplaces, such as those where everyone at Netflix is expected to perform above average and where firings by the marketing software manufacturer HubSpot are referred to as a "graduation." No wonder the tech industry likes it.
At the same time, individuals who want to meditate to do better work can. Dr. Amishi Jha, a professor of psychology at the University of Miami, showed in 2015 that mindfulness training pre-deployment can help soldiers stay focused in stressful environments.
While the stakes for me are lower, that has been one of its most attractive benefits. I'd like my mind to wander less. That's why I have meditated on occasion for years, making up my practice as I went along: I'd picture something or I'd breathe or I'd picture my breath. Whatever. What I knew about meditation came mostly from martial arts comic books.
Ms. Bekkouche, on the other hand, has even traveled internationally to study with meditation gurus, but her coaching was the first of its kind I'd ever received.
When my Muse session started, I took note of the beach sounds as they played over the headphones, while doing my best to lock in on my breathing. Wind came quickly and often, to get me back on course. The sound was a little stressful, but manageable.
I didn't know yet what the bird's call meant, so distracted me a little because I wondered if it meant something. After my first five minutes were over, Ms. Bekkouche explained (albeit in gentler terms) that the birds let you know when you're crushing it. In other words, birds are points.
I got so many birds.
Yes.