If you build it, they will come. Or that's what the board at the San Francisco Museum of Art is betting on. This week, the 81-year-old institution opens its doors after a three-year renovation, gifting the West Coast with a world-class collection that would make MoMA blush. Sure, you can see Richard Serra in New York, but the man is from San Francisco.
The museum's glimmering white 10-story expansion now soars above the city's foggy skyline, a beacon sounding a calling to the art world: San Francisco is important too!
SFMOMA 2.0 is the embodiment of California sprawl, despite being located in the heart of a very vertical city that boasts an even tighter real estate market than New York. It tapped Norwegian firm Snøhetta to create an undulating, mountainous vertical expansion that flows seamlessly into Mario Botta's existing building—a postmodern red pyramid of sorts that first opened in 1995.
Combined, the two stylistically distinct structures have tripled the institution's gallery space, now totaling 170,000-square-feet, and come complete with sweeping terraces overlooking Downtown, four floors of column-free galleries, a sculpture garden and the biggest living wall—a 29-foot-tall vertical menagerie of plants—in the country.
With the flashy new digs also comes a whole lot of new art. Gap Founders Doris and Donald Fisher have given 1,100 artworks to SFMOMA on a 100-year loan, 260 of which are on view in the museum's 19 simultaneous inaugural exhibitions. And while it was under construction, SFMOMA led an ambitious capital campaign that tapped 230 donors for 3,000 promised gifts.
If this sounds like an operation of Louvre proportions, that's the point. SFMOMA has aimed high—and seemingly hit its mark. Don't be fooled into thinking the museum is doable in a day. "Formerly, you could make a visit here and see the entire museum in one visit, but now it's a multiple visit museum," SFMOMA director Neal Benezra told the Observer.
The museum's 10-story expansion soars above the city's foggy skyline, a beacon sounding a calling to the art world: San Francisco is important too!
The Fisher collection alone seems to extend for miles: Room after room is filled with blue-chip masterpieces that would make any art history buff salivate. Curators have showcased highlights in a monographic format, separating art historical movements by galleries devoted to single artists. Warhol fills two whole rooms, with 13 works between them, as does photorealist painter Chuck Close. Gerhard Richter, Anselm Kiefer and Ellsworth Kelly get three rooms apiece. And it continues: Carl Andre, Sol Lewitt, Clyfford Still, Donald Judd and friends all have their own galleries. If your feet don't hurt by the time you make it to Agnes Martin's spectacular circular gallery at the end of the fifth floor, you're made of steel.
To combat fatigue, the museum has placed what it calls "palette cleansing spaces" throughout, which come in the form of benches placed along sunny windowsills, a cafe with an interactive selfie booth (this is a techie's city, after all) and cascading staircases (there are no escalators in either building—you're meant to walk everywhere) like the Roman Steps, which greet visitors at the new Howard Street entrance. The amphitheater-style set of maple stairs can be used to sit and view Richard Serra's 213-ton Corten steel sculpture Sequence from above.
Mr. Benezra insists the monumental scale was not a goal in and of itself. "Size was not what drove us," he said. "We didn't have infinite funds. Building a museum is kind of the art of the possible: You want to build what you need and not more."
However, attendance was a factor in going bigger, said Mr. Benezra. "In the former museum we might have had 15,000 school visits a year, and we now think we'll have 55,000," he said.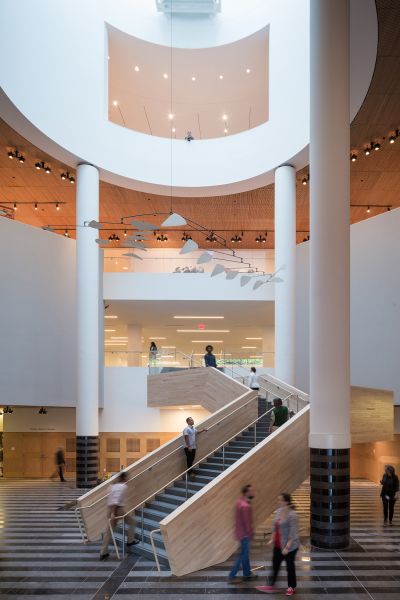 The desire for increased public outreach was what drew museum officials to Snøhetta, which attracted SFMOMA for its innovative Oslo opera house, which functions as a performing arts space and public plaza. Subsequently, the first two floors of SFMOMA will be free and accessible to the public without tickets.
"Formerly, you could make a visit here and see the entire museum in one visit, but now it's a multiple visit museum." — Neal Benezra
Architects have cleverly managed to insert subtle but effective touches into the museum's design. The ceiling of each floor is different, meant to correspond with the art on view, according to project director Aaron Dorf. In the Contemporary galleries on the seventh floor, it's left raw with exposed industrial elements. Two floors down, soft white panels overlap in waves hiding overhead lighting—minimal and linear, not unlike the sculptures of Robert Irwin, also on view. The seismic gap between the two buildings has been left visible through a portal in the wall on the fifth floor. And in the Botta Atrium, where light from the Swiss architect's glass oculus was once obscured by an imposing staircase, it now floods the hall.
For the city's burgeoning SOMA district, and the entire Bay Area, the reopening of SFMOMA is a watershed moment, and the party is just getting started.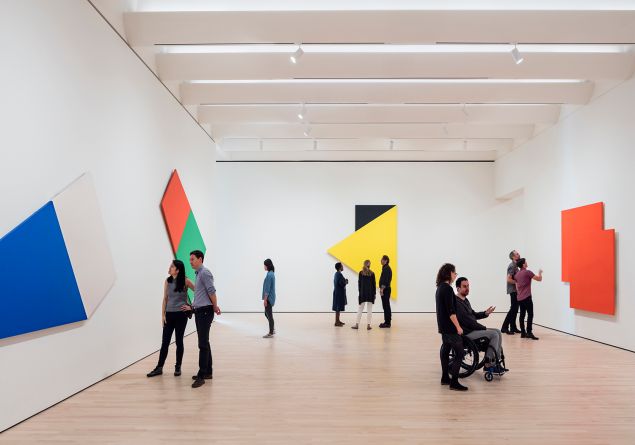 The Berkeley Museum and Pacific Film Archive recently moved into its new $112 million home across the Bay and is accompanied by the arrival of major galleries Gagosian and Pace, who have both opened their first outposts in the region. Prominent collectors Andy and Deborah Rappaport opened a complex for artist studios and gallery spaces with below-market rent in the Dogpatch neighborhood, where New York dealers Anton Kern and Andrew Kreps are already tenants, and established galleries in the Mission have since relocated there.
The city's creative scene looks to be bursting at the seams, but is there connecting thread? After all, one cannot simply announce that an art community is officially happening. The whole thing feels a bit… contrived. SFMOMA's promised gifts wouldn't exist without the generosity of donors, and collectors like the Rappaports are using their means to ensure that local artists and commercial activity don't leave the Bay. "The private sector in this country is very strong…It's especially strong in San Francisco," Mr. Benezra said.
On a tour of the Rappaport's complex, the Minnesota Street Project, local artist and studio program director Brion Nuda Rosch boasted that for "the first time a space in the Bay area has been built from the ground up for artists." Meanwhile, SFMOMA has just opened the first galleries of any museum dedicated just to California art.
But, is this organic? And will it continue? The big names on view remain imported.
"It's hard to beat the spaces given to Gerhard Richter, Ellsworth Kelly and Agnes Martin. Those three in particular are quite extraordinary," said Mr. Benezra of SFMOMA. "If you're interested in those three artists, you must come to San Francisco."
Well, you can also see them in New York, we thought. But, what New Yorker doesn't enjoy a weekend away in California?