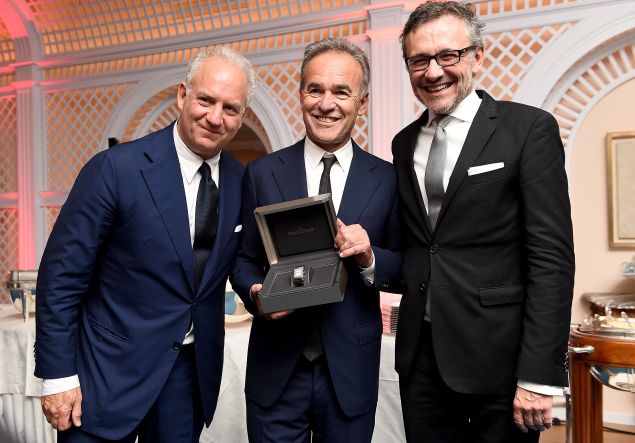 Friday in Cannes, and the stage was set at the imperious Hotel du Cap, high on the hill overlooking Antibes and the Mediterranean. Back in the 70s and 80s, you'd hear how Johnny Carson and Bill Cosby would spend August there with their families, where you had to wire in all the money because they didn't accept credit cards.
Impresario, producer and pr man Charles Finch—son of the late great "Network" Peter Finch—reminisced about the good old days at his annual swellegant party in the Eden Roc, the glorious patio restaurant overlooking the Mediterranean in front of a crowd including Mick Jagger, Harvey Weinstein, Brett Ratner, Mad Max director George Miller, Heidi Klum—you get the idea. Beautiful girls swanned around and the many buffets overflowed with smoked salmon and sliced lamb.
Basically, if you're in Cannes and not at the Finch dinner, something's wrong and you better go home. Mr. Finch saluted his oldest buddy, documentary filmmaker Nick Broomfield, who was awarded a special Jaeger LeCoultre watch and there were shared stories about narrow misses nearly getting killed as Mr. Finch produced Mr. Broomfield's films.
Somewhere in between the Finch dinner and everything that came next we got to see Steven Spielberg's stunning The BFG which opens July 1 and is the spiritual cousin of E.T..  Set in 1982, the same year E.T. was released, The BFG was also written by that film's screenwriter, the late Melissa Mathison. It's based on Roald Dahl's beloved book. Mark Rylance, Penelope Wilton, and 12 year old newcomer Ruby Barnhill are magnificent. It's Spielberg going back to his own future, free of historical encumbrances like Lincoln or Bridge of Spies. The premiere audience is still on their feet, going wild.
But we circle back to the duCap, which is by the way a $50 cab ride from Cannes if you don't have a driver (as in the oft heard—is that your driver? Can I ride with you?) where on Friday Leonardo Di Caprio lunched with seven pals including Tobey Maguire  and Lukas Haas incognito (haha) despite gray rainy skies. Weather does not stop the duCap crowd from lunch, but some things do: on the lower level, diners were aghast when a fake terrorist boat complete with real looking goons bearing machine guns motorboated up to the hotel. A little chaos broke out, as the rose-drinking guests thought for a minute they might be in danger of missing dessert. It all worked out in the end, and the guests on the top level—like Leo and Tobey—were spared the misery of standing up and moving around for a few minutes.
And even notice of all this ruckus didn't stop the next wave of A listers from driving the winding roads of Antibes on Saturday night back to the Eden Roc, where Vanity Fair and Chopard outdid everyone. They lit the trees, provided smoke and fog, shrouded the du Cap in a sense of mystery. (Also they had the weather going for them.) Somehow they made the outdoors seem clubby.
Around the pool and under a sky of dark blue velvet, Graydon Carter welcomed Leo, Mick, Tobey, Kate Hudson, Colin and Livia Firth, Trudie Styler, Jodie Foster and Alexander Hedison, Joel Edgerton, Kirsten Dunst—you know, the people you always have to dinner. Tobey Maguire told me all about his Spider Man vs. the other Spider men, and Chloe Sevigny was a fashion template. Kendall Jenner bent herself into modeling poses.
Russell Crowe told jokes. Mark Rylance's publicist refused to let him to take pictures for the  magazine's party page ("it's not his look," she said) and everyone lamented the absence of George Clooney, who apparently has come down with a common cold (!) and has been confined to a massive suite until the storm passes.
And everyone waits for the next wave: Gosling, DeNiro, Almodovar  et al. Pass the Champagne!