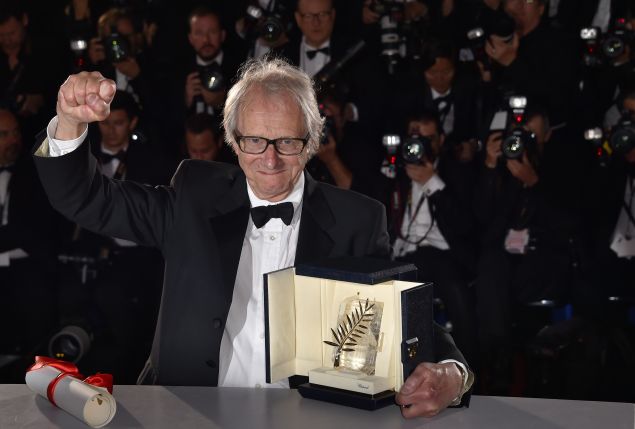 The Big Surprise at the end of Cannes 2016 was no surprise. The jury led by Mad Max:Fury Road director George Miller chose Ken Loach's I, Daniel Blake for first place (Palm D'Or), Xavier Dolan's End of the World for second (Grand Prix) and Andrea Arnold's American Honey for third (Jury Prize).
Except for American Honey, directed by Andrea Arnold, the jury ignored the female directors who were much touted coming into the festival including Maren Ade's Toni Erdmann," a three hour German-Romanian comedy that Sony Pictures Classics picked up for Oscar release later this year. Ade's film was the talk of the Croisette every single day as in "Have you seen Toni Erdmann? I loved it."
No one said that about Xavier Dolan's latest, which was met with indifference and loathing at its press screening. Unintelligibly bad, The End of the World is a melodramatic family soap opera told in closeups and sputtering dialogue. Marion Cotillard is wasted, and Vincent Cassell is over used. Nathalie Baye, remembered fondly from The Man Who Loved Women and other late 70s early 80s French classics, scores one of the few scenes of any emotion or meaning despite a lacquered face that one can only hope was thanks to intentionally bad make up and not a botched face lift.
As for the Palm D'Or, no one begrudges Ken Loach anything, but he seems to exist solely in the minds of Cannes juries and programmers. He's the Cliff Richard of British indie films, with no American cross over. He's to Cannes what certain directors are to Sundance. Daniel Blake's existential, Kafka like fate will be another of one of his cult favorites.
The Jury Prize was the most interesting because it did go to Arnold and her Kids-like three hour On the Road tale of lost teens. Unlike the venal kids who populated Larry Clark's 1995 film, Arnold's gang of wanderers are benign and almost sweet. Their glow is added to by Sasha Lane, a first time actress Arnold found on spring break who carries the whole film with or without her more titled co-star Shia LaBeouf. Lane's debut reminded me of Michelle Rodriguez blasting off in Karyn Kusama's Girlfight back in 2000. I just hope she gets a great manager and has an easier path to a long career.
American Honey could stand some trimming, although I'm told the director is adamantly against it. The movie's real payoff is that it was touted by New York's very own Maven Pictures, run by Trudie Styler (yes, Mrs. Sting) and Celine Rattray (The Kids Are Alright). They're on a big roll. Styler has just finished making her directorial debut with Freak Show, which should land at Sundance. They have about a dozen other projects under their flag, including one about Nelson Mandela and another produced with Liv Tyler. (Things look good enough that Sting might be able to retire!)
My favorite American Honey moment: the cast danced up the red carpet and grand staircase at the Palais for their premiere, full of joy, to rap songs from the film's soundtrack. They were so infectious that Thierry Fremaux was spotted, as he waited at the top of the steps for them, boogeying
Cannes 2016 will be remembered, though, for what felt like a much smaller crowd all the way around. No one knows why, since the dollar is strong against the Euro. Maybe staging a fake terrorist attack in front of the Palais weeks before the big show scared away a lot of people. Just a thought.