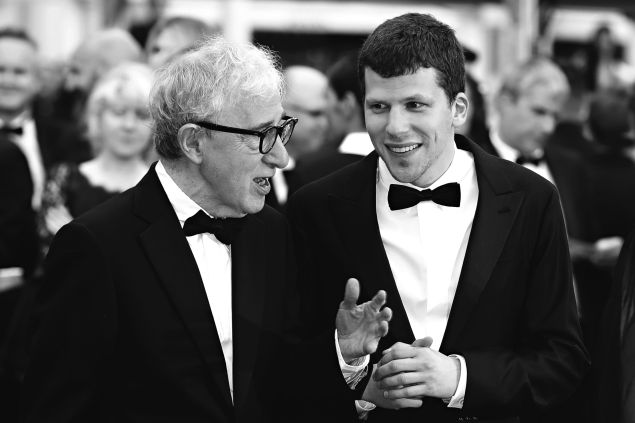 Bombs away! The 69th Cannes Film Festival has been on high alert for the past few weeks, beefing up the local police force, adding more security checkpoints, and bracing for the potential of another terrorist attack on the scale of Paris last November or Brussels this past March.
But the explosion no one expected was Ronan Farrow's essay about his father Woody Allen. The incendiary piece, addressing Mr. Allen's alleged sexual molestation of his daughter Dylan, ran in the Hollywood Reporter just a few hours before Mr. Allen's latest film Café Society opened the event.
Farrow's essay unfairly paralleled Mr. Allen's situation (one accuser) with that of Bill Cosby (60+ accusers), saying that the media chronically turns a blind eye to controversy that involves beloved celebrities. He also added that the press continues to ignore the decades-old pedophilia accusation for fear of damaging relationships with loyal—and powerful—personal publicists.
Adding insult to injury was French comic Laurent Lafitte, this year's M.C. at the opening ceremonies, who gestured to Mr. Allen (seated in the audience with his cast) and said, "You've shot so many of your films here in Europe and yet in the U.S. you haven't even been convicted of rape." The oddly-phrased joke (which clumsily seemed to pair Allen with Roman Polanski) fell flat, eliciting gasps and moans from the black-tie crowd.
"I said everything I had to say about that whole silly situation in the New York Times," [Woody] Allen insisted to a table of reporters.
The next day, at a luncheon for his film, the press dutifully brought up the controversy—which, to be fair, involves a case that Mr. Allen already addressed in a 2014 New York Times op-ed piece and for which there has been no new evidence.
"I said everything I had to say about that whole silly situation in the New York Times," Mr. Allen insisted to a table of reporters. "I said all I can say about it. I have so moved on that I never think about it again. I work, I do my movies, and hope that people like them.
Oh, right – the movie! A sumptuous but somewhat facile look at a bittersweet star-crossed romance set in the rarefied worlds of 1930s Golden-Era Hollywood and East Coast nightlife, Café Society looks absolutely ravishing and played well for the luxe Cannes attendees. The film stars Jesse Eisenberg as a nebbishy Bronx native who moves out to Los Angeles to work for his big-shot talent agent uncle (Steve Carrell) before eventually making his way back to New York to help run a swank Manhattan hot spot. In the process, he falls for a sweet Midwestern girl (Kristen Stewart) and a stunning Gotham shiksa (Blake Lively)—both of whom are named Veronica.
Since Café Society is his 47th film, Mr. Allen was asked at the press luncheon if he had any special plans for his 50th film. "I was planning on dying before my 50th," the 80-year-old director deadpanned.
If that's the truth, then at least he's wrapping up in style. The $30 million period piece, one of Mr. Allen's biggest budgets, features ravishing 1930s set design by longtime Allen collaborator Santo Loquasto and cinematography by Oscar legend Vittorio Storaro. The production was shot digitally—a first both for Mr. Allen as well as for Mr.  Storaro, who gave the notoriously crisp 21st-century format a beguilingly golden glow.
"Any memories of coming to Cannes with the Palme d'Or winner M*A*S*H?" asked a reporter. "No," [Donald] Sutherland said curtly. Then, after pausing, he added, "But I can tell you I'm freezing up here."
"Digital is part of the language of progress," said Mr. Storaro at the film's press conference. "You can't stop it. We realized that the industry has changed completely and we have to face it. But we have to face it with knowledge."
"To me, it was exactly the same," said Mr. Allen. "There's a camera, and it has to be lit. Identical."
Longtime Cannes press conference moderator Henri Behar was on hand as usual to guide the conversational flow, but accidentally flubbed Jesse Eisenberg's introduction by incorrectly referring to him as the star of The Secret Network.
"The Social Network!" one journalist piped up (and that journalist just happened to be Roger Friedman, who is also covering Cannes for the Observer).
"Bite me, I'm French," said Monsieur Behar coolly.
Speaking of frisson, the Cannes jury, presided over by Mad Max auteur George Miller, held their own conference later in the day—and wry jury member Donald Sutherland was not in the mood to reflect. "Any memories of coming to Cannes with the Palme d'Or winner M*A*S*H?" asked a reporter. "No," Mr. Sutherland said curtly. Then, after pausing, he added, "But I can tell you I'm freezing up here. C'est gel."
Someone should have given him a blanket. The Hunger Games star continued to kvetch, even when a question dealt with his native country. A Canadian writer asked Sutherland for his take on their homeland's film heritage. "I kind of gave up talking about Canadian cinema a long time ago," Mr. Sutherland sniffed. "But I'm still freezing. Seriously! Right down my spine!"