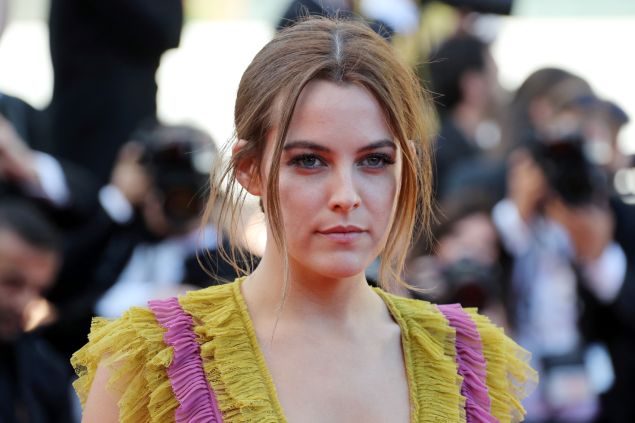 One of the biggest Cannes thrills this week has been watching Riley Keough make Shia LaBeouf her little bitch. In Andrea Arnold's picaresque emotional epic American Honey, Elvis' granddaughter plays the hardbody ringleader of on-the-road younglings who scrape by using hard-knock sob stories to sell door-to-door magazine subscriptions across the heartland. And Mr. LaBeouf is her top salesman, which means he gets to massage lotion into her bikinied body while she chews out a newbie recruit with low returns.
He's also the film's resident boy toy, which his character proves with some fairly explicit coital shenanigans. (The former child star demurred when asked about it. "I don't think I get hired for the sex scenes, I promise you," he told the international press.)
It's a delicious turn for the wayward Transformers actor and amateur performance artist, and a fantastic foil to the film's true heroine, Star (Sasha Lane), a barely-legal teen who sheds a shitty dumpster-diving life with a deadbeat single-dad boyfriend for Ms. Keough's mag crew pinballing around Oklahoma, Kansas, Nebraska, and North Dakota. Her journey from peripatetic gamine to clear-eyed survivor is an exhilarating "yass kween" declaration of personal feminist empowerment.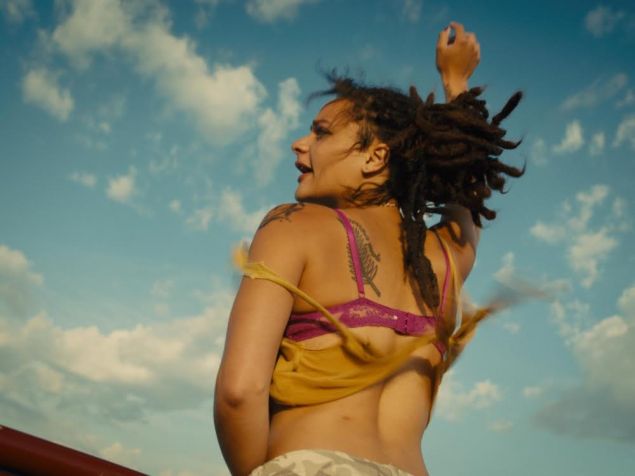 The journey is especially apt, since Ms. Arnold's film is one of the few tapped to nab a major prize—if not the top prize—when Cannes comes to a close this weekend. Burdened with a shaggy narrative and a 162-minute running time that will tax most audiences, American Honey is still a delirious, adrenaline-spiked spree that taps deep into the youthful energy and anxiety of millennial disenfranchisement, coupled with a palpable "Feel the Bern" disillusionment between the haves and have-nots. And the film's keen ear for music—rap, alt-country, rock—doesn't hurt, either, from the moment Star meets the scrappy crew dancing on the checkout counters of a K-Mart when the store's speakers start to play Rihanna's "We Found Love."
If award prognosticators are to be believed, American Honey is going toe-to-toe against another 162-minute tale of personal redemption, Toni Erdmann, a miraculously hilarious comedy from Teutonic director Maren Ade. (Leave it to the Germans to make an almost 3-hour laffer.) Why miraculous? It's a comedy of manners about a socially maladroit management consultant and her estranged jokester father—a description that better suits a sitcom pilot rather than a Palme d'Or contender.
But boy, does it play. At least three times during its joyfully awkward incidents, the audience spontaneously broke into fervent applause. Put aside the whoopee cushion jokes, the cum-stained petit fours, the nude party, and the geriatric goofball sporting fake rotten teeth and a shambolic black wig (all of it lowbrow shtick done brilliantly, by the way). Just the fact that it pulls off a completely unexpected scene featuring a full karaoke rendition of Whitney Houston's "Greatest Love of All" is an audacious triumph.
The most satisfying aspect of these two mammoth movies: they're the strongest refutation of the "female quota" debate that's been bubbling in Cannes for years. Both works are arguably the best of the fest, and both happen to be directed by women.
Two years ago, Cannes got pummeled for giving all of its competition slots to male directors. Last year, it tried to boomerang the controversy by opening the fest with its first female director in almost thirty years. This year? The numbers are still low but rising, and the quality is generally superb. (Although Nicole Garcia's elegant, mannered romance From the Land of the Moon, featuring a troubled Marion Cotillard, is less astounding and more old-fashioned in both style and substance.)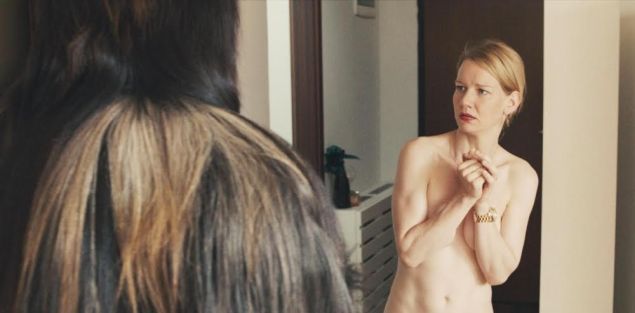 Women are even making a splash in the lineups outside of the official selection. Julia Ducournau's body-horror debut Raw, about a vegetarian co-ed at a veterinary school who gets hazed into eating meat and then develops an extreme appetite for flesh, is earning the Gallic helmer comparisons to David Cronenberg and Dario Argento.
And Money Monster, one of the token Hollywood studio films here on the Croisette, owes its critical success and solid domestic box office (a $15 million non-superhero opening) in no small part to its director, Jodie Foster, and the extra work she put into the script. "As a result of the deepening of the female characters, we stumbled across the fact that we had made a movie about men struggling with their sense of failure," she explained at the film's press conference. "That's what comes from creating full female characters. You actually get true cultural dynamics that you might not have gotten otherwise."
Now Foster's co-star from Panic Room has the directing bug. Kristen Stewart is in pre-production on the short film "Water" for Refinery29, the women-oriented lifestyle website and digital publisher who is bankrolling a dozen filmmakers to make an anthology exploring themes of power. "I saw Jodie the other day," Ms. Stewart said about her fellow Cannes attendee. "I hadn't seen her in a really long time. And before we had even caught up about anything, I was like, 'I'm directing a short! My short is financed!' And she was like, 'Why are you doing a short and not a feature?' Because I want to throw something against a wall. I want to go to film school. I want to mess around with people my age and find my crew and d.p. And this 'meditation' I'm rolling with could lend itself to me finding my first feature. So I think that I should start slow."
As to what exactly her "meditation" is, Ms. Stewart didn't want to elaborate. "It's really non-linear," she said. "It's very 'film-school shortie.' It started with just an image that I wanted to capture years ago, and it's really found itself. I hid behind the fact that it was nonlinear and metaphorical and visual. But now that I'm standing up in front of it, I'm going, 'Actually, I do know what this is about!' So I don't want to tell you."
Chloe Sevigny has already beaten her to the punch. Her short film Kitty (also financed by Refinery29) is part of an omnibus that's the closing night selection for Director's Fortnight, Cannes' oldest adjunct section. Based on a Paul Bowles short story, Kitty is about a daughter misunderstood by her mother, and explores ideas of childhood, redemption, and transformation with a deft touch and a charming taste for magical realism. "It's something I've wanted to do since I was in my 20s," said Ms. Sevigny while sitting beachside at the American Pavilion. "I just had to find the confidence and the wherewithal. I was watching [former boyfriend] Harmony on the set of Gummo and being like, 'Oh, I want to try it too!'"
In her opinion, the biggest catalyst for women-helmed movies isn't film festivals or even the directors themselves. "More female producers," she said. "That would really help out a lot. And women have to have to be allowed to be emotional, and not be judged for it. Men are allowed to be the mad director—the passionate auteur who screams! If a woman acts like that, she's crazy. She's fired and replaced. That's just the way it is. And that has to change."