Cannes has never been this quiet. As the 69th edition of the famed film festival rolls to a conclusion, cab drivers and restaurant owners ask the same question: where is everyone? Did threats of terrorism scare away the usual boisterous crowds on the Croisette? Very possibly. There was certainly enough star power: Mick Jagger was everywhere, Leo and his crew were all over town.
But stars have must an audience. And the usual massive crowds in front of the Martinez Hotel simply weren't there.
The stars came and went over the nine or so days. Almost all of them were seen at one time or another in the only Cannes hot spot that has a New York home: Mamo Le Michelangelo in Antibes, the hidden Italian-French eatery that is the Elaine's and Sardi's of the Riviera—only with four star cuisine.
But Mamo — Herve Mammoliti—is the Elaine Kaufman of the Cote d'Azur with this white Julius Caesar hair and his warm inviting grotto hidden in old Antibes far from the craziness of the waterfront. Maybe you didn't know it, but a year ago, Mamo sent his son, Mike, to New York and opened an outpost across from the Soho Grand Hotel. Beyonce, Jay Z, and Justin Timberlake are regularly downing the famous truffle pizza.
This past 9 days, Mamo in Antibes played host to Timberlake, Woody Allen, George Clooney and Julia Roberts, Jodie Foster, Ron Burkle, Jeffrey Katzenberg, and so on. On Wednesday night, Katy Perry and Orlando Bloom had to get a police escort to extrude them from the narrow entrance where paparazzi laid in wait. Earlier, Harvey Weinstein entertained Robert DeNiro, Leo, boxer Roberto Duran and Jagger while David Blaine entertained.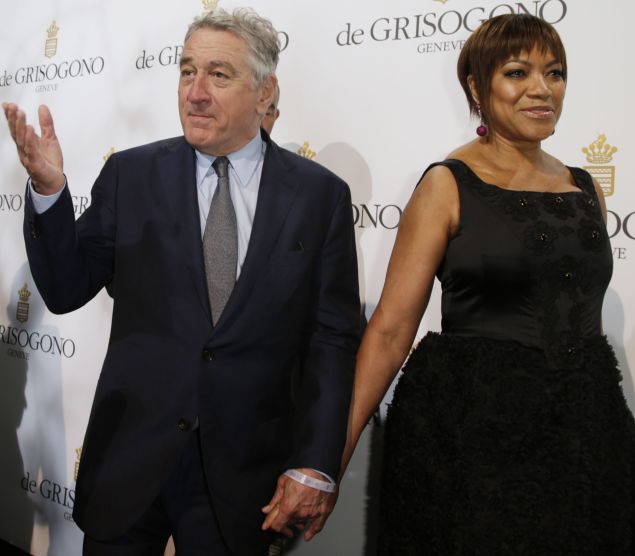 Speaking of Mr. DeNiro: his movie Hands of Stone, about Duran—DeNiro plays the boxer's coach Ray Arcell—got a one time only screening along with a moving festival tribute, an elegant rooftop cocktail party (with the most beautifully dressed people I've ever seen in one place), an after-party at the Carlton's hip Nikki Beach. And the audience loved the movie, which also features Edgar Martinez as Duran and R&B pop star Usher as Sugar Ray Leonard. Ellen Barkin and John Turturro make extended cameos making you realize how much you miss seeing them in the movies.
During the tribute in the cavernous Grand Theatre Lumiere, the audience hung on Mr. DeNiro's every word. After Harvey Weinstein toasted him for his acting career and his leadership in New York, Mr. DeNiro took the microphone. He is not usually loquacious But he was so overcome that – in recalling his stint as Cannes head juror a few years ago—he actually promised to come back and do it again. Cannes chief Thierry Fremaux almost leapt off the stage he was so thrilled.
Some movies went over like gangbusters this week—Jim Jarmusch's Paterson, Woody Allen's Café Society, Viggo Mortensen in Matt Ross's Captain Fantastic. Others not so much. There were boos for Olivier Assayas's Personal Shopper. Nicholas Winding Refn's Neon Demon caused walkouts during the premiere.
The biggest mistake was Xavier Dolan's It's Only the End of World which would be the end of some directors' careers. An all star cast of French actors including Marion Cotillard and Vincent Cassell are as misused as possible in an embarrassingly overwrought and undercooked family melodrama. The press screening was one of the most hilarious ever, with lots of muttering followed by full out snarkfest in the lobby of the Salle DeBussy.
But the parties continued. On Monday night Paul Allen jammed with his rock band on his 414 foot yacht, the Octopussy, while Jagger—who's been a steady fixture—danced among the hoi polloi. Perry prepared for a charity performance at amFAR's annual Eurotrash bash even as the group's standard bearer Sharon Stone bailed out for the second year in a row. (She knows who the real terrorists are.) And everyone waited to see if Andrea Arnold's American Honey—a sort of  for 2016 with a breakout performance by Sasha Lane (whom the director discovered on spring break)—would take the Palm D'Or.