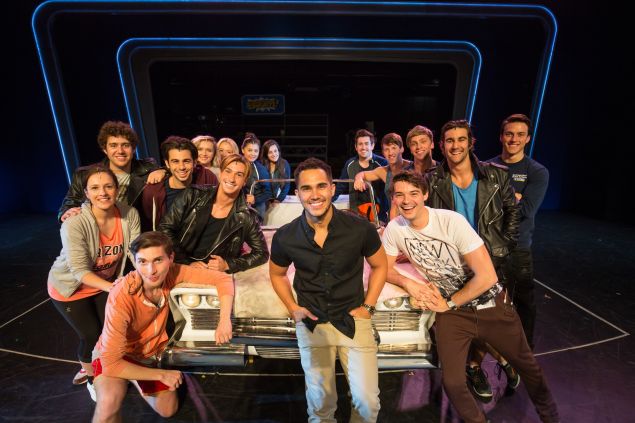 Carlos PenaVega has dedicated his life to God. And to cruising. Having graduated from Nickelodeon's Big Time Rush to the big time rush of a grown-up acting career, Mr. PenaVega is here on this ludicrously gigantic cruise ship to watch Grease. He played the sexy greaser Kenickie in the Fox production of Grease Live! and now he's here to take in the first-ever cruise ship production of the '70s musical.
The weird thing is that Mr. PenaVega is not just here as some paid endorser of Royal Caribbean—the guy just really loves being on cruise ships.
"I was born in Columbia, Missouri and my parents were like, 'There are no Latinos here. We've got to get out of here.' So we moved to Miami and then they were like, 'O.K., we've got a ton of Latinos.' Cruising is huge down there because no air fare, so four boys in my family and they were like, 'Let's just go.' They would get on the ship and they would be like, 'See you in seven days,' so they would get a nice balcony room or whatever and then we would have one interior room for us four boys. Oh yeah, bunk beds—boom boom boom. But for us it was the best vacation because we finally got to experience a little bit of freedom, because you can walk around the ship and just check in every so often. Their thing was, "Hey listen, be at dinner at 8:30. That's your only thing for the day,' and if we didn't show up we were in trouble."
So that's Carlos—relentlessly cheerful, and it's infectious.
The PR department of Royal Caribbean aggressively policed every moment of this important celebrity interview because they want to be sure the Harmony of the Seas, the biggest cruise ship ever sailed, is mentioned often and favorably.
But really, what is there to say about this city that sails? You get it—way too many tracksuit-wearing fatties stuffing their faces at the buffet, getting hammered at night and not realizing how awful the entertainment is while they lose all their dough at the casino. How much better could it be just cuz they added 10-story slides and a drink-pouring robot?
[protected-iframe id="5f535b8aea3ace56c66696c4c0cad1ac-35584880-78363900″ info="http://player.ooyala.com/iframe.js#ec=VkaTZtMzE6pe7EBdARSD8fYuLm5M7yss&pbid=M2U1MjkwNmE5YzFiN2NmOTMwNGViMzhl" width="800px" height="450px"]
Yeah, that's what I used to think, too.
A trip on Royal's Anthem of the Seas last Christmas altered my perception. Newly divorced and terrified of watching my children by myself for 10 days, I selected a cruise out of necessity. And I freakin' loved it. And so did they.
That trip changed my life. I can do this. I can be a single father and we're all going to be alright.
If I was so wrong about cruising, maybe I was wrong about boy-band graduates. Maybe I was the shallow one, having pre-judged them as empty-headed fit-the-suit Johnny Bravo types assembled by irredeemably cynical puppetmasters.
So there I was in Carlos PenaVega's bedroom, a place where many of his nearly four million Twitter and Instagram followers would trade a year's allowance to be, and I'm thinking: "Why is this little person with huge biceps, great hair and dazzling smile so funny and nice? Could he possibly have something meaningful to say?"
I ask him about the tattoo on his left arm, which references Psalm 18:2: "The Lord is my rock and my fortress and my deliverer, My God, my rock, in whom I take refuge; My shield and the horn of my salvation, my stronghold."
I mentioned to Mr. PenaVega that this psalm has a lot more about enemies and "bands of death" in the Hebrew version. I told him it had significance to me and asked if it had real resonance for him or was simply a young person's way of buying depth through a tattoo needle.
"My wife and I met at Bible study. We were both in completely different places of our lives and we somehow by the grace of God ended up at this Bible study for the first time, and we've really kept faith like the foundation. Our faith is everything. It is the foundation of our entire marriage."
Yep. Sorry girls, he's taken. The PenaVega is smashed up like that not out of Spanish naming convention but because he and his wife—Alexa PenaVega the star of Spy Kids and his competitor on DWTS—both changed their names to PenaVega when they got married. The Kurson daughters are among the millions of Big Time Rush fans who will be crushed to hear the well-muscled ball of energy speak of Mrs. Pena Vega with over-the-top tenderness.
"I think our faith has made our marriage, I mean it's 2 1/2 years, but still it's strong and we love spending time with each other. Like if she wasn't a little seasick right now, but I'm like, 'Babe you never get seasick.' We've cruised so much but today is bad, but she would be sitting here right now. We're always together, inseparable. Our faith means everything to us."
If you look Mr. PenaVega up on Wikipedia, you'll see that his BTR character, Carlos Garcia (all the boys' characters used their real first names), is described as "the crazy, wild, and fun loving one of the group." That's how he played Kenickie, too, in contrast to the brooding, smoldering sexuality of Jeff Conaway's movie version. Asked about the fellow who's playing Kenickie on the ship, no holes can be found in Mr. PenaVega's unbreakable cheerfulness. Even though the show kinda sucks.
Actually, it's the audience that sucks. The show was surprisingly good, but get this. The head of all Royal Caribbean entertainment, some bloke called Nick Weir, (look at me – I spend two days in Southampton and it's "bloke"!!!!) introduced the show and said, in his cheerful cruise voice, "I know we can't stop you from taking photos, but please at least turn your flash off and set your screen to the lowest brightness." With that, the meaty forearm of every audience member in front of me was raised for the entirety of every song. The barbarians have won. It's such a shame, too, because these ships are investing in real talent and stagecraft. These audiences are unendurable, but even the comics get it – the mc at the comedy club said to a heckler, "Look at the giant head on this guy – at least he doesn't have the Zika virus."
I complained to Mr. PenaVega about the way Fox censored his big number, "Greased Lightning." I couldn't get him to say "pussy wagon" even in discussing the key line change.
I complained to Mr. PenaVega about the way Fox censored his big number, "Greased Lightning." I couldn't get him to say "pussy wagon" even in discussing the key line change. And he was relentlessly positive about the cruise ship Kenickie, as well.
"I think we had 30-million people watching it on the first night and the networks are so particular with what we can say and do. Well, okay, so check this out, we changed it to she's a real dream wagon and then on the last week somebody called from Grease and was like 'You can't use dream wagon, make it dragon wagon.' I was like 'Ah, okay, sure.' So I literally went into the studio and recorded 'dragon,' just the word dragon. The director Tommy Kail was like, "Hey look, I know that there is the movie Grease and there's the show Grease and there's all this stuff that we all know about, but let's make it our Grease." And I think what we did was awesome. It was real and different and innovating – great, that's its own thing. I think what they're doing here is its own thing, and it's great, fantastic. You will see tonight if you're seeing the show all your favorite words are in there and they repeat them many many, many times."
So that's Carlos – relentlessly cheerful, and it's infectious. And then he broke some cruise ship news.
"The girl who is playing Rizzo? I went to college with her. I saw on Instagram that she was doing it and I was like, 'I'm going to be there, this is so cool.'"
When The Monkees were assembled to capitalize on Beatlemania, they went through what's become a natural evolution for scripted boy bands. First, hungry young singer-actors do what they're told by the Svengali signing the checks. Second, they get famous enough to demand actual artistic input. Third, they break up.
That's what happened to Big Time Rush, as well.
"We really wanted to be a band you know. The first season it was like "Here are the songs," and they were doing the thing, and then the second season we were like we're going to go do our thing. And they were kind of iffy about it, but then we came back and we started writing and writing and writing and they were liking our songs and I was like, "Let's be a read band," and it just took off from there. I really feel like that's what helped it be so successful was that it wasn't just another kid show that writers were pumping music into and then we would go on tour and that was it. It was like no, we were invested because we wanted our album to do well because we put our heart and soul into it. And then we would tour and we sing our songs and kids are singing our lyrics and you're just like this is surreal. It's crazy."
I told Mr. PenaVega that in my opinion, the craft of pop songwriting has gotten fresh consideration. Ed Sheeran is universally respected as a great songwriter, and it's not despite him writing for One Direction it's because he wrote for One Direction. Does Mr. PenaVega think it's something he will pursue?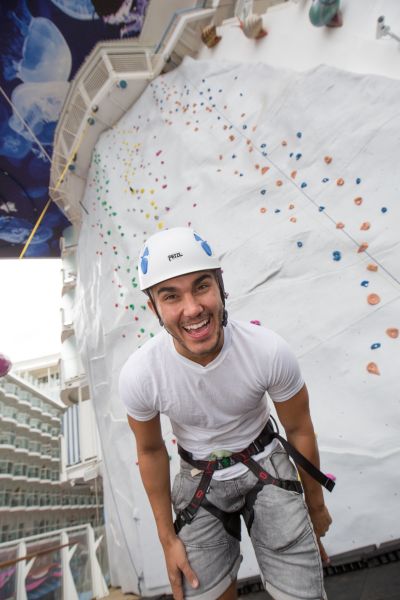 "When it comes to writing, some artists are like, 'I have to write every song.' For me I don't have to write every song. I'm doing like a Spanglish thing right now. My first solo song was full Spanish. Now we're doing Spanglish, kind of like young Ricky Martin, young Enrique, and like for me I'm like look, there's so many talented people in this world and we all can help each other out. My wife and I are really about teams. I'm like let's work with good people and people who we like and let's just team up team up team up. So if somebody writes a song and it's fantastic I'm like, 'This is great, can I cut it?'"
Back to cruising, there's a saying that the industry caters to three audiences: newly wed, nearly dead and like to be fed. That last one especially would seem incompatible with the needs of a hot young actor.
"I eat a lot in general, so I come on cruise ships and I'm like – whew whew whew whew. But I never use the elevator. Sometimes if I'm with my wife or some people… Okay, I get heels, you can't go up the stairs, but I always use the stairs. I feel like that helps and it's my excuse then, because then I'm like I used the stairs today. I can have an ice cream before."
Yep, pretty normal cruise behavior. Mr. PenaVega has another startlingly normal cruise story to tell.
"Cruising is exactly like summer camp. I met this girl and I fell like head over heels for her. I came home back in Florida and I was like, "Daddy can I please go and visit her in England?" I think I was like 16 or 17 and he was like, "Oh yeah, well you pay for your ticket." I was like, "Okay," so I scrapped all the money. I was checking under the cushions. It was crazy and like in two or three weeks I managed to get like $700. I don't know how I did it, but I got $700 and I was like, "Here's the cash, can you buy me this ticket on your credit card?" He bought me a ticket and I flew. I was like in heaven, this is great and then it didn't… It was gone. Like we hung out, but then I came back and I was like, "How can I going to fly to London?" I'm something like 16 years old, a reality check."
Last question. Do you feel as though you were robbed for your Charleston score on DWTS?
"Yes! 100%. I'm so glad you said that. You know what, after last week I'm over it," says the young singer and dancer before standing up for his fellow boy-band brother. "Like, how do you send like Wanya home? Like, come on."