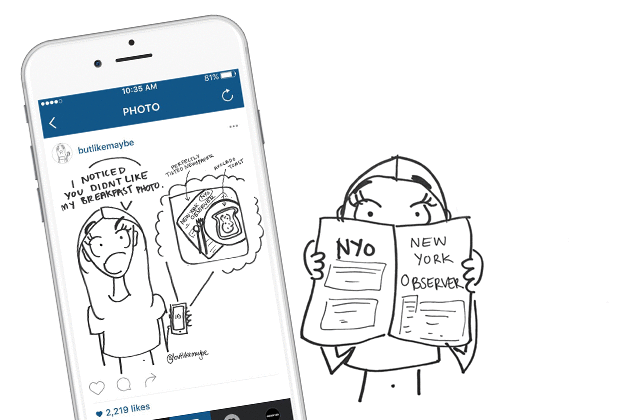 Many of Instagram's most popular accounts are notorious for recycling funny, shareable text-topped images without crediting their original creator. Enthusiasm for such unoriginal memes has waned and now Instagram users in search of fresh content have turned to illustrators posting on the app. These amateur artists aren't replicating your father's funnies; instead, they satirize millennial problems.
'I started "Sad Animal Facts" so I could bum out strangers instead of ruining another dinner party with a depressing anecdote about newborn giraffes.'
The "Sad Animal Facts" account pairs saccharine animal illustrations with depressing facts. The juxtaposition has garnered more than 60,000 followers and a book deal for creator Brooke Barker.
"I started 'Sad Animal Facts' so I could bum out strangers instead of ruining another dinner party with a depressing anecdote about newborn giraffes," Ms. Barker told Observer. She credits her popularity with the originality of her images. "There's so much online that's fast and mass-produced and anonymous, which makes hand-drawn cartoons refreshing," Ms. Barker said.  
Similarly, the simple, black-and-white account "jake likes onions" has 45,000 followers and counting. Creator Jake Thompson said, "People can see themselves and their friends in a great cartoon. Once you're following a cartoonist on Instagram, you don't have to navigate to a website that's specific to one comic. Cartoons just start popping up on your phone, right between all the pictures of food and cats."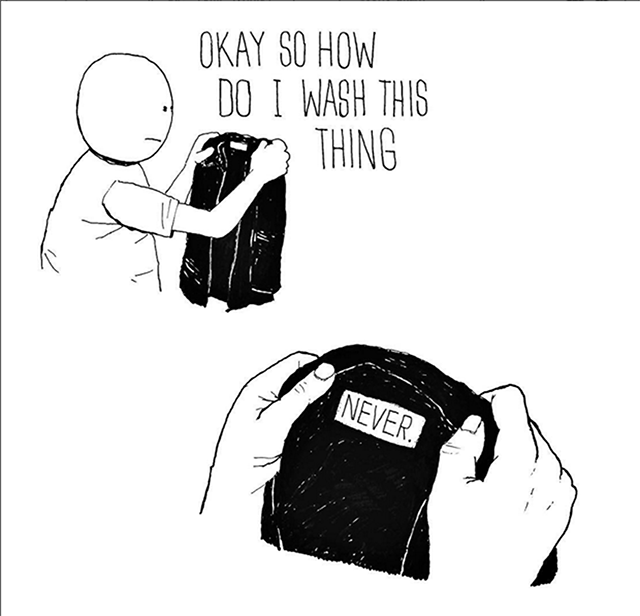 For Mr. Thompson, the response to his account has been both surprising and validating, but he wonders when the craze will end. "People are always looking for fresh content to inject some life into their internet feeds. Cartoons on Instagram might be surging in popularity now, but they'll be replaced by something else once users grow bored with cartoons…And I'll be doomed," Mr. Thompson said.
While "Sad Animal Facts" and "jake likes onions" are national accounts, some aim for a smaller, more specific audience. "Brooklyncartoons," started by Emmet Truxes, a former Williamsburg resident who now lives in Los Angeles, illustrates topics of the utmost importance to hipster 20-somethings: kale smoothies, pork belly for brunch and in a meta-twist, taking the perfect Instagram photo.
"I'm trying to touch on as many aspects of where we all are at this stage in our lives, so relationships, dating, drinking, eating, work, apps, getting older, in a subtle way that often requires you to be in on it to get the joke," Mr. Truxes said. He believes cartoons are increasing in popularity because Instagram is the primary publishing platform, delivering content directly into the hands of readers.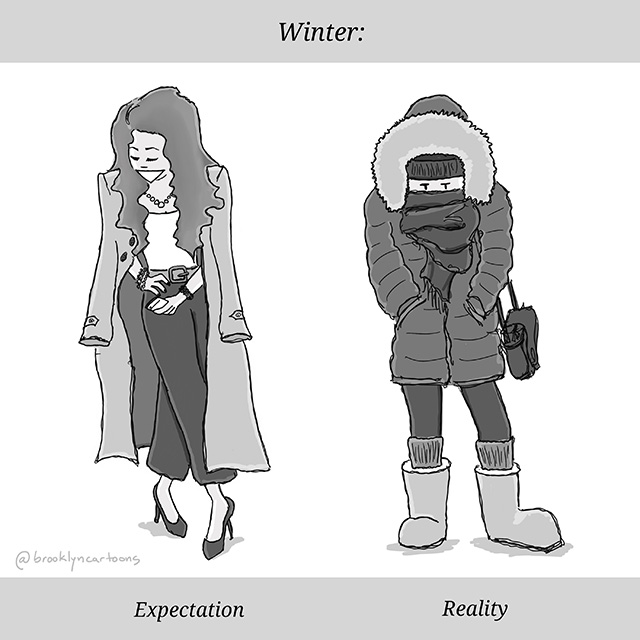 "There's a ton of reposted, recycled and lazy material out there, but that's just a reflection of how life is. That being said, there are a bunch of meme accounts that are pushing the boundaries of reference and humor and really taking the medium to the next level," Mr. Truxes explained, referencing the late and great "Trevso_Electric."
Arianna Margulis is the fashion girl behind "Butlikemaybe," an Instagram account featuring a clueless, quirky 20-something. Last summer she made an account for the cartoons she had been doodling. Now, the visual merchandiser is turning her creation into a comic book.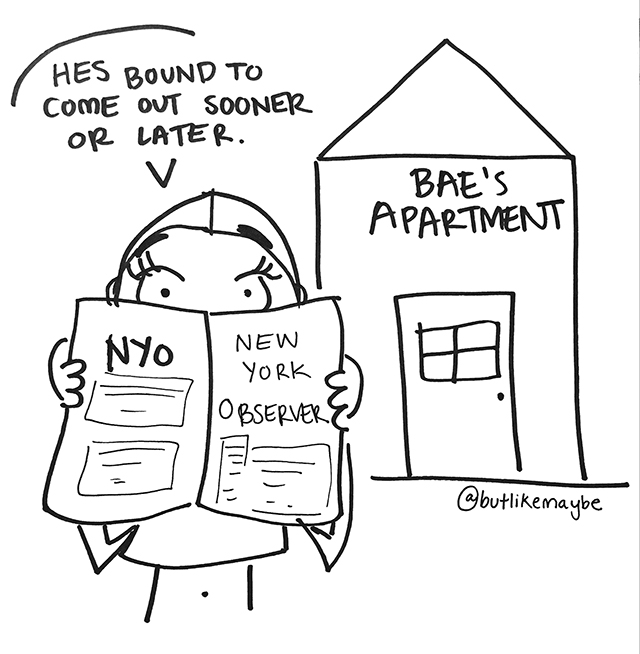 "It's basically a nameless, faceless, raceless, ageless girl and she's supposed to be everyone. I never really go overboard because in the back of my mind, my mom is in my ear asking, 'Are you really going to draw that?' " Ms. Margulis said.
The immediate feedback showed other New York women were dealing with similar dating issues. "It seems crazy, but it feels good to be crazy in the company of others," Ms. Margulis explained. Her drawings chronicle app dating rules and romantic entanglements in the city. "Whether it's texting or Tinder, no one knows what's right or wrong, or what guys want," she said.
"I have been stood up, thrown up on and left to walk a mile home in platforms.
The Manhattanite has spent time in New York and Los Angeles and draws from her dating experiences in both locations, where she's gone out with everyone from finance bros to models. "I have been stood up, thrown up on and left to walk a mile home in platforms. I've sent the wrong text and moved way too fast. I've also been on the other end, running from genuine interest or someone who actually wanted to open up," she said. Despite the different locales, she believes dating is the same everywhere, explaining why "Butlikemaybe" has become so popular, with 58,000 followers.
While Ms. Margulis is currently in a relationship, her posts are still personal. "I definitely get texts every so often from guys asking, 'Is this one me?' she said. "When I first created 'Butlikemaybe' the guy I was dating told me it was a bad name…now I hear he's telling everyone he helped me start it. How charming!"