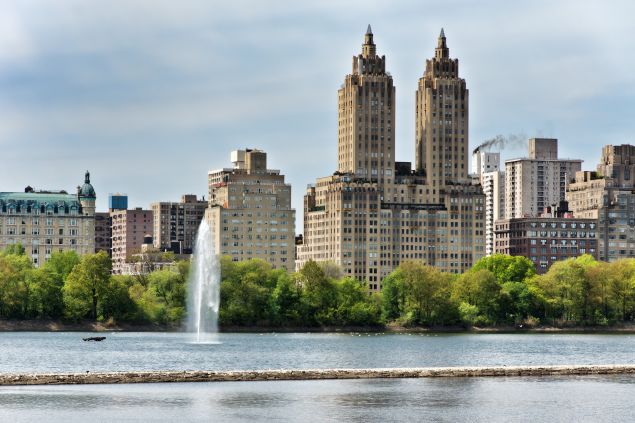 When Cameron Diaz decided to upgrade from a jewel box two-bedroom in the Village to a 3,000-square-foot spread at Walker Tower, she glided from a $9 million contract signing to closing with nary a hitch. Jon Bon Jovi, likewise, had no trouble at all getting into 150 Charles. Not surprising, of course, as both are condos, though Uma Thurman sailed right past the notoriously snobbish board of River House in 2013—famous for rejecting Diane Keaton, Gloria Vanderbilt and Joan Crawford—her prize a 13-room co-op overlooking the East River with three maid's rooms and two wood-burning fireplaces. (Perhaps Ms. Thurman's having been descended from German nobility helped the board overlook her star turn in Nymphomaniac: Vol. 1?)
So much for schadenfreude! It seems that days of the celebrity co-op board turndown have passed. In fact, if you don't count A-Rod's rumored ban from renting in 15 Central Park West after bringing in one too many call girls, as reported in House of Outrageous Fortune, the last one that we can recall was way back in 2007, when the board of Harperley Hall blocked Madonna's bid to buy a third unit in the building to expand her already-palatial 6,000-square-foot duplex (the Material Girl ultimately prevailed).
But the en fuego luxury condo market, coupled with the rise of downtown as a residential destination for the moneyed, has meant that far fewer celebrities are willing to risk the potential humiliation of board rejection. Central Park West and Sutton Place are nice, sure, but so are Soho and Tribeca, Dumbo and Brooklyn Heights. Nicer still is that condos and townhouses allow buyers to purchase under LLCs—a major consideration for bold-faced names in an era of easily accessible online records.
At the same time, cognizant of the market premium that condos now command, and worried that a reputation for stodginess might depress resale value, several famously strict co-op boards have made a show of accepting stars: besides Ms. Thurman, Drew Barrymore got past the board of 830 Park.
Not that high-profile disses are a thing of the past—as recently as 2009, Related president Jeff Blau was denied a board interview at 820 Fifth—but for the most part, when it comes to celebrity rebuffs, we'll have to content ourselves with some of the epic rejections of years gone by.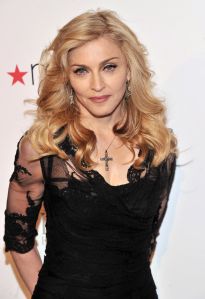 Madonna — One may as well start with Madge. While she may have been in good company getting rejected by The Dakota, being snubbed by the celeb-friendly San Remo board was another matter altogether (residents past and present have included Steve Martin, Bruce Willis, Demi Moore and Steven Spielberg). In 1985, the singer tried to buy a three-bedroom apartment for $1.2 million and was summarily rejected—Diane Keaton, who had herself been rejected from River House when she was dating Woody Allen, was reportedly the only board member to cast a vote in her favor. Members were unimpressed with her interview attire of a little black dress, pearls and two large gold crucifixes. The singer now lives in a massive townhouse complex on the Upper East Side, where she was recently accused of painting illegal "no parking" signs on the curb, as first reported by TMZ.
The Dakota — The building basically counts as a celebrity in its own right, especially after sharing top billing in Rosemary's Baby (the building stars as the Bramford in exterior shots, though interiors were shot elsewhere). The building's mythic status and many resident celebrities have lured a fair number of famous applicants over the years, a number of whom were summarily rejected:  Melanie Griffith and Antonio Banderas, Cher, Billy Joel, Alex Rodriguez, Judd Apatow, Téa Leoni and Carly Simon.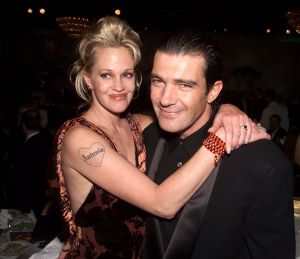 The board denied Ms. Simon after she demanded the right to install a second bathroom in a one-bedroom apartment. "In a legal war of words, lawyers for the apartment's owners said that the singer's 'rude and disrespectful manner to the board cost them the sale,' " according to the Telegraph.
Barbra Streisand — Despite having massed impeccable testimonials from Gov. Nelson Rockefeller, Mayor John Lindsay and Attorney General Louis Lefkowitz for her application to 927 Fifth Avenue, the board rejected Babs in the 1960s, with one member confiding to the press that they thought "she'd probably give a lot of parties," according Steven Gaines' The Sky's the Limit.
She didn't, but her diva reputation made it impossible to make it past the board of any of the "good buildings" on the East Side she dreamed of living in. (She was also rejected from 1021 Park and 1107 Fifth.) She eventually listed her Ardsley penthouse, which languished on the market for more than 12 years, allegedly due to its bad layout and the lingering smell of stuffed cabbage (a favorite of Ms. Streisand's son Jason).
Mariah Carey — Freshly divorced from Sony Records CEO Tommy Mottola, Ms. Carey took a liking to Ms. Streisand's Ardsley penthouse and offered $8 million in cash—an offer the latter accepted after a board member assured her that they wouldn't reject the singer out of hand (the board of 91 Central Park West having already done so).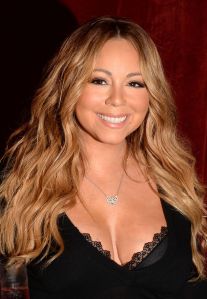 Broker Dolly Lenz advised Ms. Carey to "dress for a funeral," according to Mr. Gaines, but things went south as soon as the pop star arrived with a bare midriff and three bodyguards, whom she insisted sit with her during the interview. The board hardly acquitted itself well, either—one of its members apparently asked her if "Mr. Biggie" might be visiting the building, meaning the murdered rapper Notorious B.I.G. The pop star "blithely responded, 'Mr. Biggie, he be dead,' " Mr. Gaines reported. After her rejection, Ms. Carey decamped to Tribeca, where she bought a penthouse triplex at 90 Franklin, albeit one she hired Mario Buatta to decorate in echt uptown chintz.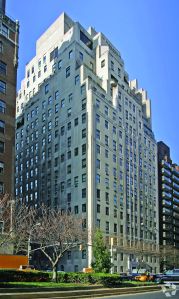 740 Park — The residential building with the highest concentration of billionaires in the city has reportedly turned down Elizabeth Taylor and Joan Crawford (who was also rejected by River House) and shut out Neil Sedaka and his wife before they could even file an application. Barbra Streisand and Barbara Walters, meanwhile, were advised by their brokers not to even bother applying.
Richard Nixon — After hiding out at his San Clemente ranch post-Watergate scandal, it was announced in the press that Nixon and his wife Pat had received board approval to buy a $750,000 penthouse at 19 East 72nd Street.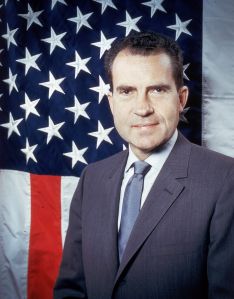 When the other residents learned of the deal, however, they revolted and the Nixons sheepishly withdrew their offer, settling instead on an 11-room condo spread at 817 Fifth owned by Abe Hirschfeld. But the other residents expressed safety concerns, and filed suit to block the sale. Humiliated, Nixon retreated to a townhouse at 142 East 65th Street, which he was said to have hated. (He spent just three years there.) He later tried to buy an $1.8 million penthouse at 760 Park Avenue, but another building resident filed suit to block the sale.

Gloria Vanderbilt — Despite her impeccable pedigree, Ms. Vanderbilt was—at the time she tried to take possession of a tower duplex in River House with four maid's rooms and double-height windows overlooking the East River—a gossip-column staple hawking blue jeans to middle-aged women, as well as a frequent companion of black cabaret singer Bobby Short. Allegedly, a board member called Ms. Vanderbilt's attorney and asked if she intended to marry Mr. Short. After her package was denied, Ms. Vanderbilt filed suit, claiming discrimination (there were no black residents of River House) and winning an injunction to block the sale of the apartment. She agreed, however, to drop her case after the board pointed to her shaky finances and public lifestyle as reasons for the rejection.
Jay Z —The music mogul took two years to close on an 8,000-square-foot penthouse at 195 Hudson Street after other residents in the building allegedly tried to block the sale—an unprecedented move for a condo in Tribeca. Advertising executive Peter Arnell, the seller, filed a lawsuit in May 2002 claiming that two of his neighbors were sabotaging the $6.85 million deal by "posting notes in the lobby warning tenants of Jay Z's 'criminal record and…lifestyle of knives, guns and violence,' " the Observer previously reported. "We are of the opinion that due to [Jay Z's] lifestyle of violence, if he moves into our building, he will place us in danger," one note was said to have read.